Prime Minister Hun Sen Says Cambodia Will Take Part in Addressing Climate Change Worldwide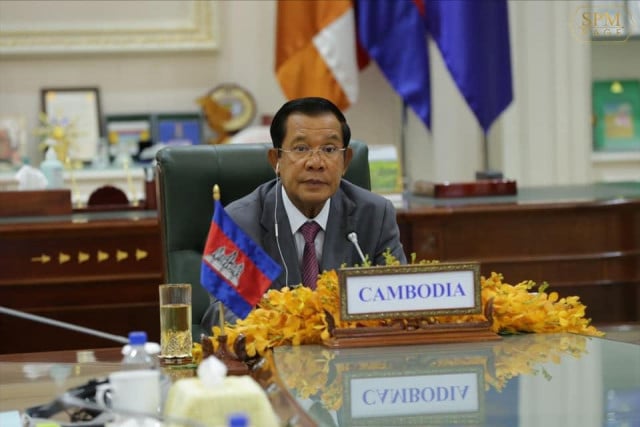 He added that this will be done while also taking social and economic issues into consideration
PHNOM PENH--Cambodia is committed to taking part in the solving of climate change issues based on its available capacity and resources, Prime Minister Hun Sen said on Oct. 7.
Speaking during the Climate Vulnerable Forum Leaders' Event, which was held via video conference on the margin of the 75th Session of the United Nations General Assembly, Hun Sen said that climate change is a cross-cutting issue that needs to be addressed through a comprehensive policy balancing social, economic and environmental aspects. Cambodia is highly committed, has the political will to contribute to the global efforts to address climate change, he said.
"In this context, although we need to shift policy and resource priorities to combat COVID19, we should all work hard to prioritize and ensure continuity of the implementation of climate change mitigation measures, which is a core agenda for our sustainable socio-economic development," he said. "Cambodia has less greenhouse gas emissions: We would like to demonstrate our commitment to combat climate change according to our capacity and available resources."
During his speech, Hun Sen called on all countries to expand the financial resources and especially climate-change financing to help support adaptations pledged by developed countries, and the transfer of technologies to developing countries to effectively respond to climate change. This should include mechanisms to manage and promote private investment in research on renewable energy, energy efficiency, forest conservation, adaptation technology infrastructure, he said.
"In the present context, advancing and adhering to regionalism and multilateralism are key principles for addressing emerging challenges in all aspects, especially the challenges caused by climate change," Hun Sen said.
The prime minister's speech comes as the Cambodian government on Sept. 25 has issued a sub-decree to reclaim eight hectares of Boeung Tamok lake in Phnom Penh for the Ministry of Justice to build a document storage facility. Studies have shown that land reclamation does have an effect on climate change through the environmental transformation this causes.

So far, six sub-decrees have been issued, resulting in more than 476 hectares of Boeung Tamok lake being taken over by the government and the private sector.
This also comes as the country continues to embrace coal power projects. In February 2020, Cambodia's Council of Ministers greenlighted two coal-fired power plants to be constructed in Kong Kong and Odor Meanchey provinces which have been commissioned for operation by the end of 2021 and early 2022, respectively.
With a $1.6 billion capital investment both plants could generate up to 1,000 megawatts collectively. Han Seng Coal Mines will develop one power station in Odor Meanchey Province, while Cambodian tycoon Kith Meng's Royal Group will build the other in Koh Kong Province. Meng was, in August 2020, granted 168.8 hectares of Botum Sakor National Park in Koh Kong Province for his power plant.
Another power station construction project, which includes two 350-megawatt coal-fired power plants, officially broke ground at Sihanoukville Port on Aug. 18, 2020. Approved last year as a flagship project under China's Belt and Road Initiative, it is funded by Cambodia International Investment and Development Group (CIIDG) in partnership with China Huadian Hong Kong (CHDHK).
On top of coal, Cambodia is among the few nations bringing back heavy fuel oil (HFO) power plants, have been widely condemned for the astronomical levels of pollution they generate. By the end of this year, a new 400-megawatt HFO plant will be finished in Kandal Province, despite the warnings of experts that pollution will reach Phnom Penh.
Related Articles