Prime Minister Hun Sen Vows to Be the First to Get the Chinese Vaccine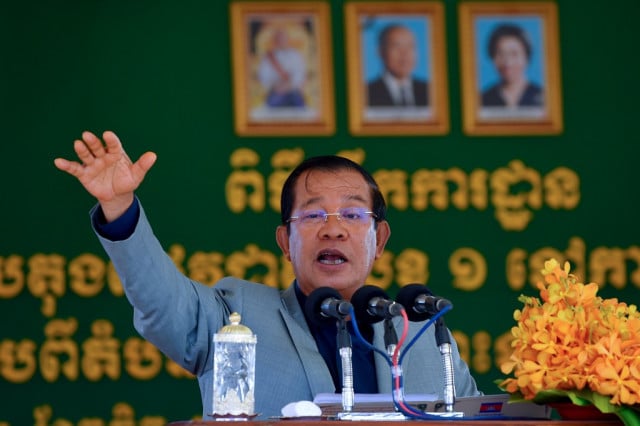 Sao Phal Niseiy and Torn Chanritheara
January 17, 2021 7:23 AM
As three more migrant workers returning from Thailand test positive for COVID-19

PHNOM PENH--Prime Minister Hun Sen on Jan. 17 said that he will be the first person to be injected with the Sinopharm vaccine when the doses arrive in the country, rebuffing concerns over the quality of the vaccine developed in China.
"Today, in order to build confidence in the vaccine and encourage the anti-COVID-19 effort, I announce that I am the first person to be inoculated with the first dose of the vaccine," Hun Sen wrote in a post on his Facebook page.
"I must be on the frontline, which has been my habit over the past years," he added.
Hun Sen's statement came just two days after his announcement that the country will receive one million doses of the Sinopharm vaccine and has been seen as a move to ease concern in Cambodia over the safety and efficiency of Chinese vaccines.
The announcement of China's vaccine donation has sparked a debate among people over the efficacy of the vaccines developed in China including the vaccines Sinopharm and Sinovac as it has been reported that those vaccines have low efficacy.
According to Chinese state-owned tv CGTN, the vaccine developed by China's state-owned pharmaceutical giant Sinopharm, which was granted conditional market approval for public use in late December 2020, is claimed to have an efficacy rate of 79.34 percent.
In his speech on Jan. 15, Hun Sen had stressed that, not only the vaccines developed in China, but also those developed in other countries and being used throughout the world have efficacy rates that are not yet fully known.
Three more workers returning from Thailand have contracted COVID-19
While the prime minister was announcing that he will be the first person in Cambodia to get the vaccine made in China, the country's authorities were reporting that three more Cambodian workers returning from Thailand had tested positive for the coronavirus.
"There are three new cases of COVID-19 involving migrant workers [coming back] from Thailand," said Or Vandine, spokesperson at Ministry of Health. They have been placed under treatment at the Banteay Meanchey Referral Hospital, she said.
In the meantime, three Cambodian workers who had tested positive when they returned from Thailand have made a complete recovery and been discharged from hospital, Vandine said.
As of Jan. 17, Cambodia had registered a total of 439 confirmed COVID-19 cases, with 385 recoveries and zero death.
Globally, according to the Coronavirus Resource Center at the John Hopkins University of Medicine in United States, over 94.4 million cases of COVID-19 had been identified as of Jan. 17, with the number of deaths due to the disease exceeding 2.02 million.
Related Articles