Provincial Authorities to Monitor Returning Migrant Workers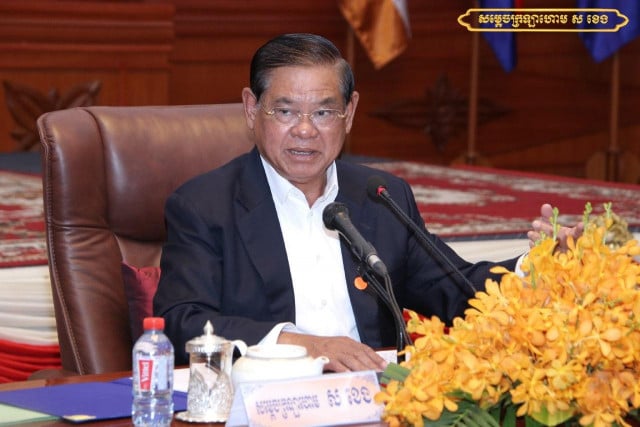 Phoung Vantha
March 27, 2020 9:38 AM
As an estimated 40,000 migrant workers return from Thailand, Interior Minister Sar Kheng orders provincial authorities to locate them and monitor their health.

PHNOM PENH--Interior Minister Sar Kheng on Friday ordered all provincial authorities to search for Cambodian workers who recently came from Thailand. This comes after the interior minister admitted Cambodia does not have the capacity to test the volume of people returning for Coronavirus Disease 2019 (COVID-19).

Kheng stated that authorities would be monitoring all villages migrant workers were returning to, even if it was just one worker coming back from Thailand. They will need to report a history of their health and should self-isolate, as Kheng noted that Thailand has become a hotspot for COVID-19. As of March 27, there were 1,136 confirmed cases of the virus in Thailand, where five people have died according to the Thai Enquirer.

The interior minister expressed concern that one individual could infect up to five others if they were infected with COVID-19. On March 26, he announced more than 40,000 Cambodian workers had crossed the Thai border back into Cambodia.

The Ministry of Labour and Vocational Training announced in February 2020 that some 1.2 million Cambodian workers lived abroad, with the majority thought to be in Thailand.

He stated that a state of emergency has not yet been declared in Cambodia, as it has been in Thailand, but Kheng claimed the Cambodian government was still studying options.

"Placing the country in a state of emergency has two levels: serious and light, with a serious being a complete shutdown of the country, meaning no gatherings, no meetings or other work-related activities," he said. "The other is just being house lockdown which means people are not allowed out of their homes, they must stay put – Samdech Techo Hun Sen disclosed that some level may be applied, but which option will we choose, I still do not know," admitted Kheng.

Sar Kheng recently ordered the temporary closure of any villages where three or more Coronavirus Disease 2019 (COVID-19) cases are found.

As of March 26 the number of confirmed Coronavirus Disease 2019 (COVID-19) cases in Cambodia reached 98 with zero fatalities recorded.


Related Articles
November 18, 2022 11:55 AM