Rainsy Goes on Attack in Libel Case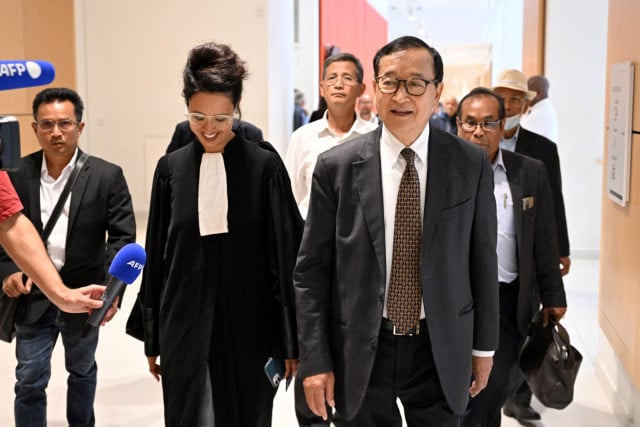 September 2, 2022 4:16 PM
PHNOM PENH – Exiled opposition leader Sam Rainsy has used a French court as a forum to denounce what he said was a lack of free speech in Cambodia.
Rainsy took the stand as he faced two criminal defamation cases brought by Prime Minister Hun Sen and his son-in-law Dy Vichea.
He asked the judges to place themselves "in a country where there is no freedom of speech, where every person who speaks the truth ends up either dead, in prison or in exile," Agence France Presse (AFP) news agency reported.
The former leader of the outlawed Cambodian National Rescue Party said Facebook was the only window through which he could express himself.
The hearing was held on Sept. 1 in the 17th correctional chamber of the Tribunal Judiciaire de Paris, the Parisian first instance court for criminal matters.
The chamber, also known as the "chamber of the press", specializes in issues related to freedom of speech and defamation. It said it will announce its verdict on Oct. 10. If convicted, Rainsy could be sentenced to up to one year in jail and be fined €45,000 (about $45.000).
The complaints were filed in 2019 by Hun Sen and Dy Vichea after posts Rainsy wrote on his Facebook page. One was about Hok Lundy, the chief of the national police who died in a helicopter accident in 2008.
On June 2, 2019, he posted that "Hun Sen killed Hok Lundy using a bomb placed inside his helicopter."
The same day, in another Facebook publication, Rainsy added that Lundy's son, Dy Vichea, was considering plotting against the prime minister to avenge the death of his father. This allegation has been strongly denied by Vichea, who is the husband of Hun Sen's daughter Hun Mana.
Rainsy has been living in France since 2015 and is prevented from coming back to Cambodia to attend to multiple lawsuits he faces. He has dual Cambodian-French citizenship.
Rainsy's lawyer, Jessica Finelle, told AFP that judges ought to "recognize that it is in the public interest for Sam Rainsy to denounce crimes committed by Hun Sen within a dictatorship."
Another of his lawyers, Mathias Chichportich asked the court to exonerate him.
However, Hun Sen and Dy Vichea's lawyers said the hearing had turned into a "forum against Hun Sen."
Luc Brossolet, a lawyer for both Cambodian officials, said he expected the court to find Rainsy's remarks defamatory.
"Being a political opponent doesn't save him from crossing the line of the truth," he said.
Related Articles