RUPP's Degree in Vietnamese Will "benefit Cambodians": PM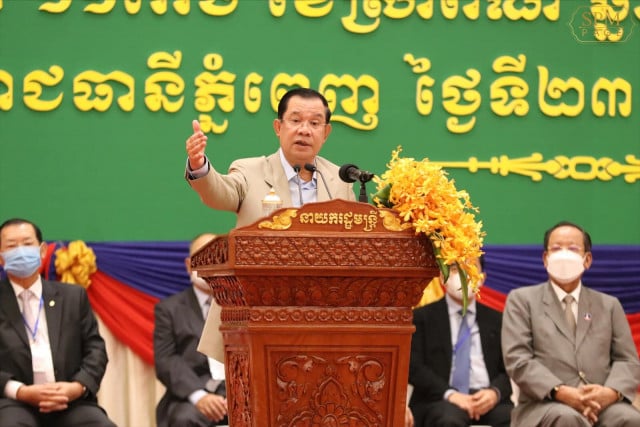 PHNOM PENH – The upcoming opening of Cambodia's first Vietnamese language department at the Royal University of Phnom Penh (RUPP) will benefit the Cambodian people and further strengthen ties between the two neighboring countries, said Prime Minister Hun Sen.
Speaking at the graduation ceremony of students of the Asia Euro University, Hun Sen stressed that "the establishment of the department of Vietnamese Language is not to bring Vietnamese people to learn Vietnamese in Cambodia", but rather to encourage Cambodian people to turn to Vietnam. "The benefit is ours," he said.
He underscored that launching the language department at RUPP, a public educational institution, will allow Cambodian students to get properly trained in Vietnamese language before considering pursuing a degree in Vietnam. There are currently more than 1,000 Cambodian students in Vietnam, while no Cambodian public university is offering any degree in Vietnamese language.
"It will also benefit Cambodians living in border provinces, by increasing trade and creating job opportunities," said the Prime Minister.
The establishment of the department of Vietnamese Studies was made public on Aug. 16, but the official opening date has yet to be released.
During a press conference on Aug. 19, Hang Chuon Naron, the Minister of Education, Youth and Sport, clarified that the vocation of the department is only to train Cambodians with a special interest in Vietnam.
"The training is not going to be incorporated into the standard curriculum for all students, but only for Cambodian students who receive scholarships to study in Vietnam and others who are interested in learning the language," said the Minister.
Given the long-standing animosity of Cambodians towards Vietnam, he outlined that Cambodia is not under any pressure from the Vietnamese side to create this language department.
"Cambodia felt the need to create a Vietnamese course for students who struggled with studying Vietnamese when they did not learn the language before going to Vietnam," he said.
Naron added that this department formation would offer chances in boosting Cambodia-Vietnam trade volume and Vietnamese investment in Cambodia. Vietnam is Cambodia's number one trading partner with more than $5 billion worth of bilateral trade.
In addition to the Vietnamese language, RUPP is already conferring Bachelor's degrees in Chinese, English, French, Japanese, Korean, and Thai.
Related Articles