Several ASEAN Air Force Chiefs Skip Myanmar Meeting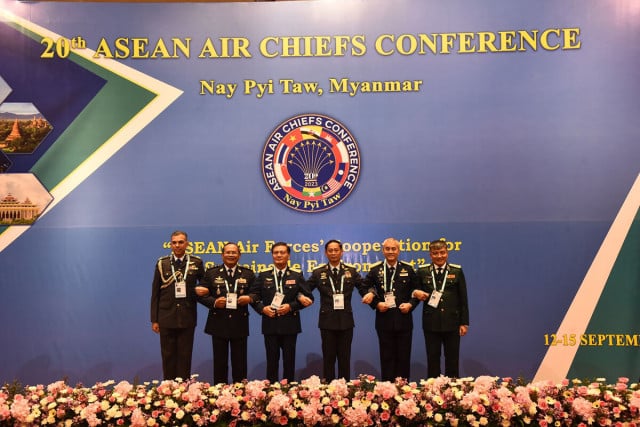 September 14, 2023 4:50 PM
Yangon, Myanmar -- Air force chiefs from several countries around Southeast Asia did not attend a conference in Myanmar this week after the ASEAN regional bloc accused the ruling junta of targeting civilians in its post-coup crackdown.
The snub came after the Association of Southeast Asian Nations (ASEAN) accused the junta last week of ignoring a peace plan agreed with the bloc to end violence sparked by the military regime's coup.
Myanmar is still a member of ASEAN, but its military rulers have been excluded from top-level bloc meetings since their takeover.
The heads of the 10-nation bloc's air forces meet every year to discuss cooperation in defence, combatting extremism, and disaster relief.
This year, Myanmar is hosting the gathering that began on Wednesday and is expected to run until Friday.
However, the air force chiefs of Indonesia, Malaysia, the Philippines and Singapore did not travel to attend the meeting, according to the junta's information team.
Air force chiefs from Brunei, Cambodia, Laos, Thailand and Vietnam arrived in the military-built capital Naypyidaw on Tuesday, the junta's information team said late Wednesday.
Myanmar Air Force chief Htun Aung, who has been sanctioned by the United States and Britain, met with each of the visiting officials separately and discussed "issues of cooperation between the ASEAN air forces," it said.
The chiefs of the Philippines and Singapore air forces had instead sent video messages for discussions on "Co-operation for a Sustainable Environment", it said.
ASEAN has led so far fruitless diplomatic efforts to defuse Myanmar's bloody crisis, which has displaced more than 1.5 million people, according to the United Nations.
Neighbouring Thailand has held its own bilateral talks with the junta in recent months, further dividing the bloc.
In July, Thailand's then-foreign minister said he met with Myanmar's ousted democracy leader Aung San Suu Kyi, in her first-known meeting with a foreign envoy since she was detained following the 2021 coup.
© Agence France-Presse
Related Articles