Sharp Gasoline Price Increases Have Especially Affected People of the Informal Economy Sector, Experts Say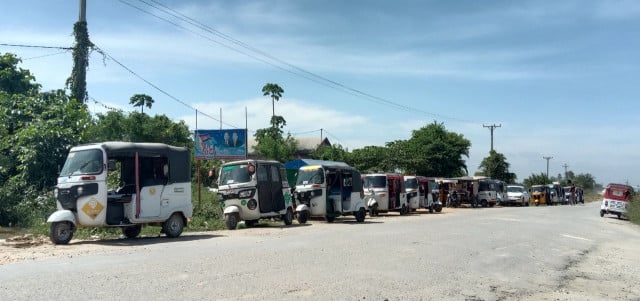 Gasoline prices in Cambodia rose more than 37 percent while diesel went up 44 percent in the first quarter of 2022
PHNOM PENH—Inflation in Cambodia has gone up 5.9 percent during the first three months of 2022, with the price of gasoline jumping 37.3 percent compared to the same period in 2021, a jump in price especially hard to contend with for workers in the informal economy sector who had already seen their income drop due to the COVID-19 pandemic.
The Economic and Financial Statistics report published by the Ministry of Economy and Finance on June 27 shows that the price of pork rose 4.6 percent and fish 5.2 percent while the price of regular gasoline increased 37.3 percent and diesel 44.4 percent.
This report was followed on June 30 by a report of the World Bank stating that Cambodia's economic recovery will face a crisis due to rising gas prices although the country's economy as a whole may still grow 4.5 percent in 2022 since domestic economic activity and exports continue to recover after the slowdown due to the pandemic.
Entitled "Weathering the Oil Price Shock," the World Bank report says that the food crisis in global markets is pushing inflation higher while in Cambodia, poor and vulnerable households with limited savings are likely to be the hardest hit by the rising fuel-price crisis.
A tuk-tuk driver in Phnom Penh, who asked not to mention his name, said that the rising price of gas and fuel has doubled his expenses and twice decreased his income. He said he barely has any money left once he has paid his daily expenses.
"The prices are rising while the number of customers is decreasing; as a result, I haven't made as much as I did before," he said. "The expense for gas is twice what it was before, but the price charged for a ride remains the same.
"Gas prices used to be stable and low," he said. "[M]y vehicle could run for three days on a 20,000 riel [$5] expense for gas. But now it barely lasts two days for the same cost; plus, the income decreases because there are fewer customers."
The tuk-tuk driver went on to say that he used to earn nearly 100,000 riels ($25) in a day, but now he barely makes 60,000 to 70,000 riels ($15 to $17.50).
"There's more money needed for my daily expenses and now that I have to spend 15,000 riels [$3.75] on gas, the income left is not much," he said.
When asked whether he wanted to increase the cost of a ride, he said doing so might not work because customers may not be happy with it. "It'd make it more difficult for both the customers and me," he said
Hong Vannak, an economist at the Institute of International Relations of the Royal Academy of Cambodia, said the rise in inflation in the country is not in line with Cambodian people's income, especially the income of those in the informal economy, which is declining due to rising fuel prices.
"The inflation has been gradually affecting the daily life of people, from month by month," he said.
Vorn Pov, president of the Independent Democracy of Informal Economic Association (IDEA), agreed that the rising prices of gas and fuel have greatly affected workers in the informal economy sector.
"The rise of prices is partly affecting the financial situations of families in the informal economy sector," he said.

"Moreover, people who are working in the informal economy [sector] are already making little money, so the increase in expense for gas/fuel really puts a burden on their family's budget, especially for taxi drivers, tuk-tuk drivers, motorcycle-taxi drivers, and other mobile businesses on trucks."
However, Pov said, actual solutions for all may be hard to find as the soaring prices are the result of the war between Russia and Ukraine.
Measures to Cope with High Fuel Prices on a Personal and Country Level
Both Vanak and Pov made some suggestions to help reduce gas and fuel expenses, noting that since price increases are linked to prices on the international market and the conflict between Russia and Ukraine that has affected supplies, what can be done is limited.
"There are a few effective methods that can be taken in order to help ease gas/fuel expenses like switching from vehicles powered by gasoline or diesel to electric vehicles," Pov suggested, saying that many countries have used this strategy.
"One more thing is that they may have to reduce the use of gas or fuel to save money," he said. "As I don't see there can be other solutions, I think that's all that they can do."
The government, Pov continued, may encourage people to increase the use of solar energy or energy generated through sunlight. Moreover, the government should not increase but instead reduce the tax on imported gasoline to help ease people's hardship.
Vanak of the Institute of International Relations pointed out that to help reduce problems due to inflation triggered by rising fuel prices and food shortages in the future, people should have a proper spending plan, and especially decrease expenses on unnecessary goods and services in their lifestyle.
Thus far, the Ministry of Commerce has set the price of regular gasoline at 5,800 riels ($1.45) per liter, diesel at 6,300 riels ($1.58) per liter, prices that gasoline station/depot owners across the country had to start charging by the end of June 2022.
The World Bank has also recommended a number of measures to support economic recovery, including the need for continued efforts to curb the spread of COVID-19 and to further strengthen the confidence of consumers and investors.
The World Bank has suggested to Cambodia a number of cost-cutting strategies for the logistics sector, such as increasing its trade competitiveness and expanding its transport network with improvements to its physical infrastructure.
Related Articles