Sothy blames Samnang over his greed for big profit from land sale.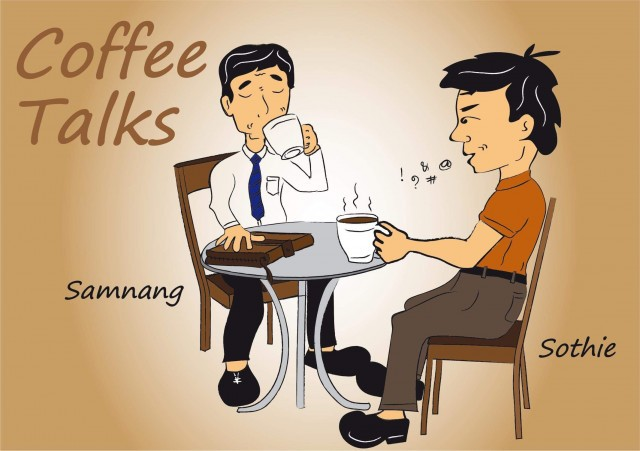 Lim Tola
November 18, 2019 9:22 AM
As usual, Sothy and Samnang like wasting their times chatting about social issues at their morning coffee table. One Saturday morning, the subject turned to the landslide drop in land price, which has created a situation where there are plenty of people with land to sell while there is little appetite for it.
Sothy and Samnang rarely agree on anything. But they seemed to be on the same page this time when the real estate business is facing mounting risks.
Sothy: I've already warned you about the land price. It's been inflated and not real. Some Chinese and Khmer had cooked it up for sometimes. Now because of the decline in the number of Chinese visitors, land in Kampong Som (Sihanoukville) has no one wanting to buy. You see? Just like I've told ya!
Samnang: Yeah, I know, but at least those bought and sold it back quick enough have made huge profits outta the transactions.
Sothy: Sure, but there are plenty of big losers as well, especially those who took out bank loans to invest in the properties. Now they have neither renters nor buyers. The collapse has begun and its domino effect is being felt elsewhere already.
Samnang: If you're a genius, can you guess when the price would bounce back up?
Sothy: I'm not a soothsayer, but all I can say is the price drop may last up to two years. Those who didn't borrow from the bank are fine. But those who did, they are in hot water now. You should remember that land economics is a psychological game. When the price is up, there are plenty of buyers. But when it is nose-diving like it is now, there are zero buyers. Why are you asking me? Are you also in this mess?
Samnang: Yeah, buddy. I saw people make quick bucks out of it so easily so I decided to join the bandwagon. I've taken a bank loan to buy a piece of land and build a guesthouse hoping to rent it out to the Chinese. Now many of them have already left in a quick exodus, and I've become like a dead man.
Sothy: I've warned you not to be reckless, not to rush after someone else's footsteps. Now, you're in a this hot water because of your own greed.
After chatting for about 15 minutes and draining their coffee cups, the two buddies parted their ways with a promise to meet up again Monday next week.
Related Articles