Thai Buddhists Quash Angkor Wat Copy Fears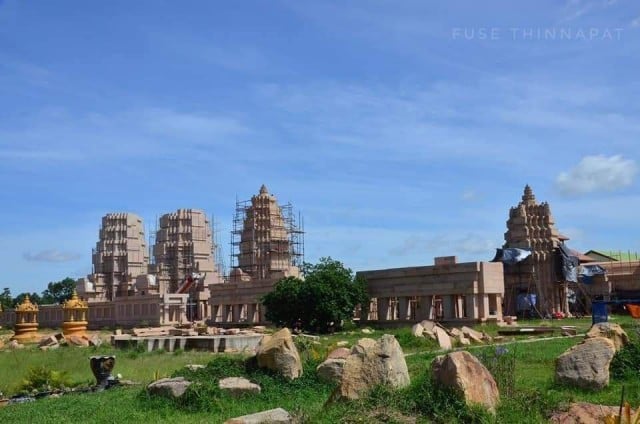 Envoy confirms temple complex based on abbot's plan
PHNOM PENH--Thai Buddhist authorities have given an assurance that a temple complex being built in Thailand's Buri Ram province is not a replica of Angkor Wat.
Cambodia's Ministry of Culture and Fine Arts confirmed on July 7 that the temple is based on other stone structures used as Buddhist places of worship.
The complex is being erected in Wat Puthbat Seila Phu Man Fah of Nong Boulay village.
"By clarifying and showing the construction layout plan, the chief abbot of Wat Puthbat Seila Phu Man Fah confirmed that the construction of this temple did not copy the design or build in the same architectural style as Angkor Wat or any ancient temples in Cambodia," the ministry said.
A ministry press release said the Cambodian Ambassador to Thailand had investigated the issue.
The ambassador found that the construction is based on the chief abbot's own layout and designed according to the architecture of some of the temples in the area.
However, professional officers in the field of Cambodian architecture would be welcome to visit the site in case of any doubts. The ministry will also continue to follow this work carefully.
Images of the Sihanakorn Temple, as it has been dubbed in Thailand, circulated on social media after they were posted by a Facebook user named Borannachar "Archaeologist" saying the project was "Angkor Wat 2," leading to outcries from Cambodian netizens.

The ministry announced on July 6 that it would investigate the plan. Thailand held its first groundbreaking ceremony on April 5. The project is reportedly scheduled to be completed in seven to eight years.

This isn't the first time that the ministry has confronted Thailand over the use of Angkor Wat's image. In October 2020, the ministry launched an investigation after images of Angkor Wat featured in a Thai film called "The Promise" prompting Cambodian authorities to question whether the filmmakers had the rights to use Angkor Wat's image.

This was just a month after an Australian tourism company used images of Angkor Wat to advertise Vietnam, enraging many Cambodians and earning an official reprimand from the ministry.

However, this is not the first time that the controversy over Angkor Wat copy has been stirred up. In 2015, India decided to call off its plan to build Angkor Wat replica after the Cambodian government strongly opposed the project.

Angkor Wat Temple was built by King Suryavarman II in the early 12th century in Yasodharapura, the capital of the Khmer Empire. It was initially dedicated to the Hindu god Vishnu, then was converted to a Buddhist temple at the end of the 12th century. Angkor Wat was inscribed on the UNESCO World Heritage List in 1992.
Related Articles