The Dark Side of Social Media Pranks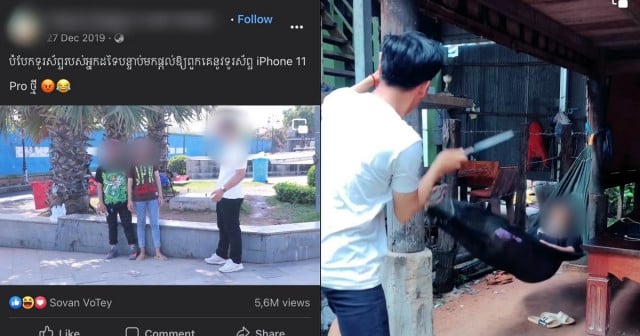 PHNOM PENH – Parents and social analysts have expressed concern over viral prank and anti-social videos on social media.
Pranks such as cutting hammocks, breaking a stranger's phone, eating cow dung and eating poisonous insects have gone viral on social media, especially Facebook and Tiktok.
Some content creators do it for fun while others do it for popularity and monetization through their videos.
Views, likes, shares are everything
Video of a man cutting a hammock while a woman was asleep on it attracted nearly two million views in just a few months on Facebook.
The video was staged but was misleading and had no educational value.
"Pranks seem to be a trend in society, but they seem to teach people to be immoral and unethical in their daily lives," said a Facebook account holder named Chanthouen who shared the hammock video.
"The like and share effect has transformed many young people into moral and ethics destroyers of society. Some of the videos have affected rural children who are at the age of curiosity
A vlogger named Theara breaks people's phones in public as a prank. The video has been viewed millions of times with tens of thousands of shares and more than 5,000 comments.
One Facebook user named Lee Hong commented, "Even though it is a prank, you have to remember that theirs [Phone] is worth more than your Iphone 11Pro. Sometimes it is a gift from their parents and was broken by you".
Other videos such as eating cow dung, shoes and durian shells with salt and pepper, as well as chewing poisonous insects, show anti-social acts and have gone viral.
Hun Sinath, sister of Prime Minister Hun Sen, is critical of these kinds of video that are posted to get high views, likes and shares. Sinath said a woman filmed biting her shoes dipped in salt and pepper was an immoral act that harmed national values.
"Don't just care about the number of views and likes and denigrate your own race like that. I saw Thailand publish that in the news. It is not like Cambodia does not have something for them to eat so that they eat shoes," Sinath said.
She asked authorities to take legal action.
There is always "I am sorry"
Many video owners have been warned by the authorities. Earlier this April, Kandal provincial police called a man by the nickname Krou Ter or Dwarf Teacher to be educated and agree to stop all anti-social activities on social media. The warning came after the Dwarf Teacher posted a video of him eating cow dung and other anti-social activities on social media.
Kandal Provincial Police Commissioner Chhoeun Sochett said, "People cannot eat cow dung but if people can do it then it is over.
"That guy wants to be famous and get likes and shares but he overlooked that it can affect public order. That's why we called him to advise him to do something with human dignity."
Many other content owners have recorded video expressing regret. Some deleted controversial videos, while others did not. Despite the deletion, the videos had been downloaded and shared by other people.
Children can imitate bad behavior
Chy Sophat, an expert in technology and a content creator on social media, said making bizarre or prank videos was attractive but had moral implications for children.
"Cutting phone lines and breaking phones are all anti-social actions that young people should not choose to joke about," Sophat said.
"I know that is a prank, but sometimes it affects the important image or personal files of the device owners.
He said such videos get a lot of attention would provoke other people to follow suit without understanding that it is wrong and harmful to others.
There was no clear distinction between content for children and for adults, so all videos are influential even if they are of a performance.
"I can also see this content, but what I do is to report those pages to Facebook. I do not try to correspond or share. The report function is a place to notify of such acts to companies or applications, such as Facebook, YouTube or Twitter."
Leang Sopheak Phalkun, a social media user, also noticed the growth of video production on social media, especially Facebook, Tiktok and Instagram. This trend has made it easier for consumers, business owners and young people who love producing videos.
Phalkun, 22, uses Facebook for work and entertainment. She likes some online videos but finds some others inappropriate.
She said, "Facebook allows people to showcase their new ideas and talents but at the same time allows unprofessional content creators to post videos without any foresight of the impacts of effects it could have on society, especially children. Children from 10 years old own phones. It is not a good example for them to follow inappropriate content."
A 29-year-old mother of two sons named Chan Srey Ny voiced her worries about social media content on Facebook and TikTok.
"It is quite concerning to me because my 11-year-old son always plays games and watches videos on TikTok, Facebook and YouTube after finishing his class," she said.
"He is too young to comprehend or understand anything that is on social media platforms, particularly the first two. And I, myself, am not tech savvy. I cannot keep up with the boy these days. I really have no idea of the content delivered to him."
Srey Ny thinks all media content should have an age rating messages for viewers, guardians or parents. Content creators, ministries and all stakeholders must take this into consideration.
President of the Cambodia Institute for Democracy Pa Chanroeun says viral pranking and bizarre videos are designed to attract attention.
"Like, share, comment and view are all indicators that measure the success, attractiveness, and influence of those videos," Chanroeun said.
"They can do everything once they drown in an idea of getting more likes or shares. However, not all likes, shares, views and comments they get are positive."
Also, some people pretended to be journalists and content or video creators when they did not understand the value or practice of professional ethics in spreading information and news.
Chanroeun urged the Ministry of Information and stakeholders to raise awareness, point out mistakes or shortcomings of content creators or owners, and instruct them not to cause further harm and chaos on social media and in society.
"Regularly promote understanding and professionalism in disseminating content, information and news among journalists and all content creators," Chanroeun said.
"I think it would be a great idea if there is a daily training program for social media content creators in our country."
Pok Borak, director of Culture and Fine Arts Ministry's Cinema Department, said the ministry does not want to control video production or content creation on social media as it does on television or in theaters, because some productions have good content. However, some producers have affected social morality and national culture.
"Instructing/educating the producers or those responsible for the production is necessary when their content excessively poses a threat to cultural values. Our instruction has not been widespread, but we will try," Borak said.
The ministry has film guidelines that determine the level of social acceptance, age restrictions and types of content that children and teenagers can watch.
Related Articles