The Phnom Penh-Sihanoukville Expressway to Open for Free during October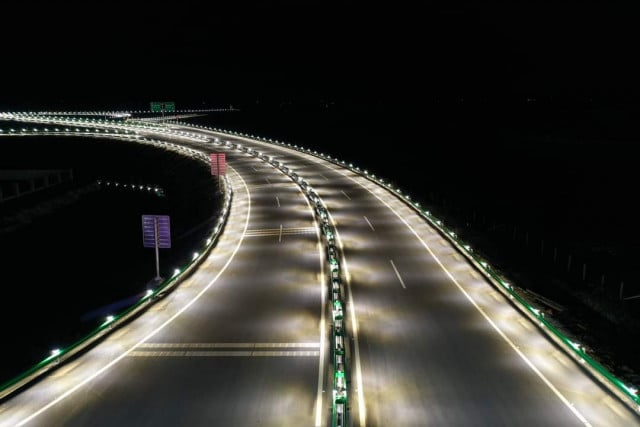 PHNOM PENH – The Phnom Penh-Sihanoukville Expressway has been scheduled to open on Oct. 1 following an inspection by the authorities and will be toll free for one month.
Minister of Public Works and Transport Sun Chanthol inspected the 4-lane highway on Sept. 21 to make sure it is safe and ready for the free-trial period. He was accompanied by representatives of the Cambodia PPSHV Expressway Co., Ltd. and the China Road and Bridge Corporation (CRBC) that funded and built the road.
"In view of the strong road construction, good quality road equipment, and night-time lighting and reflectors combined with strictly adhering to traffic laws, people will be able to drive safely at night on the new Phnom Penh-Sihanoukville Expressway," Chanthol said during the inspection.
The expressway construction is ready to open eight months earlier than planned, he said, with the remaining work soon to be completed after more than 40 months of construction.
Construction of the highway, which is 187.05 kilometer long and 24 meter wide, began in March 2019. It will connect Phnom Penh to Sihanoukville in Preah Sihanouk province, crossing through Kandal, Kampong Speu, and Koh Kong provinces.
With two lanes for traffic in each direction plus an emergency lane on each side and paved with asphalt concrete, the Phnom Penh-Sihanoukville Expressway will enable vehicles to reach destination in three hours instead of the four or five hours it used to take to cover the distance on National Road 4, according to the Ministry of Public Works and Transport. The two sides are separated by a garden-style median strip, and the highway has interchanges to national roads no. 4 and no. 6 as well as other locations plus three areas to stop and one parking area along the way.
The Penh-Sihanoukville Expressway, which cost around $2 billion, has been a public-private partnership project that was funded by CRBC, Cambodian PPSHV Expressway and the governments of Cambodia and China.
During his inspection, Chanthol sent a message to drivers to drive on this expressway in accordance with traffic safety standards, respect the speed limits and road signs, slow down at the tool booths as required, drive carefully when passing vehicles and getting on or off the highway.
Motorcycles with 500cc or 27kw or more engines are required to apply for a sticker at the Ministry of Public Works and Transport before using the expressway, Chanthol added.
The minister pointed out that the Cambodian government's master plan for Preah Sihanouk Province consists of a multi-purpose special economic zone designed to attract tourists and investors through industrial plans and serving in the tourism industry. This expressway will greatly improve road transport between Phnom Penh and the seaport in Preah Sihanouk Province, he added.
Related Articles