The Role of ICT in Sustaining Online Education during COVID-19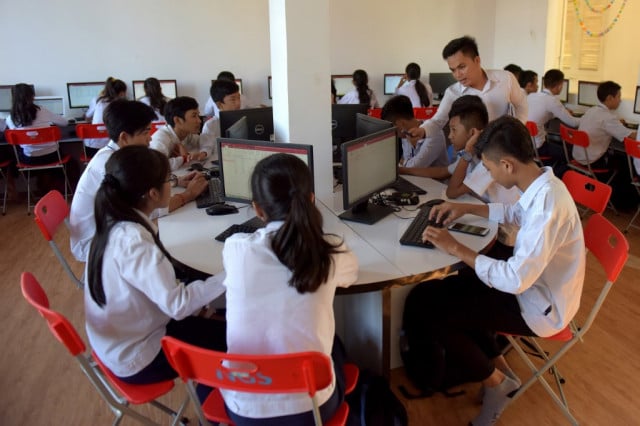 Sarik Seangmeng
September 16, 2020 8:06 AM
The educational world is not exempt from the impact of Coronavirus Disease 2019 (COVID-19). The United Nations Educational, Scientific and Cultural Organization (UNESCO) has recognized that the COVID-19 outbreak has increased the gap between educators and learners and has impacted the education sector globally.
According to UNESCO, approximately one billion youth and students have been affected by the pandemic and at least 165 countries have closed their schools. COVID-19 has therefore brought distress to the entire globe. The education sector has been among those worst-hit by the pandemic, creating many challenges for both teachers and students.
Edeh Michael Onyema and co-researchers highlight that the responses to the COVID-19 pandemic have been varied from country to country. However, to contain the spread of COVID-19, most states authorized the closure of schools and universities. Lockdown has greatly impacted the livelihood of many people across the globe. Millions of people have had to stay at home, self-isolate, work and study from home for at least a few months as a result of the virus outbreak.
In China, as university campuses were closed, 24,000 online courses have been initiated. The Ministry of Education in China provided 1,291 national excellence courses to learners. Furthermore, 401 virtual experimental simulation courses were implemented via 22 different platforms. Many schools and universities postponed their pedagogical activities momentarily. In Malaysia, educational institutions were closed on March 18, causing interruption to about five million students. Many universities suspended their face-to-face teaching and instead launched e-teaching and e-learning to offer students the opportunity to continue their education.
In Cambodia, the educational sector has also been severely hit by COVID-19. The Ministry of Education, Youth and Sport initially announced that all educational institutions within Phnom Penh and the Siem Reap Province must close temporarily from March 14. Only a few days after the announcement, the Education Ministry on March 16 decided to close all educational institutions in the country, transferring all physical classes to online learning through television, Facebook, YouTube, Telegram, and websites.
The continuous spread of the virus remains a concern; the prolonged suspension of educational institutions will fundamentally interrupt students' learning and inhibiting their future capabilities and career prospects. Likewise, the closure of institutional institutions will undeniably impede and slow educational targets.
Onyema highlighted that the closure of higher education institutions, which helps contain the spread of the virus, has had disadvantageous outcomes for millions of learners internationally, many of whom have been confronted with various challenges.
Based on a study that analyzes undergraduates' responses on social media, the challenges for learners do not emerge from technical obstacles. Instead, the problems are due to the lack of a good learning attitude, lack of self-discipline, inadequate education materials or a good learning environment when they self-isolate at home. Students who lack these necessary foundations for learning and require extra support will no doubt suffer academically. Consequently, academic disparity between students will be heightened.
Moreover, unplanned closures of educational institutions will undoubtedly cause severe issues for learners, educators, parents and society at large. Notably, there have been effects on interest in learning and students' academic performance. According to the US Centre for Disease Prevention and Control (CDC) "longer [school] closures may result in more students congregating outside of schools." Quentin Brummet stated in a 2014 research paper that educational institution closures are worrisome because it can have overflow effects on a large number of students in receiving education. Furthermore, there are significant effects on students with special needs and those with learning difficulties who regularly require more physical inspection and supervision from their teachers.
Due to the closure of schools and the suspension of face-to-face learning, a remote system of learning through appropriating existing technology has been implemented worldwide. If such measures had not been put in place, there would be greater disruption to the global education. Through learning resources including video conferencing applications such as Zoom, e-mail and social media, teachers and students are able to continue their teaching and learning activities.
Furthermore, through online resources, educators and learners can access information, create supportive environments for education and have the opportunity for professional development. Online platforms, mobile reading applications, self-directed learning content, collaboration platforms, live-video communication and other tools are being utilized to offer distance education solutions and digital education content to students.
Thus, COVID-19 reminds us that ICT is a principal component of pedagogy in the 21st century. Onyema and colleagues highlighted that the expansion of technology adoption in education has enabled the adjustment of teachers' teaching techniques from the traditional to modern approach – allowing them to dispense knowledge more flexibly. Technology tools, in a sense, act more as mentors, facilitators and motivators that can invigorate students, especially undergraduates, to be more engaged. The rapid development of ICT and its application as well as other digital services has great influence on higher education institutions. These technologies play a pivotal role in promoting access to education as higher education institutions try to reach their targets to enhance the teaching and learning process.
However, the success of online education depends on several factors, including reliable internet connection, availability of learning software, digital skills of the participants, availability of resources and access to technology. The surge in online education has been motivated by the need for the continuation of education in light of COVID-19, as well as the success of technologies that enable and foster the learning process through online lectures, virtual classroom courses and other instructional materials and activities on the internet.
No doubt, there are challenges in conducting online education, including the availability of ICT tools, lack of knowledge to manipulate ICT facilities, insufficient funds, language problems or lack of training. Nonetheless, these difficulties can be overcome by formulating strategies to advance broader access to skills and competencies and amplifying supportive infrastructure facilities, including electricity and access to the internet.
Overall, the pandemic has driven millions of students to study from home. It has greatly affected educational activities across the globe. Some of the major impacts include educational disruption, inadequate access to facilities such as laboratories, employment losses in the institution sector, an increase in undergraduates' debts, decreased funding for pedagogy, research limitations and decreased learning interests among learners. However, it is suggested that undergraduate students should view this crisis as an opportunity to campaign for worldwide collaboration and share experiences as well as knowledge and resources to develop a global online education network.
In brief, through distance learning mechanisms, ICT can be exploited to enhance students' learning accomplishment, although this improvement has not been universal. In the context of a developing country like Cambodia, it is vital to increase technology awareness and familiarity, promote digital literacy and associated skills, as well as enhance access to internet connection and technological devices to enable students to succeed in their learning, especially in the time of the COVID-19 pandemic.
SARIK Seangmeng is an administrative assistant in a Vice Rector's Office for Information and Student Affairs at the Royal University of Phnom Penh (RUPP). He has obtained a bachelor's degree in Computer Science from RUPP and is currently pursuing a master's degree in Development Studies at the same university.

TThis article was originally published by Cambodian Education Forum on August 19.
Related Articles