The US Unfreezes $18 million in Aid, Says the Ministry of Foreign Affairs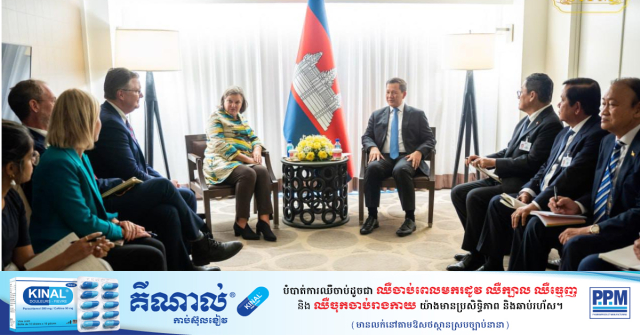 September 23, 2023 7:25 PM
PHNOM PENH — The United States has decided to unfreeze $18 million in assistance to Cambodia, the Ministry of Foreign Affairs and International Cooperation said following the meeting between Prime Minister Hun Manet and a U.S. senior diplomat in New York City.

Hun Manet met with Victoria Nuland, U.S. acting deputy secretary of state, on the sidelines of the UN General Assembly meeting on Sept. 22.

In its statement on Sept. 23, the ministry quoted Nuland as saying that the United States was welcoming the opportunity to expand the two countries' relation by working with the prime minister.

The talks focused on finding ways to strengthen ties and take cooperation to another level, the statement read.

During their meeting Nuland informed the prime minister that the United States had decided to provide via USAID $18 million in aid, which had been frozen after the July 23 election, the ministry said.

The U.S. State Department had announced the pause in a statement to the effect that the national elections had been "neither free nor fair" and had therefore decided to respond to this by implementing "a pause of certain foreign assistance programs" and by taking steps to "impose visa restrictions on individuals who undermined democracy."

The details of the assistance paused and names of those under sanction had been withheld.

The ruling Cambodian People's Party (CPP) won by a landslide, obtaining 120 of the 125 parliamentary seats during the 2023 national elections. The royalist FUNCINPEC won five seats. The CPP victory then led to a once in a generation change at the leadership level with Hun Manet replacing his father Hun Sen as prime minister.

Hun Manet and Nuland also discussed the repatriation of Cambodians from the United States to Cambodia.

The prime minister told Nuland that Cambodia will speed up the process and ask the United States to do the same especially in the case of Cambodians with health issues.




Related Articles