Six Arrested After Security Forces Clash with Peaceful Protesters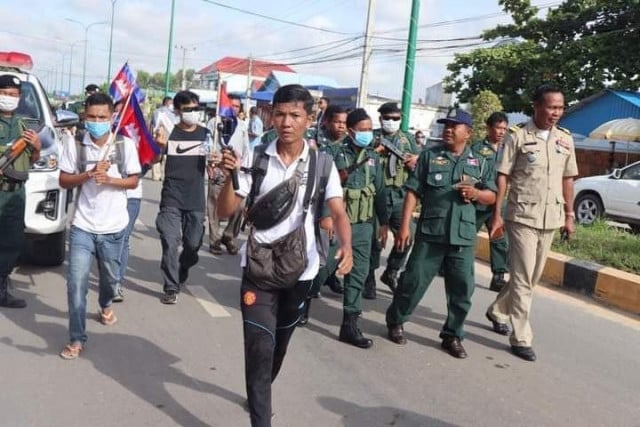 Phoung Vantha
August 13, 2020 12:58 PM
Growing protest movements in Phnom Penh have been met with increased violence from authorities who today arrested two prominent activists at a peaceful protest.

PHNOM PENH--Protesters clashed with authorities today as police and security forces broke up a gathering outside the Phnom Penh Municipal Court on Aug. 13, 2020. The protesters were demanding the release of Rong Chhun—a prominent trade unionist who was arrested earlier this month.

"Six protesters were arrested in total, including two prominent activists Chhoeun Daravy and Hun Vannak," said Em Bunnarith, personal assistant of Rong Chhun.
However, Colonel Neth Sithon, Police Inspector of Khan 7 Makara could not reached for comment as to why the two were arrested, claiming he was too busy to explain why peaceful protesters were being arrested.

Around 30 people had gathered for an all-day peaceful protest in front of the Phnom Penh Municipal Court to demand the release of Chhun who currently is being interrogated by the authorities.

"Free Rong Chhun, free patriots," the group could be heard chanting, but authorities of 7 Makara District and security forces attacked the protesters and eventually removed them from outside of the court.

Environmental activist Chum Hout said that he joined to observe Chhun's trial and called for the unionist's release, as he is a role model and a good person.

"We attended the observation of the trial against Rong Chhun in front of the court," he recalled. "During the protest we walked in front of the court, but the authorities were there and confronted us—some of us were injured."

He explained that one of the people who joined the protest, Chhoeun Daravy, was detained by authorities in the afternoon. Daravy has already had experience in dealing with Cambodia's law enforcement after she was harassed for selling t-shirts with the face of murdered political analyst Kem Ley's face on them.

According to Soeng Sen Karuna of the Cambodian Human Rights and Development Association (Adhoc), the arrest of Daravy was not legal and was overly aggressive.

"I'm not sure who arrested her or where they took her to, but the information I received was that civilians arrested her and took her away in a car which did not have police license plates so we cannot know," he said.

Authorities claimed that they were simply maintaining public order and trying to prevent traffic jams.

Hun Vannak was later arrested at the Khmer Tavrak office around 5.30 p.m. on Aug. 13, although authorities have so far made no public statement regarding the reason for detaining Vannak.

On Aug. 3, the Phnom Penh Municipal Administration issued a directive stating that any rally in front of the court would affect public order, cause traffic jams, and violate the principles of the law on peaceful demonstrations. Cambodia's ruling party, the Cambodian People's Party has repeatedly made efforts—in some case violently—to quash peaceful protests.

The police conducted a raid at Chhon's home at 9.30 p.m. on July 31. The following day he was charged and sent to prison, but the petition carried by protesters argued that his arrest is an injustice as he only seeks to protect national interests.

Chhun, who is a representative of the Cambodian Watchdog Council and president of the Cambodian Confederation of Unions, was arrested on July 31 at his home in Phnom Penh after allegedly criticizing the government regarding its border negotiations with Vietnam.

Over the years, several critics have warned that the border negotiations had resulted in land losses for Cambodians living along the 1,270 kilometer border with Vietnam.

On Aug. 7 international organizations, local civil society groups and communities issued a statement strongly condemning the nighttime arrest of Rong Chhun and calling on the Cambodian government and the Phnom Penh Municipal Court to immediately drop all charges against the union leader and release him from pre-trial detention.

The Ministry of Justice warned people to stop gathering in front of the Phnom Penh Municipal Court to demand Chhun's release, telling them that this did not constitute a legal action. "This act puts pressure on the judiciary, which may [lead to] criminal charges under Article 522 of the Penal Code of the Kingdom of Cambodia," a statement from the ministry read.

From June 2020 onwards a group of women have been protesting for the release of their husbands and family members. This was the result of crackdown on former opposition party leaders who have been arrested since the beginning of the pandemic. Known as the Friday Women of Cambodia, the group has faced physical violence at the hands of government authorities and have been injured repeatedly, but continue to protest each week to demand the release of their families.
Related Articles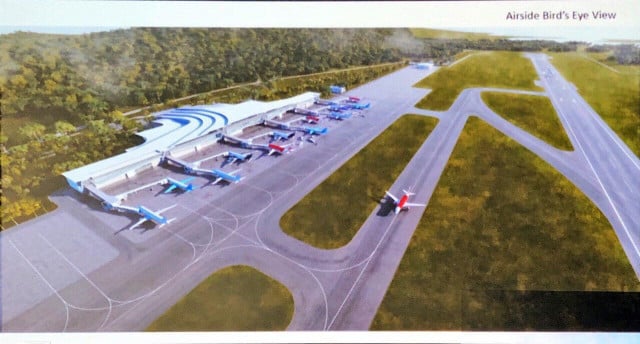 September 15, 2019 5:48 AM