UN rights envoy urges Cambodian government to release Kem Sokha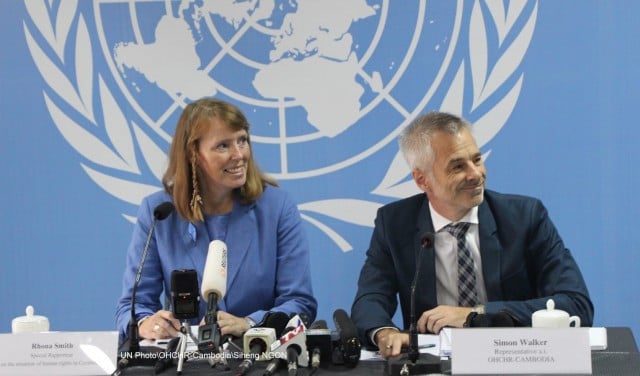 Thmey Thmey
May 10, 2019 12:42 AM
Phnom Penh--A United Nations' envoy urged the Cambodian government to release a former opposition leader from house arrest as she wrapped up her visit to assess the country's human rights situation on Thursday.
"I reiterate my call for the release of Kem Sokha from detention and the swift conclusion of the investigation or for the charges to be dropped," Rhona Smith, the U.N.'s Special Rapporteur on Human Rights, said at a press conference Thursday.
Smith arrived who arrived on April 29 for the seventh mission to Cambodia. She had sought to meet with Kem Sokha, the former president of the now disbanded Cambodia National Rescue Party, was arrested on September 2017 on charges of conspiring with foreigners to topple the government.
His arrest has drawn widespread condemnation with critics calling it a politically-motivated move by Prime Minister Hun Sen's government to silence dissents. Kem Sokha was released on bail in September last year but has since remained under house arrest with the charges still hanging over him.
Smith, the U.N.'s special rapporteur, has sought to meet with Kem Sokha but her request was denied by the government again like her previous two visits.
She said that during this visit she has noted a "few tangible improvements in the enjoyment of political rights" but also expressed her concern over the government's latest crackdown on former opposition supporters.
Recently the court in Battambang province has summoned 25 former opposition members for questioning for allegedly violating the Supreme Court's ruling, which ordered the dissolution of the party in 2017.
"Such actions in my view are not conducive to strengthening political rights and democratic space as envisaged by the December statement of the Government," Smith said.
"Change the political culture"
Smith also called for a change in political culture in the interest of Cambodia, noting that both government and the opposition are still engaging in the exchange of "aggressive rhetoric."
"I am conscious of the frequently aggressive rhetoric from both sides and believe there is a need to change the political culture to one that focuses on issues rather than persons, "she said.
"This, together with judicial protection of freedom of expression, would help overcome the challenges of the current political situation for the benefit of all Cambodians," she said.
Related Articles