UNICEF Donates 7 mln USD Medical Equipment for Oxygen Therapy to Cambodia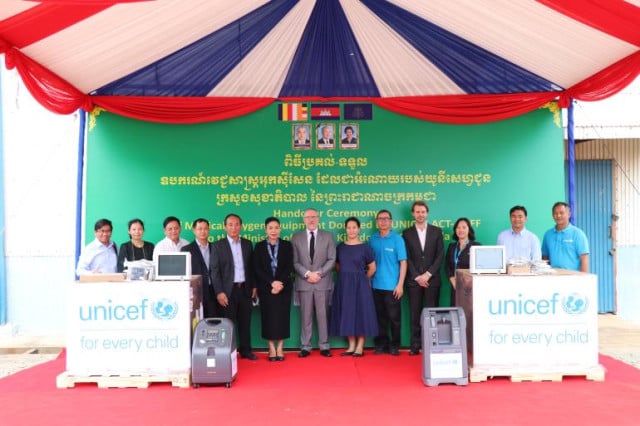 PHNOM PENH -- The United Nations Children's Fund (UNICEF) in Cambodia on Monday donated 7 million U.S. dollars worth of medical equipment for oxygen therapy to Cambodia, officials said.
The handover ceremony was held in Phnom Penh between Will Parks, UNICEF representative in Cambodia, and Youk Sambath, secretary of state for Cambodia's Ministry of Health.
"We thank UNICEF for their valuable support in effectively addressing the COVID-19 crisis and ensuring uninterrupted access to essential healthcare services for women and children, such as routine immunization and maternal and neonatal care," Sambath said.
"Our partnership with UNICEF helps enhance our healthcare infrastructure and boost human resource development. Today's contribution of oxygen medical supplies is a step towards upgrading our medical equipment and monitoring system, which can reduce maternal and neonatal mortality rates," she added.
Parks said during the COVID-19 pandemic, global access to oxygen was unequal, which impacted most low- and middle-income countries.
"We are proud to play a part globally in addressing this equity gap, while also enhancing Cambodia's capacity to lifesaving measures for children and their families," he said.
As part of pandemic recovery, UNICEF remains committed to supporting the royal government of Cambodia in ensuring quality and equitable access to primary health care, reducing further child and neonatal mortality so that all children have good health and a better chance to reach their full potential, he added.
This donation is part of UNICEF's ongoing effort to strengthen Cambodia's health system for equitable primary health care following the acute phase of the COVID-19 pandemic.
The equipment includes oxygen concentrators, patient monitors, pulse oximeters, resuscitators, and other oxygen therapy accessories that will be distributed to 131 health facilities, including national, provincial, and district hospitals and health centers, said a joint press statement.
It added that while child, infant, and neonatal mortality has been reduced in Cambodia over the past years, the proportion of newborn deaths in children under five years old still remains high.
"Newborn deaths make up almost half of child under-five deaths, a proportion that has not decreased over the past years," the statement said.
Related Articles
February 5, 2023 12:41 PM
December 27, 2021 3:53 PM