US jet shoots down new mystery 'object' over Canada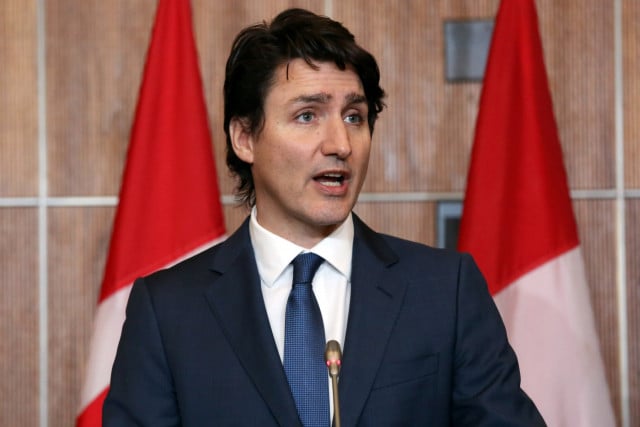 February 12, 2023 8:55 AM
Ottawa, Canada -- A US fighter jet shot down an unidentified object over Canada on Saturday -- in a joint operation by the North American neighbors and the second such take-down in their skies since the dramatic downing of a suspected Chinese spy balloon a week ago.
Prime Minister Justin Trudeau said he ordered the takedown of the object, the latest of a series of mysterious air intrusions.
"Canadian and US aircraft were scrambled, and a US F-22 successfully fired at the object," Trudeau tweeted Saturday.
Trudeau said that Canadian forces in the Yukon "will now recover and analyze the wreckage of the object."
He said he spoke with US President Joe Biden over the latest incursion, while Canada's defense minister also said she spoke with US Defense Secretary Lloyd Austin.
The two "reaffirmed that we'll always defend our sovereignty together," Canadian defense minister Anita Anand tweeted.
Saturday's operation came after the United States said Wednesday that suspected Chinese spy balloons like the one it shot down were part of a "fleet" that has spanned five continents, as NATO joined in voicing concern.
US and Canadian planes flew together to take on the object Saturday, the US Department of Defense said.
"President Biden authorized US fighter aircraft assigned to North American Aerospace Defense Command (NORAD) to work with Canada to take down a high-altitude airborne object over northern Canada today," Pentagon Spokesman Pat Ryder said in a statement.
One of two F-22 fighter jets monitoring the object fired an AIM 9X missile that brought it down, it said.
The White House said Biden and Trudeau spoke Saturday, and "commended NORAD's and US Northern Command's strong and effective partnership and agreed to continue their close coordination to detect, track, and defend our airspace."
The object taken out Saturday was shot down over the Yukon, which borders Alaska, where fighter jets downed another object Friday, off the US state's north coast near the village of Deadhorse.
Search and recovery operations for the remains of that object continued Saturday but were hindered by Arctic "wind chill, snow, and limited daylight," Northern Command said in a statement.
"Recovery activities are occurring on sea ice," it said, adding that the Pentagon could offer "no further details... about the object, including its capabilities, purpose, or origin."
- Diplomatic riff -
Last month, a giant balloon carrying electronics -- which the Pentagon described as a spy vessel -- flew over Canada and the United States, sparking a diplomatic flare-up with China, which acknowledged ownership of what it said was a harmless weather balloon blown off course.
That balloon crossed into US airspace in Alaska on January 28, traversing Canada and much of the United States -- and prompting the scrapping of a rare trip to Beijing by US Secretary of State Antony Blinken -- before it was shot down over the Atlantic Ocean off South Carolina on February 4.
The balloon's path took it over several US military installations, including ones with silos of nuclear-tipped intercontinental ballistic missiles.
Biden's decision to allow the balloon to cross the mainland unimpeded before shooting it down over water was hammered by Republican lawmakers, some of whom said it should have been shot down upon entering US airspace.
Federal recovery teams, comprising both divers and unmanned remote-control minisubs, continue to survey for debris of the balloon in shallow coastal waters, the Northern Command statement said.
US officials say images of the balloon show it had surveillance equipment that could intercept telecommunications as well as a solar array to power multiple sensors.
caw/bfm/tjj/caw
© Agence France-Presse
Related Articles