VOD Closed After Hun Manet Signature Report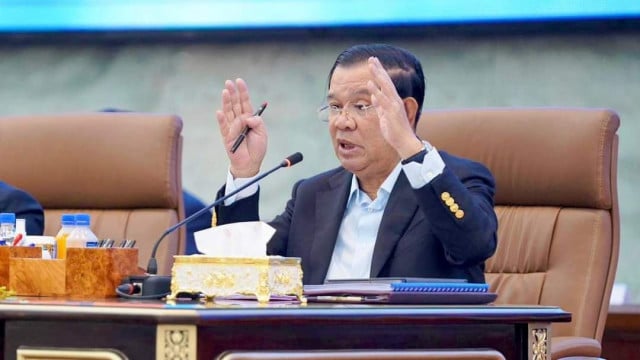 February 12, 2023 11:18 PM
PHNOM PENH--The Voice of Democracy news outlet (VOD) has lost its broadcast license after reporting that Prime Minister Hun Sen's son and proposed heir Hun Manet signed official documents authorising aid to Turkish earthquake victims.
The Feb. 9 report prompted a denial from Hun Manet who said he was not in a legal position to do so and challenged VOD to produce the documents.
PM Hun Sen gave VOD 24 hours to issue a public apology, with the threat of having its license revoked, for the "intentionally slanderous" article.
He carried out the threat after judging the outlet's apology to be insufficient, saying he could not accept the words regret and tolerance in the station's letter instead of an apology.
"On behalf of the Royal Government, in order to protect its honor, I have decided to end this matter by having the Ministry of Information revoke the VOD radio license from now on and must end all broadcasts by 10:00 on February 13," he said.
PM Hun Sen also told foreign governments funding VOD to transfer the money to other countries or back into their own coffers. He added that VOD journalists would find new jobs in other places.
VOD submitted its letter to the head of government through Hun Sen's cabinet to explain its article, which was titled "Government officials say that Hun Manet's role on behalf of his father in providing aid to Turkey is not wrong."
However, the prime minister considered this an intentional interpretation to blame his government officials. He said he had allowed government spokesman Phay Siphan to study the possibility of filing a complaint with the court.
Hun Manet asked VOD radio to show him the document.
Hun Manet said that he had researched the relevant documents but found only an unsigned Ministry of Foreign Affairs and International Cooperation press release.
NGOs and the public reacted to VOD's licence withdrawal with a Facebook campaign saying #saveVOD.
Media director of the Cambodian Center for Independent Media (CCIM) Ith Sothoeut said that, after the letter was submitted, he hoped that Prime Minister Hun Sen could understand that VOD as a professional news organization acts as an independent institution in providing factual information to the public as well as the government.
Ith Sothoeut and his team met with ministry officials before the letter was sent to Hun Sen.
On Jan 12, VOD published another article saying that "Hun Manet denied that he sign on behalf of the prime minister on aid to Turkey."
Related Articles