Wastewater in New Cities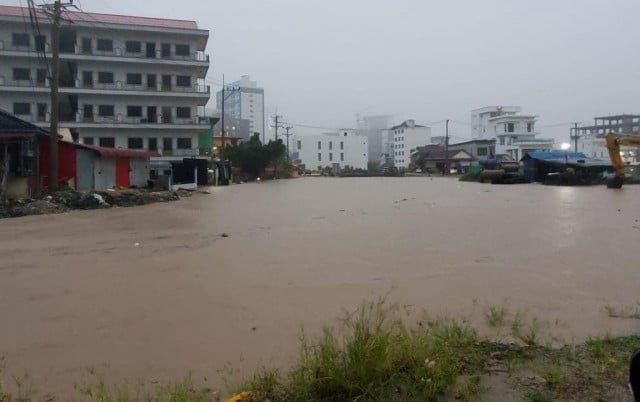 There was a time when, as water was receding from flooded areas after the downpours of the rainy season, it would leave silt that was suitable for agriculture. Floods would of course cause damages, destroy houses and sometimes even claim lives directly or indirectly. But in the end, they were part of the natural cycle of wealth production for the population.
As Cambodia becomes urbanized and cities are gaining ground everywhere in the lowlands of the Mekong River valley and along the coast, what do those devastating downpours leave us instead of alluvial deposits? Tons of garbage carried by wastewater in new neighborhoods barely sprung out of the ground.
And so, a short time ago, those heavy rains transformed the brand-new Sihanoukville avenues into open sewers. What a sad picture of the coastal city this has provided as the authorities cherish the project of turning it into a Cambodian Singapore, a heaven for businessmen, gamblers and tourists of the Asian world.
More heavy rains and floods are being announced for the coming days by the Ministry of Water Resources and Meteorology. Six provinces and cities, including Phnom Penh, could be especially affected.
For the ministry, those heavy rains are the result of global warming that leads to more and more violent weather disturbances such as thunderstorms, typhoons and other outbursts of nature. In short, floods in urban areas would be the result of a worldwide natural phenomenon of which Cambodia would be the poor victim since it hardly contributes to global warming.
However, those zones recently urbanized and obtained by filling low-lying areas and now under threat of being flooded are not the result of a natural phenomenon. They sprung up where human beings' urban-development policies set them. But in the end, the natural flow of water returns with a vengeance to remind of its presence those pouring concrete. The principle is simple: When water cannot flow, its level goes up. As high has it is forced to do so.
When the wise man points at the sky, the fool looks at the finger, a Chinese proverb says. This also seems to apply to those pouring concrete: When the hydrologist points at the approaching storm, the man pouring concrete looks at the finger. And ends up with his head under water.
Related Articles