Why the U.S. Elections Matter for Southeast Asia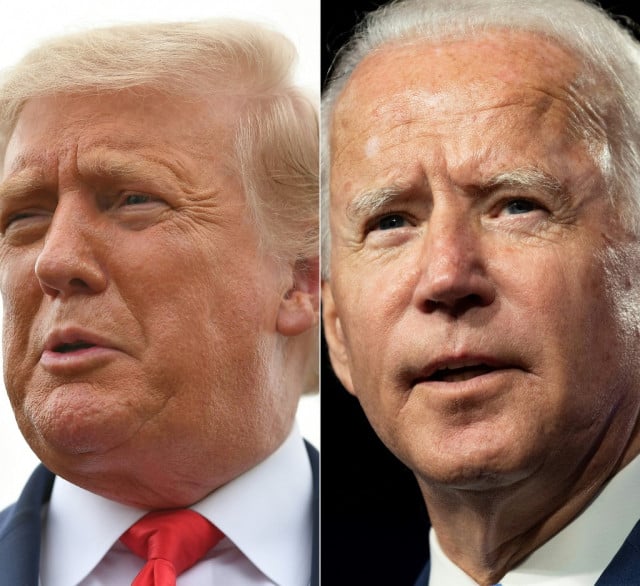 Gerald Flynn
September 14, 2020 6:49 AM
With November 2020 edging closer, analysts from around the world gathered to assess the impact of a change in U.S. foreign policy on Southeast Asia—particularly on democratic values.
PHNOM PENH--Some 328 million Americans will go to the polls in just under two months, but outcome of the November 2020 presidential elections will have a profound impact on the 4.6 billion people living in Asia—especially in relation to their human rights and democracies, according to Francis "Kiko" Pangilinan, a Filipino senator.

Pangilinan was speaking on Sept. 11 at the "US 2020 Presidential Election Webinar" hosted by the Council for Asian Liberals and Democrats (CALD), the Friedrich Naumann Foundation for Freedom (FNF) and the Asia Centre as part of CALD's "The Future of Democracy in Asia Webinar Series."
"Like the glaciers of Antarctica, democratic space has shrunk," said Pangilinan, adding that 2020 poses an abundance of challenges for democracies, but that this year's US election stands for more than just a contest between President Donald Trump and former Vice President Joe Biden.
"Asia cannot afford to be mere spectators, 2020 has shown us that we are all connected and when the US sneezes, the whole world catches a cold," he said.
The influence the White House exerts globally may have shrunk in recent years, with China's dominance in Southeast Asia made abundantly clear in countries like Cambodia and Lao PDR, but the US remains for many a beacon of democracy. The question posed by analysts is whether a change in leadership in the US would bring about much—if any—change in Southeast Asia.
"The US has suffered brand damage," explained James Gomez, regional director of the Asia Centre, a non-profit think-tank based in Bangkok. "So even if Biden comes in bringing with him a sense of multilateralism, respect for human rights and democratization, it will still take time."
Gomez noted that the moral decline of the US presidency under Trump's reign has given way to emboldened authoritarians in Asia.
"Autocrats have become more tenacious, they have set up laws concerning fake news and hate speech to which they themselves, as leaders, are immune, but are being used to prosecute those who criticize them," added Gomez.
He warned that these rules and regulations that are introduced under a crisis will continue to be applied long after the crisis has passed—a concern raised by numerous rights groups over Cambodia's State of Emergency Law, which was rushed through during the earlier days of the Coronavirus Disease 2019 (COVID-19) pandemic.
The Trump Factor
Indeed, Trump has engaged in, over the course of his presidency, open attacks on the free press that rival some of Southeast Asia's regimes. Branding those who report on his administration negatively as "fake news" has become part of the Trump mantra, which has—in part—enabled him to dismiss much of the critical coverage of the myriad crises he has created.
Yet Trump has survived a range of scandals: campaign funding discrepancies, questionable choices for top government positions, inaction in the murder of Saudi Arabian journalist Jamal Khashoggi, impeachment, sexual harassment and rape allegations, consistently issuing false or misleading statements, a fruitless trade war with China, the poor handling of the pandemic, the brutal response to protests that erupted in the wake of George Floyd's murder.
Mistakes and misdeeds that would have ended another presidency have largely failed to derail Trump. The increasingly authoritarian tendencies exhibited by Trump are, according to Gomez, benefiting dictators throughout Asia. The damage to the US brand—that of the global standard for democracy—is so severe that not even a Biden presidency could undo it.
"We could benefit from a change of wind," said Gomez. "But civil society and activists will need to continue to do what they do come what may."
Asia's Civil Society Left in the Lurch
Gomez pointed to the failings of international NGOs who, in the face of the pandemic and its resultant economic crisis, have been too turgid in their operations. This lack of agility from donor agencies, he argued, has left activists and local NGOs with fewer resources, precisely at the time they are needed most.
"The fumbling of donor agencies has meant that, by the time aid reaches those local partners across Southeast Asia, the space that they need to engage in has closed," he said, adding that this was particularly true of human rights and democratization programs that the US funds throughout the region.
But while the US funding for civil society organizations has proved overly cumbersome in the face of the pandemic, US foreign policy within Asia has offered little support.
"I don't think democracy is dead, but it is on the ballot this November," said Manpreet Sing Anand, the Asia-Pacific regional director at the National Democracy Institute in Washington, DC. Having served as deputy assistant secretary of state for South Asia in the Obama Administration, Anand explained the stark contrast between US foreign policy in Asia under Trump and Obama.
"If you look at Trump's foreign policy, there's no real doctrine—it's at best erratic, at worst self-serving and transactional with negative impacts on US interests abroad," said Anand, noting that Trump's administration has damaged the US' leadership and reputation worldwide.
He went on to rail off a list—just a small selection—of Trump's failures internationally, but noted that a key problem has been the former reality TV star's dismantling of critical institutions and the denigration of key alliances, particularly those in Asia.
"The travesty of it all is that he's not put any alternatives in place. Instead, Trump has cozied up to dictators, revealed his own authoritarian tendencies with his systems of patronage and punishment to command loyalty, inventing threats, 'other-izing' minorities and manipulating the electoral system," he said.
Anand conceded that, for the rest of the world to take American preaching on the topics of democracy and social justice seriously, Biden would need to get his own house in order should he win in November 2020. Corruption, he stated, would need to be at the center of a national security policy and Biden would essentially need to rebuild the bridges that Trump has spent four years burning.
"If Trump wins though, it's hard to say what will happen because there hasn't been a strategic outlook in foreign policy," he explained. "You can expect more personality-driven policies, more chaos. We would be operating in a world where the US takes a backseat, where authoritarians are emboldened and democratic freedoms run over—it's a bleak future for our longstanding allies in Asia."
Death Throes of Democracy
But democratic freedoms have been eroding at a much more rapid rate than usual. Freedom House—a US-government funded NGO researching political and civil freedoms around the world.
"Democracy and pluralism are under assault," Freedom House's 2020 Global Freedom Index claimed, highlighting the steep decline in democracy over the past 14 years that has accelerated in the course of Trump's presidency.
"Dictators are toiling to stamp out the last vestiges of domestic dissent and spread their harmful influence to new corners of the world. At the same time, many freely elected leaders are dramatically narrowing their concerns to a blinkered interpretation of the national interest. In fact, such leaders—including the chief executives of the United States and India, the world's two largest democracies—are increasingly willing to break down institutional safeguards and disregard the rights of critics and minorities as they pursue their populist agendas."
Director of Freedom House's Asia Programs, David Timberman argued that who is president of the US matters for the world, but suggested that a Biden presidency would see the US seeking to repair relations—even with authoritarian governments—when it fits US interests.
"It's societal in scope, but over time the US has lost some of its sheen in terms of leading the world in democracy and human rights," said Timberman. "Perhaps now though, as a nation we are more willing to reflect on that and address these shortcomings."
While Timberman argued that Biden would bring experience and expertise to the US foreign policy team, something that he sees Trump as having failed to do, the coherence Biden's team could foster would still result in a reluctance to push too hard in countries where China's influence is gaining momentum.
The tensions that once simmered in the South China Sea are now boiling over, with Southeast Asian nations being forced to pick a side as China spars with its neighbors and the US. Vietnam has notably shifted towards the US, fearing an overly dominant China, but traditional US allies such as the Philippines, South Korea and Malaysia have been alienated in recent years.
This, Timberman said, is something that Biden may seek to redress—ditching Trump's populist "America First" strategy of unilateralism in favor of a more cooperative multilateral approach that he suggested could ease tensions between the US and China, allowing for competition and containment where necessary.
US Responsibility in Cambodia
A return to the rules-based international norms of foreign policy matters now more than ever, according to Mu Sochua—former deputy-leader of Cambodia's outlawed opposition Cambodia National Rescue Party (CNRP).
"For Cambodia, this US election has special significance, as it will shape the policies of one of the key signatories to the Paris Peace Accords," said Sochua, who argued that US involvement in the development of liberal democracy in Cambodia also requires the US to act as a guarantor.
"There is a joint responsibility of the US and the other Paris Agreement signatories to ensure that genocide never happens again on Cambodian soil, to ensure that we do not return to brutal dictatorship, and so Cambodia is watching the US elections with full attention," she stated.
For Sochua, who has been living in exile following the arrest of CNRP leader Kem Sokha, there are millions of Cambodians who wish to see the White House return to what she has perceived of it in the past: a defender of national democratic values, freedom of the press and the right to vote.
She highlighted Cambodia's drift into dictatorship as a reason that the US—previously a self-proclaimed global force for the defense of democracy—is needed to help bring an end to the corruption and authoritarianism that, she said, has come to characterize Prime Minister Hun Sen's government.
"Hun Sen cannot even accept one young woman asking to discuss the environment, activists are now behind bars and it began with Hun Sen dismantling the opposition, so we are grateful for the US government's Magnitsky sanctions that have restricted the wealth of corrupt officials in Cambodia, but we hope to see the US collaborate more with international institutions—especially ASEAN," she said.
Sochua went on to recount Obama's visit to Cambodia for the 2012 ASEAN Summit, noting that it was the first time that no statement was issued following the summit.
"Cambodia hosted the summit that year and Hun Sen was being a good friend to China in not issuing a statement on the South China Sea, so whoever wins in November will have to address this issue—Cambodia and other Southeast Asian nations are not just a sideshow," she said, adding that the next US president will need to put the problems of Cambodia and others into the context of ASEAN and the balance of Chinese influence.
"We need an America that will stand firmly with the people of ASEAN," concluded Sochua. "The people need allies who are firm on democracy, who are firm on human rights and liberal values, not allies who just see us as geopolitical gains."
Related Articles