Wildlife Markets- Addressing the source of COVID-19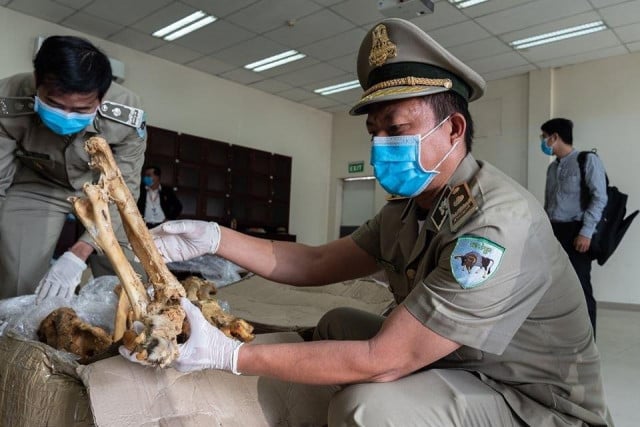 Jazmyn Himel
March 29, 2020 10:10 AM
Will the demand continue to prompt illegal trade?

PHNOM PENH—COVID-19, the pandemic that has the world at a standstill calls for attention towards lucrative illegal wildlife trade and wet markets where the coronavirus is believed to have originated in a wet market in Wuhan, China.

On Feb. 24, China's national legislature banned the consumption, purchase and selling of terrestrial wildlife. Vietnam followed suit with Prime Minister Nguyen Xuan Phuc asking the Ministry of Agriculture and Rural Development to have a drafted wildlife consumption and trading ban by April 1.

Although it is illegal to trade wildlife in Cambodia—and it is the only ASEAN country to have its own Wildlife Law Enforcement Unit—illicit activity continues, according to Wildlife Alliance.

"Because there is still underground trafficking going on, the Wildlife Rapid Rescue Team law enforcement is needed and seizes approximately 4,000 live animals being smuggled annually," the Wildlife Alliance spokesperson said in email interview.

In fact, last year 1,642 wildlife body parts for traditional Chinese medicine and 584 kilograms of bushmeat were confiscated according to Wildlife Alliance.


In the Southeast Asia report of the wildlife-trade NGO Traffic, which was published last February, Cambodia was identified as both a source and consumer country for wildlife.

The country is sourced for clouded Asian big cats, pangolins, bears, tortoises, freshwater turtles, reptiles, birds, otters, ungulates and otters. Consumption wise, there is a demand for ivory, tiger and freshwater tortoises, lizards, snakes, birds, bear bile, serows and slow lorises.

In fact, the report states that, in Cambodia, more than 17,000 kilograms of ivory was seized between 2009 and 2018, and that 25,000 live mammals and birds were seized between 2007 and 2015.

Cambodia's loopholes in its legislation and laws are its downfall in the fight against wildlife trade: Low penalties are not a deterrent for poaching or trading wildlife, and the Forestry and Protected Area Law does not prohibit trade of the non-native species mentioned in the Convention on International Trade in Endangered Species of Wild Fauna and Flora, the report stated.

In addition, the Traffic report notes, "seizures point to transnational organized crime groups targeting Cambodia as a transit point for ivory and rhino horn from Africa likely en route to Vietnam or China."

"We are not yet able to understand how the COVID-19 virus is affecting the wildlife trade, because the trade occurring in Cambodia is for export to China and Vietnam (not the other way around)…the main hotspot is the border to Vietnam that also has a high level of illegal deforestation and poaching," Wildlife Alliance said in the email interview.

COVID-19 and Consumption

Second to China, Vietnam is the biggest hotspot in Asia for illegal trade of wildlife as well as transit and sourcing, said Sarah Ferguson, head of office at Traffic in Vietnam.

Illegal wildlife consumption in Vietnam, she said, spans from uses for traditional medicine with rhinoceros horns, to meat consumption of pangolins, and luxury gifting to show off status and wealth.

"It's an increase in population but also motivation for consuming that's changing the way people are using illegal wildlife products and consuming illegal wildlife products that have put a strain on the system," Ferguson explained, adding that the luxury attached to such goods in turn, creates incentive for more poaching.


"If China is anything to go by, there was an immediate crackdown on wet markets and consumption, and a reduction in consumption. If people are making these links, there are going to be reductions in consumption," Ferguson said when asked about the upcoming wildlife ban in Vietnam.

But the question remains on how to stop this from happening again in the future.

The challenge is, according to Ferguson, "creating these constant links and making sure this sort of fear, I guess, stays alive in people. I think this will be the hard part because once the immediate concern goes away people go back to their old habits."

As of March 29, the World Health Organization reported there are globally 575,444 confirmed COVID-19 cases. On March 29, the number of cases in Cambodia has reached 103 with zero fatalities recorded.

Reporting any wildlife crimes in the country can be done through the Wildlife Crime Hotline at 012-500-094, the Wildlife Crime Hotline Facebook Page, or by contacting the Forestry Administration of Cambodia.
Related Articles