Women Call for Greater Female Participation at Top Level Politics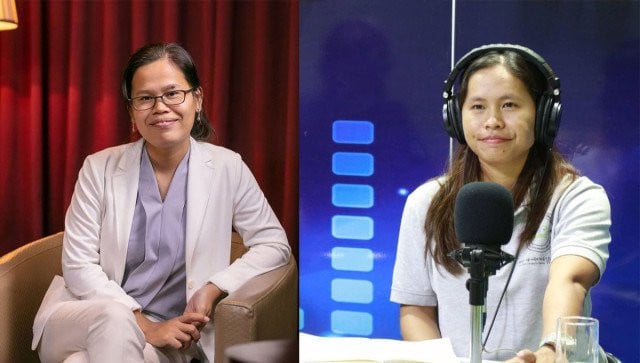 November 15, 2021 3:58 PM
While women make up some 41 percent of the government when accounting for national and subnational levels, gender discrimination has left women out of Cambodia's top political roles
PHNOM PENH--Despite an increase in women's participation in Cambodia's political sector, their influence continues to be undermined by social and economic factors—the main barriers that continue to prevent them from actively and meaningfully participating in political affairs.
Women in leadership positions share a similar perspective that women play a vital role in politics through their ability to solve problems in society, but their presence is still limited, especially within political leadership and decision-making positions.
This comes as Cheam Yeap, a long-serving ruling party official, was promoted to the role of first vice president of the National Assembly rather than promoting Khuon Sodary, who is one of the longest serving female politicians in Cambodia and currently holds the position of second vice president of the National Assembly. Yeap's promotion over Sodary came after Nguon Nhel, the previous first president of the National Assembly, died on Nov. 5 and required replacing.
Ly Sreysrors, president of the Young Analyst group, pointed to the lack of quotas on women in Cambodian political parties as one of the issues. It remains largely ambiguous, although women's participation in the sector is currently on the rise, she added.
According to Sreysrors, the current lack of quotas in this sector has been determined by the social perception that does not much value women. Society, she said, has always considered women as a weaker gender, unsuited to decision-making regarding important tasks in politics.
She emphasized that women's participation in politics is essential, as many women are now empowering themselves through work, education, as well as through civic engagement and social activities, all of which have exemplified the role of women in politics and influence in public policy formulation.
"Women's perspective in national leadership is more precise and thoughtful compared to that of men," Sreysrors said.
"If possible, we should set the quotas on number of high-ranking party officials that are women. It also needs be a specific percentage of women in the Council of Ministers or at the ministerial level, the National Assembly and Senate. All of this needs to be defined clearly," she continued.
Over the past decades, there have been some improvements in women's political engagement with greater inclusion in appointed political positions as well as public sector.
Or Vandine, spokesperson for the Ministry of Health, has—for example—been one of the most prominent politicians throughout the COVID-19 pandemic, but her visibility as a female politician is relatively rare in Cambodia.
According to Cambodian National Council for Women's 2020 report, the percentage of women officials in government at both national and subnational levels stood at 41 percent. Meanwhile, in 2019, the country had one female deputy prime minister, 10 female senators, 26 female lawmakers, two female ministers, 53 female secretaries of state and 70 female under-secretaries of state.
Chak Sopheap, executive director at Cambodian Center for Human Rights (CCHR), said she sees similar issues when it comes to gender roles in political affairs. She pointed out that in some political parties, so far there has been no existing policy focused on promoting women's participation.
Sopheap went on to say that when a party is elected, women do not have the chance to take the lead positions.
"If we look in detail, the presence of women is in the bottom line," she said.
Speaking from her own experience, Sopheap continued, Cambodian society still perpetuates the same discrimination and expectations of roles based on gender.
"When I became a new director of CCHR, there was a man asking who the new director was. And someone answered on my behalf while I stayed silent. The man responded to me with a discouraging message while questioning whether my appointment was genuine," she recalled.
Sreysrors and Sopheap argued that women should be give more encouragement and support by society and the governing institutions so that they will have more opportunities in the political sector.
Incorporating women's perspectives and participation in politics is crucial to democratic development and contribution to good governance, they both agreed.
Related Articles