World Insights: Actions, cooperation in urgent need to "Restore Our Earth"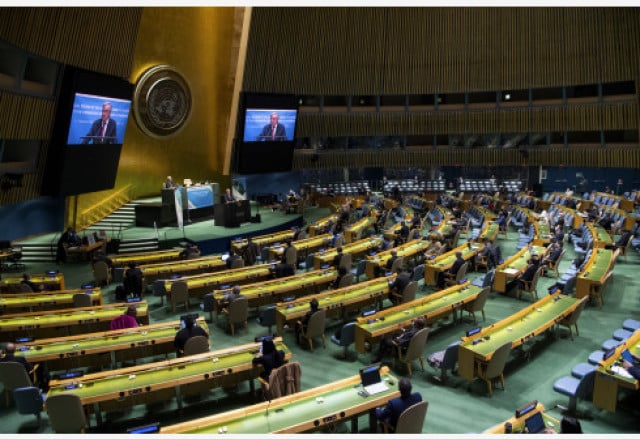 Xinhua
April 22, 2021 8:16 AM
BEIJING-- United Nations (UN) Secretary-General Antonio Guterres on Wednesday called for commitment to restoring the planet and to making peace with nature in his message to mark International Mother Earth Day, which falls on Thursday with the theme "Restore Our Earth."

The UN chief's call came amid increasing ecological menaces and potentially catastrophic destruction to our home: environmental disasters, extreme weather, species extinction, new diseases invading human society, and the like.

Taking care of the blue planet requires global efforts. China, as a major global player, has long been a staunch supporter to global environmental endeavors and a long-time contributor to green initiatives.

From ecological civilization, climate change commitments to the green Belt and Road Initiative, China has all along adhered to the concept of building a shared future for all life on the Earth and contributed "green solutions" to the world's high-quality development.

SHAPE THE FUTURE THROUGH URGENT ACTIONS

Humankind is standing at a turning point, as Inger Andersen, executive director of the United Nations Environment Programme (UNEP) has noted, "2021 is going to be critical in determining whether we can stop and reverse the destruction of the planet. And, ultimately, that will dictate our future as a species."

According to the latest report by the World Meteorological Organization, the year 2020 was one of the three warmest years on record. More than 50 million people were doubly hit in 2020 by climate-related disasters and the COVID-19 pandemic, which have also worsened food insecurity.

The UNEP data shows that the economic slowdown caused by COVID-19 temporarily depressed new greenhouse gas (GHG) emissions, but had no discernible impact on atmospheric concentrations. In 2020, concentrations of the major GHGs continued to increase, and the global mean sea level kept rising.

A staggering 97 percent of the Earth's ecosystems may no longer be intact, according to a newly published study. Scientists have warned that the world is in the midst of the planet's sixth mass extinction, which differs from previous ones because it is driven by human activities.

Climate change, biodiversity loss and environmental pollution are listed by the UNDP as the three global crises facing the Earth. Levis Kavagi, a senior UNDP official, told Xinhua that the three crises are interrelated and humankind must change its relationship with nature as soon as possible.

RESTORE MOTHER EARTH BY WORKING TOGETHER

Noting that tackling global crises requires the joint efforts of the world, Kavagi called on all countries to restructure their economies and build green development systems to "Restore Our Earth."

"All parties must work together to address the serious challenges facing our Earth, such as combating accelerated global biodiversity loss, environmental degradation and the impact of COVID-19 on various aspects of the economy and society," said Stefan Toepfer, a research scientist with the Center for Agriculture and Biosciences International.

International organizations and national governments, Toepfer said, have "important parts to play in the endeavor" to restore the Earth.

"Strong political will, coupled with appropriate policies, green investments, or capacity building and awareness-raising among all parties, are imperative to working in partnership towards a restored Earth, with man and nature coexisting more in harmony," said the scientist.

Experts also believe the pandemic has sounded an alarm across the planet and provided humankind with an opportunity to reflect on their development modes.

"The pandemic has greatly increased the number (of people) who understand at a deeper level ... that change is needed," said John Cobb, Jr., founding president of the Institute for Postmodern Development of China and member of the American Academy of Arts and Sciences.

From less use of fossil fuels for transportation to cities with more hubs, Cobb said "a dramatic change in behavior is possible."
PROMOTE GREEN DEVELOPMENT WITH CHINA'S SOLUTIONS

China is an important actor in handling global crises and has played a great role in taking care of the Earth, Kavagi said.

Committed to fulfilling its obligations under the treaties on climate change and biodiversity, China, the world's largest developing country, has acted as a responsible major country by taking effective measures in the field of environmental protection.

To mitigate the impact of climate change, China has announced that it will strive to bring carbon dioxide emissions to a peak before 2030 and become carbon neutral before 2060.

China has also exported its advanced green technologies overseas, contributing Chinese solutions and wisdom to restoring the Earth.

As a country rich in biodiversity, China will hold the 15th meeting of the Conference of the Parties to the Convention on Biological Diversity this year to map out a blueprint for biodiversity conservation in the next 10 years and chart a new course for global biodiversity governance.

"China has stated that it is an advocate of multilateralism and has always been an active participant and facilitator of the multilateral process for the protection of biodiversity. Notably, China has also been one of the leading players in the Paris Agreement," said Toepfer.
Related Articles