A Community in Siem Reap Province Struggles to Survive during the Pandemic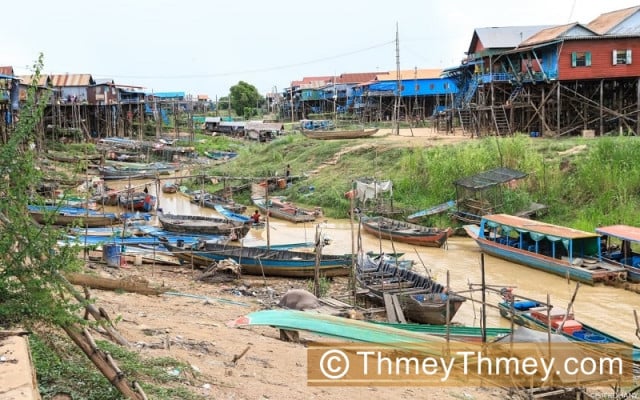 Its population has been affected both by the absence of tourists and declining fish catches
SIEM REAP--For more than a year, the entire community of Kampong Phluk Commune in Siem Reap Province has been hard hit by the COVID-19 pandemic. Hundreds of small and large boats, once used to transport tourists, are left stranded onshore, some of them unattended by their owners.
Located west of Siem Reap City in Prasat Bakong District, this used to be a popular ecotourism community where people would come to visit the floating houses and watch the sunset over the Tonle Sap Lake. But these days, everything has turned very quiet, with not even the sound of boat engines as the boats are parked onshore.
Now, the only activities still going on are those of the people in the local economic sector of the community.
Hundreds of small and large boats have been left behind. On the day of our visit, Loun Lay was repairing and painting a boat, preparing it for the upcoming rainy season.
Dressed in shorts and a long-sleeved shirt, Lay explained that his family has lost the income it used to generate from running tourist boats. His family has 13 passenger boats that, before the pandemic, could bring in a considerable daily income for his family.
"Before COVID-19, this riverboat brought in $13 per trip and each one would carry passengers three to four times a day," Lay said. "But for more than a year, there has been no tourist and our daily income is the worst with no visitor. And we don't know where to find jobs." He and his family have to come up with alternative sources of income, he said, if only to be able to repair and keep the boats in good shape.
"I now am a tuk-tuk driver and also do some boat repair work," Lay explained. "Repairing one boat, I can earn between 100,000 to 200,000 riels [$25 to $50], but that is for two people," Lay explained. "At least it helps."
This year, Lay said he had to repair six of his own boats, which cost him about 1 million riel ($250) each.
Therefore, it is very difficult for him to earn enough to maintain his boats' engines and hulls while the entire boat community of Kampong Phluk Commune can no longer generate any income from the tourism sector but still has to pay for boat maintenance.
Phim Tola, who is a small boat owner, said that she also has lost the daily income she would obtain from transporting tourists who came to visit Doeum Reang in the community of Kampong Phluk Commune.
While cooking snails for lunch, Tola explained that most women in the village had long been depending on the extra income coming from boating.
Prior to the pandemic, she could earn at least $2 a day by taking tourists in a canoe to see the trees of the serene flooded forest. This is a 30-minute round trip and, some days, she would earn more depending on the tips she would get from the visitors.
"We could only do this during raining season, but I could save over $ 1,000," Tola said.
Even though she does not expect the tourism sector to recover soon, she still hopes that tourists will return to the community as this sector has significantly helped her community thrive.
Saing Khan who also used to take tourists on boat tours said she now spends most of her time at the pagoda where she used to go regularly. The 67-year-old woman said that she would raise money among villagers to prepare foods for the monks.
These days, Khan said she depends on the government's Health Equity Fund for the poor and receives 160,000 riels ($40) per month. In addition, her two children earn money repairing gillnets but, she said, this does not cover daily expenses as she has health problems.


According to Kampong Phluk Commune Chief Sok Plang, there are three villages in this community—Tnot Kambot village, Dey Krahorm village and Kork Kdol village—with 984 families totaling nearly 4,000 people as of May 2021.
The COVID-19 pandemic has severely affected the economy of the community, Plang said. Not only have people faced the loss of their daily income but they also lack the money to repay their loans, he said.
"Most of them borrowed money to buy riverboats, but they have not been able to generate any income from the boat service, and they don't have money to pay back the bank," he said.
With declining fish catches, especially during the dry season when the water level is low, this creates even more difficulties for this Tonle Sap community, Plang said.
Around 65 percent of the population in that area are fishermen, 30 percent work in the tourism sector and 5 percent of the people are mechanicians and sellers, he said, adding that community has 800 tourist boats.
Due to the current situation, some villagers have been forced to leave the community to work in other districts in Siem Reap Province while others have gone to work in other provinces, Plang said. But, according to him, none of the people in his community have gone to work in neighboring countries.
Related Articles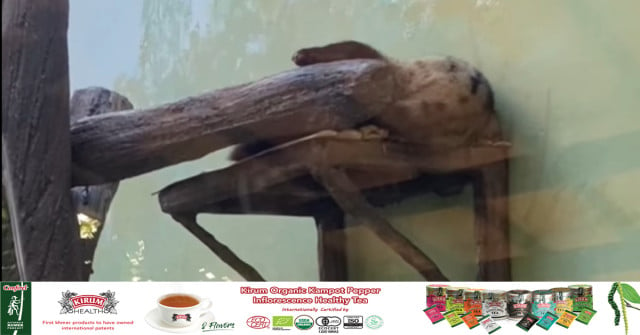 November 16, 2023 8:55 AM