ABU Asia-Pacific Robot Contest Held in Cambodia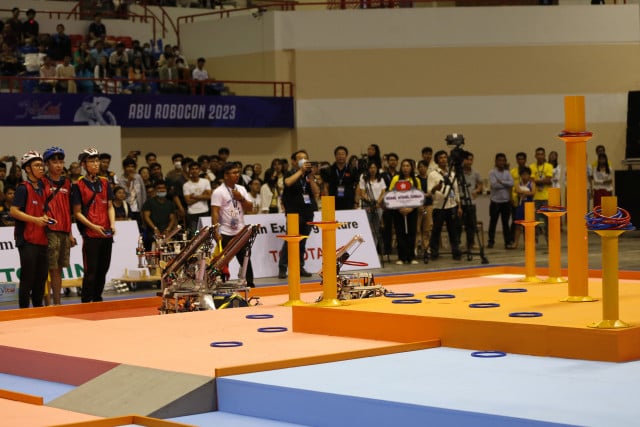 PHNOM PENH -- The Asia-Pacific Broadcasting Union Asia-Pacific Robot Contest 2023 (ABU Robocon) was held in Cambodia on Sunday, with the participation of 14 university teams from more than 10 countries.
Held at the Morodok Techo National Stadium in the country's capital Phnom Penh, the event attracted teams of young university students from Cambodia, China, Egypt, India, Indonesia, Japan, Malaysia, Mongolia, Nepal, Sri Lanka, Thailand and Vietnam.
Speaking at the event, Cambodia's Information Minister Neth Pheaktra said this international event provided an opportunity for university students to demonstrate their technological capabilities, share experiences, and show cultural diversity.
Noting this is the first such event hosted by Cambodia, he said the contest showcases the progress of Cambodia's robot technology to the world.
Pang Chamnan, Robocon Cambodia director of the state-run National Television of Cambodia (TVK), which co-organized the event with ABU, said "Casting flowers over Angkor Wat" and "Throwing rings into poles" are the themes of the competition for this year.
He said the annual competition, during which a pair of robots are required to complete a task within a timeframe, is intended to advance engineering and broadcasting technologies in the region and to foster friendships among young people with similar interests.
"Hosting such an international event has provided an opportunity for Cambodia to display the potential of its human resources in robotics as well as to showcase its culture and tradition to the world," Chamnan told Xinhua.
The outcome of the half-day contest showed Japan was the winner of the grand prix of the ABU Robocon 2023, followed by China's Hong Kong, while China and Vietnam both ranked third.
At the event, Cambodia handed over the ABU Robocon flag to Vietnam, the event's host in 2024.
Related Articles