Cambodia Backs UN Vote on Russia's Ukraine Annexation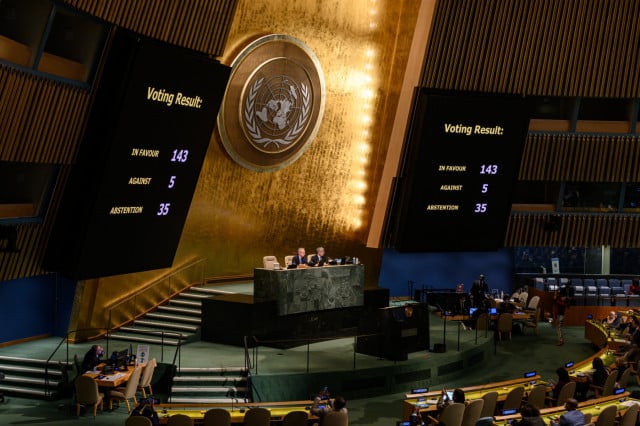 PHNOM PENH—Cambodia has voted in favor of a UN General Assembly resolution condemning Russia's annexation of the Ukrainian region, the third time Cambodia has supported such a decision.
Cambodia was one of the 143 nations that voted in support of the "Defending the UN Charter" resolution.
The 193-member world body voted 143-5 with 35 abstentions. Countries that voted against were Russia, Syria, Nicaragua, North Korea, and Belarus, while China and India were among the countries that abstained.
For ASEAN, Singapore, Indonesia, Malaysia, the Philippines, Myanmar and Brunei also voted in favor. Thailand, Vietnam and Laos abstained.
The General Assembly called on all countries not to recognize the four regions in Ukraine that Russia had annexed.
Cambodian-American political analyst Ear Sophal said the vote was consistent with a previous vote in which Cambodia condemned Russia's invasion. However, he said it was strange as Cambodia also allowed Russia to participate in ASEAN events.
Recently, Cambodia also expressed its concern over the economic crisis stemming from the Russia-Ukraine war, warning it could lead to a recession following the excessive sanctions imposed by various countries on Russia. PM Hun Sen also called for efforts to prevent an economic downturn.
As for concerns about sanctions, Sophal said that Cambodia never wanted trouble with its source of foreign exchange. Thus, it was concerned about any serious economic crisis.
"Cambodia cares a lot about money. Look at exports from Cambodia, for the first nine months, they're $41 billion or some such," he said.
Sophal, an associate professor at Arizona State University, said Cambodia's stance could also affect the relationship between Cambodia and Russia. "At some point, it's like saying Russia, we don't like you. But right now, most of the world hates Putin anyway, so this is not a hard sell," he told Cambodianess on Oct. 13.
"If there was money on the line, Phnom Penh would be more careful. There is always Cambodia's debt to Russia, but I guess it doesn't matter right now. Threading the needle means not going too far to one side or another," Sophal added.
Vann Bunna, a co-founder of The Thinker Cambodia, said Cambodia's stance not to support the invasion of territory in the 21st century was a good decision. Cambodia showed the world that it abided by international laws and the constitutions of the UN and ASEAN.
Bunna, also a research fellow at the Cambodian Institute for Cooperation and Peace, said Cambodia was committed to respecting the territorial integrity and sovereignty of other nations.
"Cambodia can also show that in the international system, small countries need to rely heavily on international law to avoid abuse by superpowers by presenting this support. It is the right choice of Cambodia as the chair of ASEAN, as a sovereign country and a member," Bunna said.
Russia might not be happy with Cambodia's UN vote but Cambodia was not the only one against Russia's invasion, which began on February 24. Bunna said it was better to affect relationships with one country rather than with many.
"The resentment of Russia is not a stumbling block for Cambodia. What Cambodia has done is a clear response to the principles that Cambodia adheres to international law and condemns invasion," he said.
Related Articles