Cambodia Pins Hopes on US Trade Favors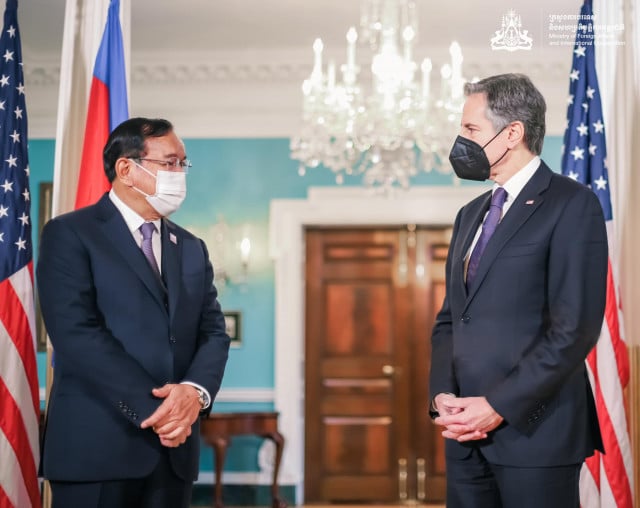 Congress to decide but could set conditions
PHNOM PENH – Cambodia has high hopes of getting preferential tariff treatment back from the United States but there are fears that excessive conditions will be demanded.
The US Congress is to conduct a new assessment for Cambodia to be included in the Generalized System of Preferences (GSP). No date has been set.
Cambodian officials say this system of allowing the import of goods to the US duty-free is crucial for Cambodia's economic growth and hope the Congress conducts the assessment without bias.
Cambodia benefited from GSP status from 1997 to the end of 2020 when Congress delaying the passage of legislation to re-validate it.
Foreign Minister Prak Sokhonn met US Secretary of State to Anthony Blinken on May 13 in Washington and expressed hope that the preferential system would continue to support economic development and Cambodian workers in the garment, footwear and travel goods (GFT) sectors, most of whom are women.
Blinken expressed US readiness to further support Cambodia's development and to actively work with Cambodia to enhance political, security, economic and socio-cultural cooperation. However, he seemed not to specifically respond to the GSP scheme.
Hong Vannak, an economic researcher at the Royal Academy of Cambodia, said that GSP is important to the economic recovery and to promote economic growth in the post-covid-19 period. This came amid the spillover effect of the Ukrainian-Russian war and the rising price of gasoline globally.
"So, it's important for Cambodia to develop and sustain economic health," he said. "Cambodia will try to implement conditions set by the US Congress. However, if conditions cause conflict in Cambodia or Cambodia cannot accept them, we cannot accept the GSP."
Last November, the US State Department said it would conduct an assessment of Cambodia's GSP eligibility as part of a broader GSP evaluation. This assessment would include any new or altered eligibility conditions approved by Congress.
"The United States will continue to promote accountability for criminal activities, corrupt business practices and human rights abuses through a whole-of-government effort and in close coordination with the private sector and our allies and partners," the department said.
Seng Sary, a Cambodian political commentator, said the government seems not to be truly concerned about the renewal of GSP or EBA, "Everything But Arms", the EU's trade arrangement for least developed countries.
"I think if the government wants EBA and GSP it must give freedom to Kem Sokha and organize free and fair communal and national elections that are accepted by the international communities. When that happens, the EU and US will consider renewal," he said.
Kem Sokha has been accused of conspiring with foreigners to overthrow the government since Sept. 2017 and faces up to 30 years in prison. His case has been drawn out for almost five years.
Renewed or not, it's their rights
Vannak said it was a challenge for one state to satisfy another by violating its own laws.
The upcoming communal election could affect the assessment but Cambodia cannot implement the US model of democracy because different nations have different approaches.
He said the US has been following the election and hoped it would evaluate the process without bias. The government has also created a favorable environment for factories in the country while respecting human rights. Thus, he was sure the GSP scheme would be renewed.
"If the US does not renew the GSP scheme, it will surely affect Cambodia's economy. But if the US decides not to renew it even though the Cambodian government has put in a lot of efforts, we don't know what to say because it is their right, and we cannot demand more than that," Vannak said.
No specific response from the US
Commerce Minister Pan Sosak said Cambodia is waiting for the decision of the US Congress. President Joe Biden will review the application based on a number of conditions, including the submission of trade agreements between Cambodia and other countries, he said.
"We have high hopes of getting the GSP back. But we still have some work to do," said Sosak.
Hong Vannak of the Royal Academy said the government and the Garment Manufacturers Association in Cambodia (GMAC) want a specific date for the renewal of GSP but the US Congress still has not provided any specific answer to Cambodia.
The US might want to set out conditions in return for the GSP scheme. The Cambodian government has been trying to make an effort, such as by respecting human and labor rights in factories, Vannak said.
"The US might have conditions but Cambodia cannot always do what other countries want."
Cambodia became part of the US GSP program in 1997 and exported over $179 million worth of goods duty-free to the US in 2016. By 2020, Cambodia was selling goods worth $6.6 billion.
In the first four months of 2022, Cambodia achieved a trading volume with the US of just over $3 billion. Of that, exports were worth more than $2.9 billion while imports were worth more than $100 million, according to Customs and Excise figures.
Related Articles