Cambodia to Continue Attracting Foreign Investors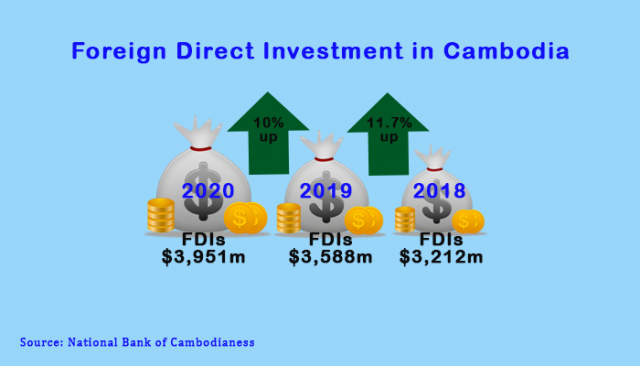 Phoung Vantha
January 9, 2020 7:05 AM
PHNOM PENH--Cambodia is expected to bring in nearly $4 billion in foreign direct investment (FDI) this year, according to the National Bank of Cambodia.

In its Economic and Banking Progress Report 2019 and Outlook 2020, the National Bank said that foreign investment, which went up 12 percent last year compared to 2018, will continue to increase this year.
As a result, economic growth should reach 7 percent, with an inflation rate of about 2.3 percent.
According to the National Bank report released on Jan. 2, foreign investment amounted to $3.6 billion last year, which represented a 12 percent increase compared to 2018, while economic growth went up to 7.1 percent.
The largest share of the country's foreign direct investment last year came from China, which brought in 43 percent of total FDI, while 11 percent came from South Korea, 7 percent from Vietnam, 6 percent from Japan, 6 percent from Singapore, and 27 percent from various other sources.
Related Articles