Cambodian Pig Farmers May Export to Vietnam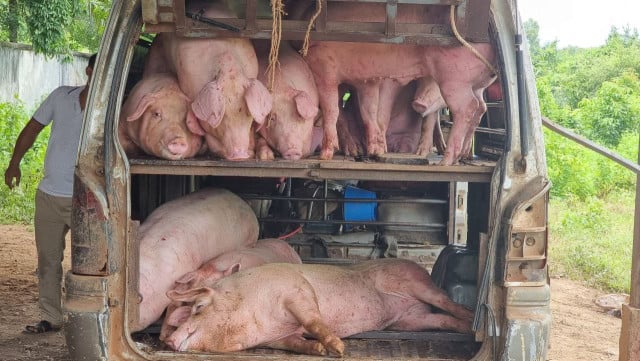 PHNOM PENH — The Cambodia Livestock Raisers Association (CLRA) is considering exporting pigs to Vietnam as there might be a demand that Cambodian pig farmers could meet.

According to association President Srun Pov, doing so would also help reduce the current pork-product surplus in the country. However, only major companies or farms adhering to international production standards would be able to take part in the export program, he said.

There currently is a market for pork in Vietnam due to the fact that the African swine fever has killed thousands of pigs in that country over the last few months, Pov said on Aug. 3.

This has led to this export project that is still at the planning stage, he said.

First, prices for pigs are about the same in Cambodia and Vietnam, which would leave little or no margin for profit considering the shipping expenses, he explained. So Pov hopes that company owners in Cambodia will not ask for higher prices in Vietnam than the prices they have set for the market in Cambodia if they actually want to sell their pork. Because the domestic supply has been congested in Cambodia recently due to imported frozen pork, he said.

The issue has affected both the consumers and the farmers, Pov said.

"I am studying the possibility of whether or not we can be exporting [pigs] to Vietnam because the prices [in both countries] are similar, thus, selling on the Vietnamese market won't make much profit," Pov said.

The plan to export to Vietnam is supported by the Ministry of Agriculture, Forestry, and Fisheries that will provide the export documents once the price is agreed upon between the parties.

"We are now negotiating on the price, and if we come to an agreement, then the ministry will allow the exports," Pov said.

Attempts to contact the spokesperson of the Ministry of Agriculture were unsuccessful as of July 4.

Currently, a live pig sells for less than 9,000 riels ($2.25) per kilogram in Cambodia, while it sells for slightly more than 9,000 riels ($2.25) per kilogram in Vietnam.

During the last five months, Vietnam has spent about $408 million importing nearly 240,000 tons of meat—mostly pork but also frozen and fresh beef, and buffalo meat—from 36 countries to meet the country's needs. The quantity imported represented an increase of 1.6 percent compared to the imports during the same period in 2022.
Related Articles