Candlelight Party Activist Seeks Dismissal Review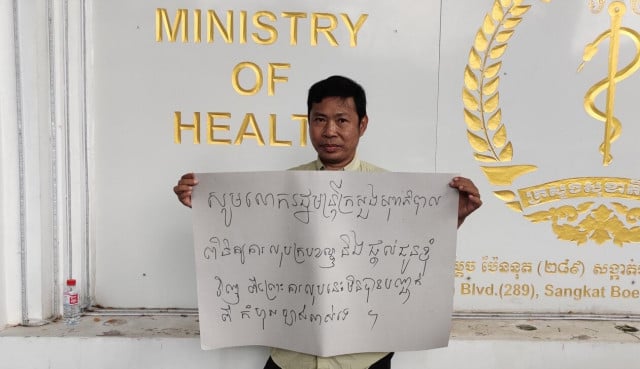 Job lost after commune election win
PHNOM PENH – A health official whose dismissal was allegedly part of a pattern of persecution of Candelight Party activists has written to Health Minister Mam Bunheng asking him to review the decision.
Unofficial results showed that Keo Somony was elected this month as second deputy chief of Chbar Ampov I commune in Phnom Penh. He said he had been working for the Health Ministry for 27 years.
The decision of the ministry disciplinary committee to fire him did not specify disciplinary measures clearly or in accordance with the Law on Common Statute of Civil Servants, he said.
His removal from the ministry staff list was announced in a statement on June 21. No specific reason was given but the statement said the delisting was based on a report from the disciplinary committee.
Or Vandine, a spokeswoman for the Ministry of Health, could not comment on Keo Somony's case, saying she was busy with work.
Keo Somony was a specialist in mental health in the ministry's Mental Health Department. In May, he wrote to the minister seeking special leave because he was a candidate in the commune elections.
Party spokesman Thach Setha said Candlelight Party candidates have been persecuted since the commune elections.
He cited Ley Sokhon, a party official in Battambang province, who was arrested on June 8 after filming authorities who were recording the names of people who had voted in commune elections.
Another Candlelight official, Eng Srouy, who is head of Candlelight's Tbong Khmum provincial working group, was fired from the National Police by Interior Minister Sar Kheng on June 19.
Sar Kheng said the reason for Eng Srouy's dismissal was that he had already resigned as a police officer.
Eng Srouy was trainer at the Police Academy of Cambodia and was a fourth-rank colonel. He had quarreled before with his superior, three-star Lieutenant General Prak Narong and vice president of the academy.
Srouy said Narong slapped him at a meeting in April for political reasons and for taking photos during the meeting.
In response, the academy said Prak Narong did not slap Eng Srouy. It said Eng Srouy was not disciplined but had been inactive, so his superiors held a meeting with him in April to educate him.
The Candlelight Party issued a statement on June 22, regarding the arrest and dismissal of the party's officials from the ministries. The Candlelight Party has called for the cancellation on the decision to remove the party's officials from the ministries and for the release of the arrested official.
Related Articles