China Urged to Expedite Crop Export Rules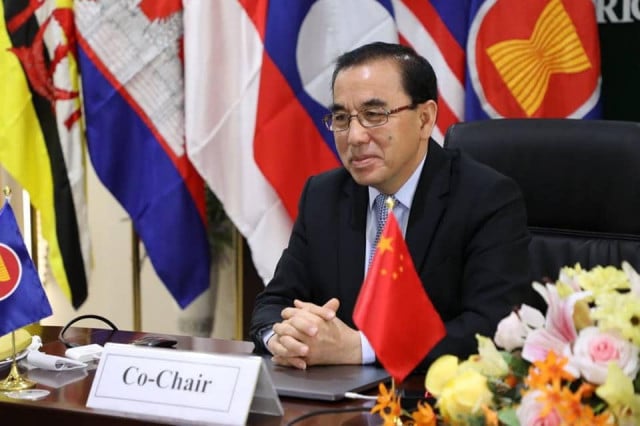 Cambodia pushes for protocol to boost agriculture
PHNOM PENH--Agriculture Minister Veng Sakhon has asked Chinese Deputy Customs Minister Wang Lingjun to push forward with a crops production protocol to speed up agriculture exports to China.
The request was made at the 7th ASEAN-China ministerial meeting on sanitary and phytosanitary cooperation on Monday.
The meeting focused on protocols for the ASEAN-China Free Trade Area, including future programs to strengthen the ASEAN-China relationship.
Veng Sakhon said the meeting decided on five sections of the ASEAN-China plan of action on Sanitary and Phytosanitary Cooperation (SPS) for 2022-2023.
These were: Establishment of a system of information notification and communication; Conducting exchange visits of relevant personnel of the parties; Conducting training courses, seminars and other similar activities based on the needs of capabilities of the parties, and in consideration of narrowing the development gap within ASEAN member states; Conducting collaborative research; and establishment of a consultation mechanism.
Veng Sakhon asked Wang to help expand and expedite the crops production protocol to boost Cambodian agricultural exports to China. The request was in response to commitments by leaders of both countries, the minister said.
On Sunday, Chinese Foreign Minister Wang Yi said in the presence of Cambodian Prime Minister Hun Sen that China would support Cambodia's agriculture sector.
"China will import more agriculture products to provide more benefits for the agriculture sector in Cambodia," Wang said.
As well as mangoes, Cambodia exports seven types of agriculture products to China, which are the priority and have the potential for continuing exports. These include Pailin longans, peppers, durian, coconuts, dragon fruit, jackfruit and red corn.
The Ministry of Agriculture has sent all relevant documents to Chinese Customs administration and is waiting for Chinese sanitary and phytosanitary experts to check the cultivation techniques, packaging and storage.
Related Articles