China's Infrastructure Contribution Reaches $3.34 Billion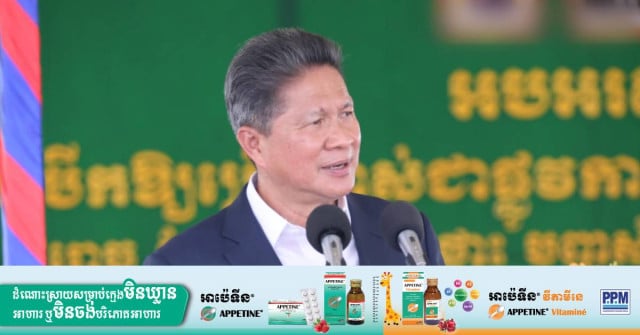 PHNOM PENH – China has provided a total of $3.34 billion in loans and grants so far for infrastructure developments such as roads and bridges.
Around $2.18 billion built 31 roads, which are 3,077 kilometers in length, Sun Chanthol, the first vice president of the Council for the Development of Cambodia (CDC), said at the 1st anniversary of the Phnom Penh-Sihanoukville Expressway on Nov. 7.
Six more roads, costing around $675 million, were being built. Other constructions include 11 major bridges costing nearly $500 million in total, including one crossing the Mekong River in Kratie province which broke ground early this year.
China's loan and grant provision has also helped infrastructure development through the Belt and Road Initiative (BRI).
"BRI is not a burden nor trapping Cambodia into debt. In contrast, BRI has improved our economy," Chanthol said.
In the pre-pandemic period, Cambodia's growth rate was seven percent and the BRI contributed to this. Therefore, the government supported the initiative, he said.
By the first half of this year, the nation's public external debt reached $10.67 billion. The figure will go up to $11.19 billion by the end of the year, according to the Ministry of Economy and Finance.
The ministry's report shows that China is the biggest creditor, accounting for more than $4 billion of the total debts.
On Nov. 2, Prime Minister Hun Manet, said the loans were used to invest in development.
"We do not borrow from other countries without any reason until the debt is unmanageable," he said. "There are very few countries with no debts and the countries with no debts also borrow money from their own citizens."
According to the Law on Financial Management 2024, the government needs another $1.65 billion, which is 4.7 percent of the Gross Domestic Products (GDP) for the annual expenditure of $9 billion.
The government plans to borrow money from the citizens by selling $108 million in securities and borrow $1.5 billion from foreign countries, which is equal to 4.39 percent of GDP.
The country's GDP is estimated to reach 142,957 billion riel, or $35.168 billion, in 2024.
Originally written in Khmer for ThmeyThmey, this story was translated by Meng Seavmey for Cambodianess.
Related Articles