Debt and Land Degradation: Lake Farmers' Plight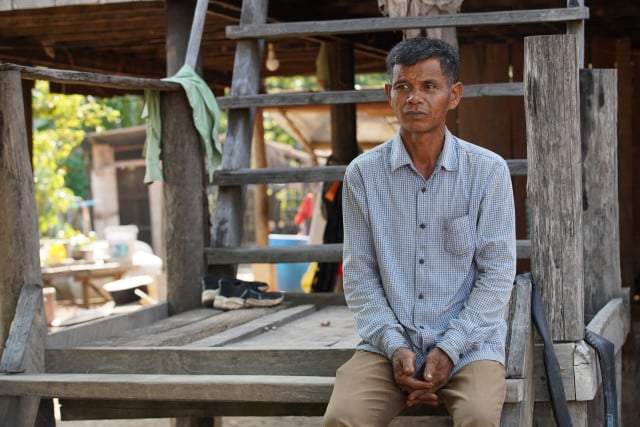 Agriculture trapped in twin vicious cycles
PHNOM PENH – Farmers along Cambodia's Tonle Sap Lake face increasing struggles from water shortages and soil degradation.
Reduced land productivity means they rely more and more on chemicals to maintain yields, with the extra costs adding to their difficulties.
"Each farming season, the most challenging problems we farmers commonly face are a lack of finance and water," said Reth Pheach, 50, a farmer in Sa Kream commune in Kampong Thom province.
Sitting under a dilapidated wooden house about 80 kilometers from the lake, he added, "In the past, we had not endured the problem of water shortage.
"Drought rarely took place but now the weather has also become unpredictable. I don't know why this happens." Inadequate irrigation added to the problems.
Many experts have warned that Tonle Sap's ecosystem has been severely undermined over the past year. The lake operates on a 'flood pulse' system, and depends on the Mekong River reversing its flow to replenish supplies.
During the six-month dry season from December to April, the lake covers about 1,500 square km and swells up to six times its original size during the wet season from May to November.
But the intensifying climate crisis combined with other factors, especially the emergence of new hydropower dams along the river have caused lower levels of water in the lake. Since 2018 the level has been lower than its historical average, according to a report by the Mekong River Commission.
But this year, the water volume of the lake was considered normal as of May 23, slightly higher than its long-term average and higher than the levels in 2019, 2020 and 2021.
Why farmlands around Tonle Sap Lake become less productive
Abby Seiff, American journalist and author of the book, "Troubling the Water: A Dying Lake and a Vanishing World in Cambodia", agreed that the lake, the biggest and most important freshwater lake in Southeast Asia, has suffered existential threats including substantial loss of flooded forests, hydrological changes as well as from the climate crisis.
But she noted that the change in hydrology – the change in way the water moves in and out of the lake – has impacts on not only the lake's ecosystem but also the farmlands around it.
"During the wet season, the whole flood plain surrounding the lake is flooded – not just with water but with nutrient-rich sediment, which is very important for paddy rice," Abby said.
"So, the changing hydrology doesn't just affect the lake's fisheries, but it impacts the agriculture surrounding the lake."
Leng Vira, technical officer and agriculture researcher at the Department of Agricultural Land Resource Management (DALRM) at the General Directorate of Agriculture (GDA), said the factors that cause the erosion of farmland along the lake go beyond the ability of farmers to understand.
The agroecosystem is fragile due to many factors. The loss of forests to make way for more farmland, monocropping agriculture, a lack of management of the use of land in general and big human development projects all play a part in transforming one of the world's most productive ecosystems.
"Forests in the areas have been cleared and transformed into agricultural land. Without forests, the land erosion can easily take place. And if we look at flooded forests, they have also been destroyed," Vira said.
"That's why it has forced farmers to increase the use of chemicals year on year. If they don't do so, they won't be able to harvest."
For farmers like Pheach, decreasing the soil fertility is seen as a natural process and it is common for him to need to use chemicals if he wants to farm out of season. Increasing use of chemicals is the only way to maintain the yield.
Rising chemical price adds to farmers' burdens
Even if increased rainfall means water is not a problem this year, the rocketing price of fertilizer is generating more difficulties for him.
Pheach said that he regularly spends almost a million riel (roughly $250) on chemicals to keep his rice and vegetable farm going. But this year, he has spent nearly double that on the same volume of chemicals as he needs some 350 kilograms of fertilizer on his two-hectare rice field and another 200 kilograms for his one-hectare vegetable plantation.
"Up to 550 kilograms in total are needed each season and this is not including the pesticides and weed killer," he said, adding that using chemicals has become a habit as the soil has degraded.
As a father of three children, he said farming is the family's only income and yields have suffered when he cut down on chemicals.
"However, my concern is the price will keep rising. I was spending between 80,000 riel [$20] to 90,000 riel [$22.5] per 50 kilograms of chemicals before," he said. "Now the price has gone up to between 130,000 riel [$32.5] and 150,000 riel [$37.5] or higher."
This comes as farmers like Pheach around the lake struggle to survive amid the ravages of climate change, reduced predictability in rainy seasons and surging farm equipment prices.
Red Than, 37, of Pongsat commune in Siem Reap province also struggles to keep her farm afloat as her land degrades. She produces five tonnes of rice each year but the rising price of chemicals forces her to seek more capital to cope with increased production costs.
"Last year, I spent around one million riel [$250] on chemicals, including pesticides, weed killer and fertilizer for two hectares of land – this doesn't include the costs of hiring farm machinery," said Than, adding that the rising gasoline prices have rendered machinery more expensive to operate.
"It's really difficult, I need to spend double to maintain the same output and we can't do without fertilizer. If we don't farm, we have nothing to eat," she said.
According to the Ministry of Agriculture, Forestry and Fisheries, Cambodia imported 103,005 tonnes of pesticides and 1,406,775 tonnes of agricultural fertilizers in 2020 – mostly from Vietnam and Thailand.
The imports amounted to $209.51 million, according to the United Nations COMTRADE database on international trade.
Farmers' cyclical debts exacerbated
Farmers around Tonle Sap Lake, which spans nine provinces and is home to around 4.8 million people, have been facing a similar debt cycle problem.
Soil degradation –natural and man-made – pushes farmers to use more chemicals to produce the same yield but the extra fertilizer and pesticides speed up soil degradation, leading farmers to purchase in higher quantities, at greater cost.
The rising cost of agricultural chemicals – particularly due to Cambodia's relative lack of domestic production as well as the disruptions of production chain and the Russian invasion of Ukraine– means farmers need more money, luring them into an almost inescapable cycle of debt as they take out microfinance loans or borrow from private lenders to keep their farms afloat.
Pheach explained that the only choice farmers have is to get a loan at the start of each new farming season and pay it back when they complete their harvest.
His three hectares can produce up to eight tonnes of rice, but he keeps three tonnes for his family, selling the rest to pay off the loans.
"When the new season arrives, we keep doing the same. This is just like a cycle," Pheach said.
"That's why some people say doing farming is not different from pushing ourselves into debt. Like this year, I don't know how much fertilizer I have to use now because we don't have money. But if we don't do it, how can we survive?"
Paying back debt was always arduous, Pheach said, with many farmers failing to keep to the repayments schedule.
In Siem Reap province, Than expressed similar concerns, noting that the rising prices of agricultural pesticides and other chemicals have made it almost impossible to turn a profit.
"No matter how expensive it gets, we still have to buy chemicals. Thus, I am worried that we will face difficulties paying back the debt as we already have earned small profits from farming from year to year," Than said.
Throughout the COVID-19 pandemic, Cambodian farmers faced a dwindling market with sales down nationwide – on top of the soaring costs of production and the withering effects of the climate crisis – and so many farmers have found themselves severely indebted over recent years, according to Theng Savoeun, president of the Coalition of Cambodian Farmer Communities (CCFC).
"Our internal discussion and surveys have found that farmers' debt has been rising. They don't just borrow capital for farming, but also daily expenses. This makes it difficult to repay and they end up indebted," Savoeun said, recognizing that the surveys paint a broad picture of Cambodia's agriculture sector.
"And now the price of gasoline and fertilizers surge endlessly," he added.
He went on to say a kilo of rice can be sold for 1,000 riel ($0.25), meaning a farmer would need to sell 5 kilos just to purchase 1 liter of gasoline.
"Without solutions, some farmers may give up on farming and switch to other careers that they hope will enable them to make more profits. But this trend is going to be another great concern," he said.
According to the association, up to 90 percent of Cambodian farmers borrow money from banks or microfinance to farm. While increasing production costs force them to borrow more, the impact of COVID-19 further pushed struggling farmers to breaking point with debts.
Luckily, instead of depending solely on loans from microfinance institutions or banks, farmers like Than and Pheach can get fast loans by borrowing from the farmers' savings groups in their communities.
"I can go get loans either day or night. It is easier, unlike banks or microfinance which commonly requires us to have land as collateral," Pheach said, adding that the saving group consists of farmers in the nearby communities.
But while this initiative helps them to borrow enough to deal with seasonal farming demands, the amount that be borrowed is limited and so for larger purchases, many farmers still depend on listing their houses or farmland as collateral to get a loan from a microfinance institution or a bank.
And despite being fast and easily accessible, the interest rate remains as high as that of banks and microfinance institutions – with farmers paying as much as seven percent interest on their loans – meaning that these collective saving groups can do little to break the debt cycle.
Sok Voeun, chairman of the Cambodia Microfinance Association (CMA) cited National Bank of Cambodia's 2021 report that microfinance lending for agriculture increased significantly, accounting for up to 19 percent of the total loans injected into Cambodia's economy.
"Over the past five year, the amount loaned for farming increased from $1099 million to $1598 million," said Voeurn, noting that during the pandemic, the amount loaned for agriculture increased by 11 percent in 2020 and up to 21 percent in 2021.
When asked about the risk of debt default among farmers, Voeurn said there was no information about the risk of debt default among farmers but claimed that the situation has got better with loan risk standing at just 1.7 percent.
For Savoeun of the CCFC, the need for an intervention to help farmers is well overdue.
"The government should have an immediate intervention to ensure that small-scale farmers can obtain loans with a low-interest rate for farming. And this also needs to apply to some important farming materials. Doing so is not only helping farmers but also consumers," he said.
However, the president of the farmer association still urged the government to genuinely work on long-term solutions including providing technical support to farmers and formulating good policies that garner input from farmers themselves.
"Farmers should be allowed to express their voice and concern and that should be taken as policy inputs," Savoeun said.
Speaking of intervention, Voeurn of CMA said that his association has also been continuing to work carefully on monitoring the progress of the agricultural sector.
He also noted that his association has forged partnerships with other stakeholders in agricultural sector to provide support for farmers in terms of financial literacy and to ensure responsible and sustainable lending service.
A Chance to Move from Chemical-intensive Farming?
In this crisis, there could be an opportunity for farmers to adopt more sustainable, less chemical-intensive methods that would prolong soil quality and reduce costs.
One program aiming to foster this transition is run by World Vision Cambodia and supported by Australian Aid to help around 5,000 households in Takeo and Kandal provinces shift from using chemical fertilizers to organic farming, and to help them find markets for their products.
World Vision's program manager Im Thano said his project doesn't require farmers to go 100 percent organic, but at least it starts a dialogue on the standard use of chemicals and increase farmers' ability to find alternatives.
"Our project helps them understand and reflect on the production cost and profits they can generate. Of course, they have the willingness to continue only when they can make profits," Thano said, pointing out that farmers could expand just 30 percent profits by using chemicals while using organic fertilizer or compost allows them to expand up to 80 percent.
"If they keep using chemicals, they may end up making no profits or just a little."
As the price of chemicals rises sharply, the head of World Vision Cambodia's program argued that it can be a good opportunity to push for a change in perception among farmers.
"Farmers I have met also expressed satisfaction after trying to reduce their dependence on chemicals because they can save more money. And some start to produce their organic fertilizers to supply others," Thano added.
Than and Pheach acknowledged that they don't generally make compost for their farming because buying chemicals from markets is easier.
"We know how to make compost. But most of us don't have an interest in it and end up purchasing chemical fertilizer from markets. As for myself, it is a bit time consuming to make compost," Pheach explained.
Asked whether they will give up or reduce the number of chemicals for farming if the price keeps going up, Than and Pheach agreed that making their own compost may become the only option.
"Of course, we still depend on chemicals, but if it continues to get more expensive, I surely have no choice but to reconsider making compost to substitute for the reduction of chemical use," Pheach said. "If we try, I think we can produce enough."
A growing alternative to chemicals: compost and organic fertilizer
Compost is just one alternative to chemicals when it comes to fertilizing and improving soil health, but its potential has not been widely utilized in Cambodia.
The Environmental Education and Recycling Organization (COMPOSTED) in Ek Phnom district in Battambang province is one of the local organizations that work on producing this important product.
Sam Phalla, director of COMPOSTED said his organization takes waste from markets and separates organic waste from plastics. The operation began in Battambang in 2009 after the organization recognized that organic waste from the markets presented an opportunity.
"This mixed waste is brought to us from markets by waste collection companies here. However, our workers have to separate organic waste from plastic waste before it can be turned into compost," Phalla explained.
With generous funding from Germany, his organization could sell compost to farmers at a cheaper price – with the main goal of helping farmers transition to organic farming.
"This compost can be used to fertilize all kinds of crops, and it costs just $120 per tonne, which is much cheaper than our production costs, so we want to make it more accessible to more farmers," Phalla explained, pointing out that his organization can produce between 60 to 80 tonnes of compost per year.
Asked whether the production can be scaled up, Phalla agreed it is possible by identifying areas where high volumes of waste is generated daily, singling out Phnom Penh as the most viable location, with over 3,000 tonnes of waste generated daily.
But the rising use of plastic in Cambodia has undermined Phalla's efforts to address waste management issues.
"In the past when we just started the project, organic waste accounted for up to 75 percent of all waste we got from the market. But all of this changed now – the amount of organic waste declined to around 50 percent while plastics are more prevalent," Phalla said, "Therefore, addressing issues in waste sorting is the key now."
Another initiative is Junlen (earthworm) – a business that aims at producing earthworm waste to provide another alternative to chemical fertilizer. Run by 28-year-old entrepreneur Sok Sothearath, Junlen began in late 2018 with production focused in rural communities in Kampong Chhnang province.
Graduating with a degree in Agronomy, Sothearath said her main goal is to introduce farmers to more innovative means of improving the quality of their farmland.
"The business provides local farmers with some financial subsidies, equipment and technical training. Through this model, farmers agree to raise earthworms and produce faeces, and I help them find markets," Sothearath explained, adding that her business covers a community-based project consisting of five households in Kampong Chhnang province, which collectively produce around 10 tonnes of worm castings each month.
"I also tried to run this project in other areas, but they have not developed into a community-led project yet," she said, adding that, "When it becomes community based, farmers can make use of the shared resources wisely, cooperatively collecting organic waste and sharing ideas with one another as a community."
"This is what I want because it is the core concept of sustainable business which reduces expenses and production costs," said Sothearath, adding that recognized the fact that only a small number of farmers are interested in this. Many were stuck in their ways and unwilling to adapt to a changing environment.
"When I meet with farmers who like my idea, it gives me the courage to keep going. That's why I have been trying to offer them knowledge as well as helping them increase their incomes," she explained.
But those who remain noncommittal to change look set to be left behind as the world around them undergoes rapid, and sometimes violent, changes. Increasingly unpredictable weather patterns, coupled with ill-conceived development projects that impact Cambodia's waterways and, subsequently, its farmers, have meant that farming is no longer the secure guarantee that it used to be and adaptability, as well as resilience, are what stakeholders are trying to foster.
Reimagining the production chain with long-term solutions
The rising price of chemicals may serve as a new driving force for transitioning to more sustainable practices and the growing production of alternatives to agricultural chemicals may appear promising, but experts warn that the vicious cycle of over-reliance on chemicals won't end if the systematic problem in Cambodia's agricultural production chain isn't tackled.
"Our farmers like something easy. They will just return to their old habits of using chemicals once the price of fertilizer gets backs to a pre-pandemic level," said Vira.
To tackle this, in addition to supporting farmers making their own organic fertilizer, the agronomist explained that the main focus should be on restoring agricultural ecosystems.
"First the focus should be on landscape restoration. Farmers should plant cover trees as they can shield against wind and rain, as well as provide shelter for birds. Moreover, they can grow seasonal crops so that they can maintain the landscape," he suggested, adding that they also need to plant cover crops during the dry season to enable biomass production and provide nutrition for the soil.
"And they need to maintain crop biomass by ending the stubble burning practice following each year's harvest. Our farmers like burning the remaining waste on their farmland after harvesting but it's like burning their own money," Vira added.
As there is a shift in agricultural labor, farmers no longer practice more sustainable "crop transplanting" but instead choose to do "direct seeding" as it's faster and requires less labor.
"This practice allows weeds to grow alongside with or even compete with crops. This is the reason that compels farmers to keep using chemical weed killers," Vira pointed out.
A growing number of Cambodian farmers now rely on tractors, as this cuts down the costs of labor, but this also creates a phenomenon known as soil compaction.
"Thus, reducing [the number of] times of plowing is needed, instead they should just stir up the soil. Doing this can allow the soil to effectively absorb more nutrients from whatever fertilizer they're using," advised Vira.
But few of those whose sole livelihood stems from fields are aware of these problems, or their solutions, he said.
"That is why we need to try to help them understand and figure out more."
From an economic perspective, Vira agreed that farmers have to be further incentivized so that they will be willing to abandon unsustainable practices.
"If they give up on chemicals, but only make the same profits as those who rely on chemicals, why do they need to care and change?" Vira said.
The key issue is not the solution, but the combination of solutions designed to alter the entire production chain – which include farmers, processors, sellers, consumers and policymakers.
"The change needs to emerge from farms to policies. Innovative approaches are required to make this happen. If change doesn't take place in everyone, it is impossible to see a [reduction in chemical farming]," he stressed.
Enabling a change in mindset has been strongly echoed by Sothearath of Junlen, who added that innovative and sustainable approaches to farming have often been resisted by farmers.
She further noted that farmers she works with only use earthworm cast they produce for vegetable growing, rather than throughout their entire farms.
"They do so because their only focus is to get high yields, as you know, they can only grow rice just once a year," Sothearath said. "So, the problem I can see is their disinclination to take up new farming approaches and adapt to using organic fertilizer more broadly."
Thano of World Vision Cambodia concurred that perception change is the only truly sustainable solution but acknowledged that it will take time.
"Knowledge of consumers on safe vegetables is important. Once more of them start to consume safe vegetables, it creates bigger markets for safe agriculture, eventually encouraging farmers to change their practice," Thano said.
This was the main reason why his project mainly focuses on helping farmers get market access and generate proper income.
Although rocketing chemical fertilizer price may add to farmers' burden, this doesn't change things. It indicates that only holistic approaches and systematic change taken by all stakeholders in Cambodia will prevent farmers from facing a much grimmer future.
This story is produced with support from Internews' Earth Journalism Network through Mekong Eye.
Related Articles