Digital Trade and Environmental Goods Smooth Cambodia's LDC Graduation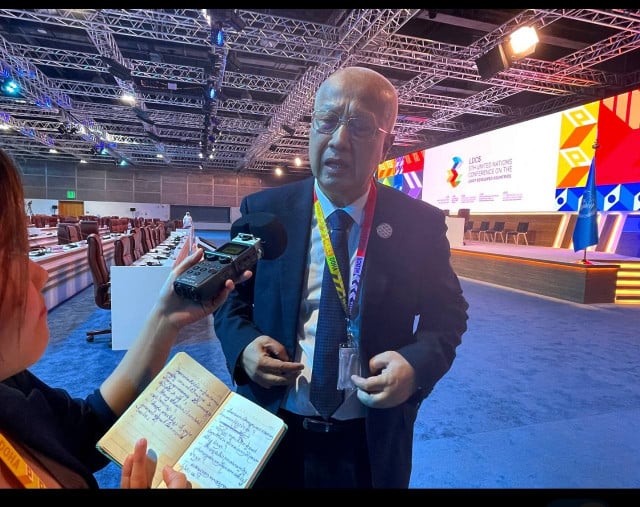 DOHA – Cambodian Minister of Commerce Pan Sorasak has called for continued support for trade preferences as the country heads for graduation from Least Developed status.
However, one expert argues boosting digital trade and environmental goods will sustainably benefit the country.
Sorasak spoke on March 7 on the sidelines of the fifth United Nations Conference on the Least Developed Countries (LDC5).
"Here at the conference, we just want to remind other countries that graduating will also bring us many challenges," he said.
"For example, nowadays LDCs receive more trade preferences including everything but arms (EBA), and graduation will lead to the erosion of these preferential treatments."
Cambodia met the criteria for graduation for the first time in 2021, and the country can begin the graduation process when it can keep maintaining the requirements in the next triennial review.
This is to be conducted by the Committee for Development Policy in 2024. If things go well, Cambodia can graduate in 2028.
As Cambodia relies heavily on the textile industry and clothing sector, it predicts it borrows money at a higher interest rate after graduating.
Graduating countries such as Cambodia would see more trade impacts, which was why it should be granted more time with a temporary extension of trade preferences so that the graduation process will be sustainable and irreversible.
"We hope there will be continued support and special treatment, or concession granted for a specific duration so that it prevents our graduation from reversing."
However, the government was not just waiting and relying on trade preferences but had taken actions to minimize trade impacts when graduating.
Spokesperson for the office of the High Representative for the Least Developed Countries, Landlocked Developing Countries and Small Island Developing States (UNOHRLLS), Conor O'Loughlin said the office of the high representative continues advocating for the extension of trade preferences, as well as other LDC smooth transition measures for graduating countries like Cambodia.
"We believe that extending these measures is essential for ensuring sustainable graduation. We will continue advocating for the smooth phase-out of international support measures in all UN coordinating mechanisms in which we are a leading or a participating organization," O'Loughlin added.
Actually, Cambodia is not the only country with concern over losing trade preferences during the LDC5 in Doha. This concern has been shared by other leaders of least-developed countries.
They are calling for the continued provision of preferential access to high-income countries through schemes including EBA.
However, Marcelo Olarreaga, professor of economics at the University of Geneva, and research fellow at the Centre for Economic Policy Research in London argued that despite appearing generous, the preferential market access does not benefit Cambodia as well as other LDCs much in terms of boosting growth opportunities.
"For preferential market access, it generally gives LDCs what high-income countries decide to give and in which sense," he said.
"You are not in control, and it depends on the protection barriers of the high-income countries."
Preferential regimes also work in a way that allows tariff rent to go into the pockets of importers of high-income countries, not the LDC exporting countries.
"You are dependent on what high-income countries are protecting. This means you are asking for something that is out of your control but not in the interest of your country's growth."
Olarreaga said another issue is the efforts to negotiate a generous rule of origin at the World Trade Organization, which is supposed to benefit the least developed countries by increasing exports to high-income countries.
"It is supposed to benefit LDCs, but they don't increase the value added of those countries embedded in the exports, and what you are doing is increasing exports of products from countries like China that come through the LDCs, then they are exported to the high-income countries. So those of those benefiting from this rule of origin are the providers of inputs not necessary of the LDCs," Olarreaga said.
Market expansion to the Middle East and African region
Trade and effective integration into the global economy are critical in assisting the least developed countries such as Cambodia.
Sorasak says the country has been diversifying trade partnerships through pacts such as the Regional Comprehensive Strategic Partnership and trade agreements with China and South Korea.
Most importantly, Cambodia had been expanding market access for its products to different regions including the Middle East and Africa starting with signing a free trade agreement with the United Arab Emirates, ensuring that it can reduce the impact of losing preferences.
"We have already prepared in terms of trade. Now, we have negotiated and agreed in principle with the United Arab Emirates on the Comprehensive Economic Partnership Agreement (CEPA). We wait for the document to be signed next month," Sorasak said.
More than trade agreement, the CEPA encapsulates "provisions for services, investments, dispute resolution, intellectual property rights, government procurement, and additional forms of specialised economic cooperation.
As of 2022, Cambodia's total trade reached $48.2 billion, with exports accounting for $20.4 billion and imports for of $27.7 billion.
Hard to deal with external shocks
Currently, LDCs only account for 1 percent of global trade, and most of which are commodity-dependent countries, according to the World Trade Organization. Meanwhile, over 60 percent of their merchandise exports are basic commodities, especially agricultural products.
Just like other least developed nations, Cambodia is a commodity dependence country, making it more vulnerable to external shocks.
Sorasak said that despite being prepared in terms of diversifying trade partners and market access, Cambodia's graduation from the LDC category remains at risk due to global crises such as the Russia-Ukraine War and the global pandemic.
"For pandemic, despite the fact that we so far have well controlled of the COVID-19 pandemic, we are still not sure whether there will be a new pandemic," he said.
Boosting digital trade for sustainable development
Most of LDCs countries including Cambodia have more potential in digital trade which will contribute more significantly to a sustainable future compared to maintaining trade preferences, argued economist Olarreaga.
The benefits of moving to digital trade include that the LDCs direct less focus and allocate fewer resources to building international transport infrastructure such as cargo containers.
"Increasing production capacity in digital trade is the LDCs' offensive interests," Olarreaga said, "But of course, to develop it, you need an internet connection, and sustainable electricity, which you also need investment in these elements."
That is why the LDCs like Cambodia need more aid to help build and enhance digital trade capacity, and more needs to be done by the government in terms of developing digital policy to guarantee a swift and successful transformation, he added.
"For digital trade, you need to improve digital capacity and skill development," he said.
"It is not going to happen because you just decide you are going to be in digital trade. There has to be a national digital strategy, a law in place to promote digital economy through training programs in terms skill development."
One thing that could be learned from the COVID-19 pandemic was that there were expert promotion agencies around the world which adopted digital tools and held trade fairs online.
"They have done this online, where buyers and sellers meet from different countries. The program like this can target small and micro enterprises so that they can access online platforms and export online. This is a super cheap program that helps weather impacts from the crisis.
"We have evidence countries which adopted this policy suffered a much smaller decline during COVID-19.
Cambodia has made digital transformation one of its top priorities with the government adopting the Digital Economy and Society Framework 2021-35 to accelerate the uptake.
More importantly, the pandemic contributed significantly to digital transformation acceleration. But more needs to be done by the government given that more obstacles remain in terms of leveraging digital capacity and skills as noted by UNDP resident representative in Cambodia, Alissar Chaker.
"Cambodia still ranks 102nd of 141 countries in digital readiness, and an estimated 30% of Cambodians have basic digital skills to use digital systems for Internet searches, communications and information-sharing," Chaker said, pointing out the digital divide between the urban and rural areas continue to be notable when it comes to internet access.
She went on to cite the report on digital readiness for the adoption of Industry 4.0 in Cambodia published by UNDP in 2020 that the country faces a shortfall of investments in basic and digital infrastructure, lacking the institutional framework as well as financial constraints and lacking linkages between innovation actors.

International Trade Centre (ITC)'s Executive Director Pamela Coke-Hamilton said that just like other least-developed countries, Cambodia has to do more to foster digital transformation by making internet connectivity more affordable and building skills and a supportive ecosystem for small businesses.

"Farmers, producers and small business owners should all be able to use the internet to conduct business," Coke-Hamilton said.

Cambodia also needs to bring investments into boosting digital knowledge and skills, especially to help small firms understand how to use the internet to grow their business, according to her.

"Nearly 40% of small businesses we surveyed in the least developed countries cited a lack of e-commerce skills and business knowledge as major bottlenecks for conducting online business," she added.
Taking offensive in trading "environment goods"
According to Olarreaga, LDCs also need to take offensive interests seriously in terms of trade of environmental or green goods by taking part in the negotiation process at the WTO on the environment or green products.
As green goods will be traded with zero tariffs, he explained that the problem is what can be considered green goods are sole technology items that are not produced in LDCs.
Therefore, he said, it is vital to have a voice from LDCs in negotiating criteria or elements of green goods from the low-income countries' point of view, signifying that the LDCs can reap more benefits if they express their voice in the process.
"What could be done is low-income countries come and say there are other green goods — to be specific — include those that are produced with renewable energy. And somehow it can be certified that they are produced carbon-free," he said. Bicycles could be an example.
"The negotiation at WTO is there. But the problem is the LDCs are not sitting at the table. So, their interests are not being represented. They say 'we don't go; environmental goods we don't want to participate in.' So, things are moving forward without the LDCs," Olarreaga said.
He said Cambodia, which has the potential to produce green goods such as bicycles, should work with other LCDs collectively in one front to express what they need to be considered as environmental goods.
"You can say bicycles can be considered environmental goods. Instead of asking for trade preferences, you should be thinking of asking for something you have offensive interests in," he added.
Bicycles are one of Cambodia's biggest export products, as in 2022, its exports of bicycles to international markets reached $966 million, a 48 percent increase from $651 million in 2021, according to the Commerce Ministry. The biggest market for Cambodian bicycles is the European Union, where it enjoys a 14 percent tax relief under the EBA scheme.

*The article was modified on March 13 to include comments from ITC Executive Director.
Related Articles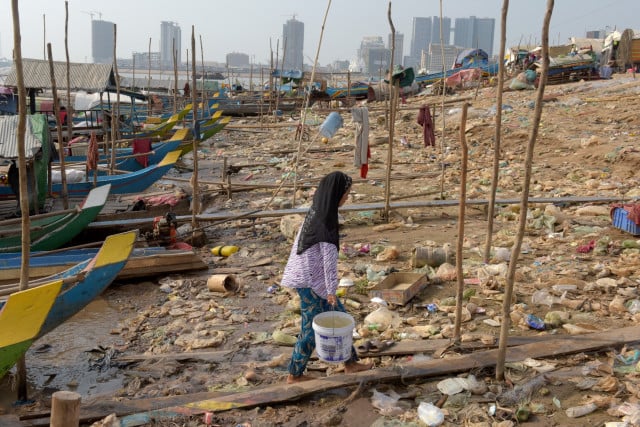 November 25, 2022 11:53 AM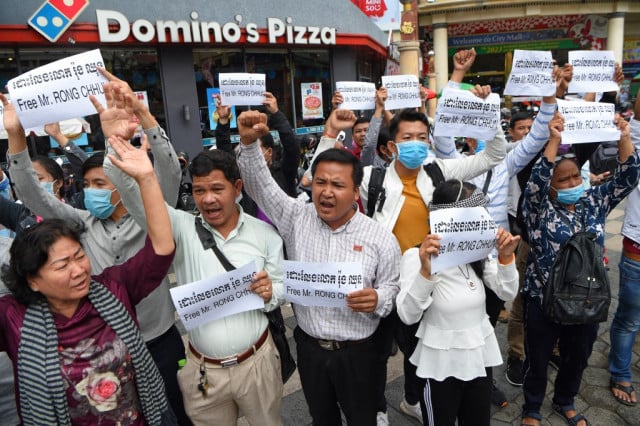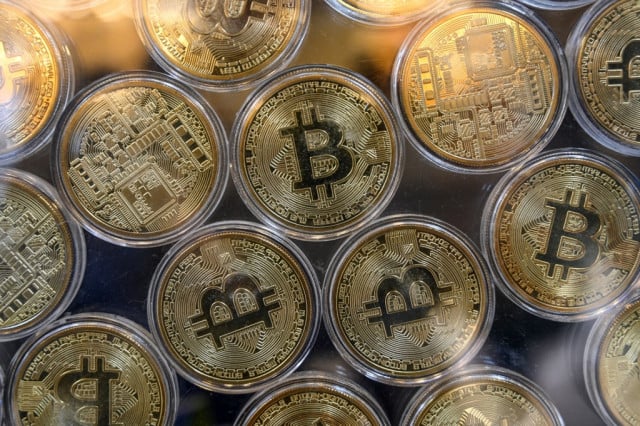 December 31, 2021 2:41 PM