Em Theay, one of Cambodia's Grand Khmer Classical Dancers and Teachers, Passes Away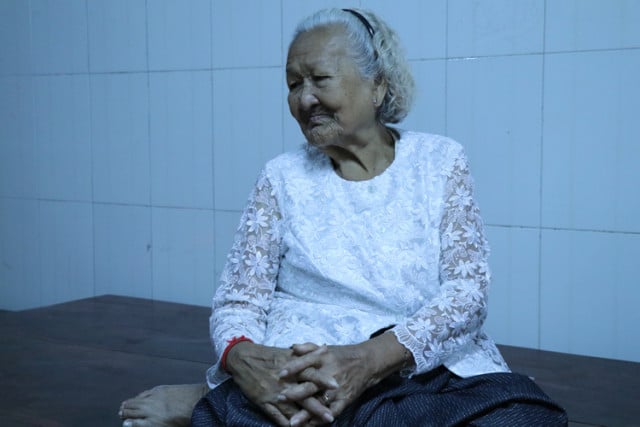 Part of the Royal Ballet until the mid-1970s, she had become a revered teacher after the Khmer Rouge regime, gaining the status of Living Human Treasure in the 2000s

PHNOM PENH--Em Theay, a Khmer classical dancer who had become a legend—and a beloved one—in the field for her knowledge of this art she had first learned in the 1930s, passed away shortly after midnight on June 15.

In a message posted on her Facebook page on June 15, Minister of Culture and Fine Arts Phoeurng Sackona said that Cambodia has lost a Living Human Treasure—a status awarded by the Cambodian government.
"Grandmother has left an invaluable work of Khmer art for the next generation of Cambodian children: Remembering [what she contributed to] the country, no day will she be forgotten," she said. "I would like to bow, say goodbye and pay my last respects, remembering what Grandmother had abandoned and sacrificed for the culture [of the nation]. May Grandmother's soul rest in peace."
As Theay had explained in an interview in the late 2000s, she was not sure what year she was born. All she knew was that she was about 7 years old and living at the Royal Palace where her mother was a cook when she started training with the Royal Ballet. This was in the early 1940s and King Norodom Sihanouk had recently acceded to the throne. She remained a Khmer classical dancer and teacher until the Khmer Rouge took control of the country in April 1975, and survived the regime by hiding her profession.
In the 1980s, Theay was among the artists who reopened the Royal University of Fine Arts to train the post-genocide generation of artists in the country.
In 2008, she was among the first 20 artists to be selected for the status of Living Human Treasures by the Cambodian government.


Truly beloved, her former students and people connected to the field had organized a fundraising campaign in 2009 when a fire destroyed her daughter's home with whom she was living in Chamkarmon district in Phnom Penh, a fire in which she had lost all her possessions.
"One of the most important things I've lost in the fire and that still pains me are my documents on dance, which cannot be replaced," Theay had said in an interview shortly afterwards. "I spent all my life collecting them and keeping them with great care only to have them destroyed in the fire."
In 2015, German photographer Arjay Stevens, who had first met her in the mid-1990s and called her "the grand old lady of the Royal Dance," had published a book on her to generate funds for her after learning that her government pension was only 200,000 ($50) per month.
"Usually when a famous person dies, people make a big effort and hold huge ceremonies," Stevens had explained. "But these celebrated personalities get nothing from it. So I said to myself, I must do a homage with all the photos I made of her over nearly two decades and make her benefit from it during her lifetime."
With the support of several Cambodians and long-time expats, his 115-page photo book entitled "A Century Artist" was released with the text written in English, Khmer, French and German. This had been followed by exhibitions of his photos of Theay at the National Museum and the Bophana Audiovisual Resource Center in Phnom Penh.
"I love this lady," Stevens wrote in the book. "Her smile, her warm impish eyes, her charm and kindness, the rigor with which she teaches her pupils."
In a letter sent to Theay's family on June 15, Prime Minister Hun Sen said that it was with great sadness that he and his wife Bun Rany had learned of the death of Em Theay.
"At this sad time, I and my wife would like to express our deepest condolences for the loss of laywoman Master Em Theay, which is the loss of a sublime grandmother, mother and an outstanding artist who was a Human Heritage, which is the most precious [asset] of the royal dance," the prime minister wrote.
Throughout her life, laywoman Master Em Theay dedicated her precious time to contribute to the promotion and preservation of our nation's glorious cultural arts, he said.
"I and my wife would like to pray for the soul of laywoman Master Em Thea: May she rest in peace," Hun Sen wrote.

Additional reporting by Michelle Vachon
Related Articles