General Election Ballots Papers to Roll Off the Presses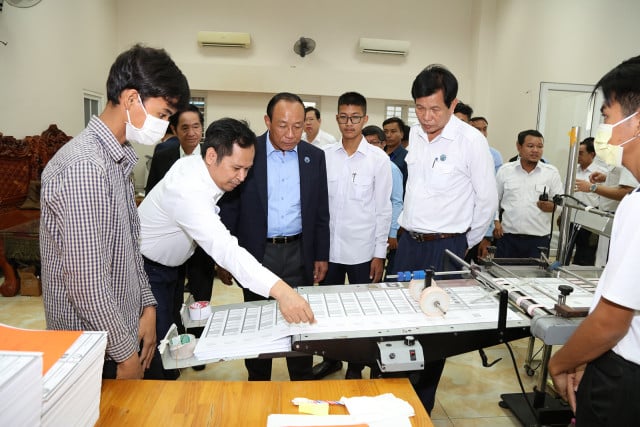 PHNOM PENH – The National Election Committee will print 13 million ballot papers for the 7th National Assembly election to be held on July 23.
Hang Puthea, a member and spokesman of the NEC, said he would observe the printing.

Prach Chan, NEC president, inspected the printing process in Khan Toul Khan on June 15.
The papers will be sent in two batches. More than 11 million will be sent to 23,789 polling stations and more than a million reserve ballots will be kept at the Provincial Election Commission.
The number of papers had increased based on the number of registered voters.
More than 9.7 million voters have registered to select 125 National Assembly members.
Of the 18 parties listed, the Beehive Social Democratic Party will appear first, followed by the Khmer United Party, Cambodian Nationality Party, Khmer National United Party, Democracy Power Party, Khmer Farmers Party, Women for Women Party, Khmer Anti-Poverty Party, FUNCINPEC, Dharmacracy Party, Grassroots Democratic Party, People Purpose Party, Khmer Economic Development Party, Ekpheap Cheat Khmer Party, Khmer Conservationism Party, Cambodian Youth Party, Cambodia Indigenous People Democracy Party and Cambodian People's Party.
The Candlelight Party, one of the main opposition parties, has failed to meet the NEC's criteria for taking part.
Originally written in Khmer for ThmeyThmey, this story was translated by Te Chhaysinh for Cambodianess.
Related Articles
November 22, 2023 7:10 PM