Getting Women into Tech: One Woman Turned Male Scorn into Inspiration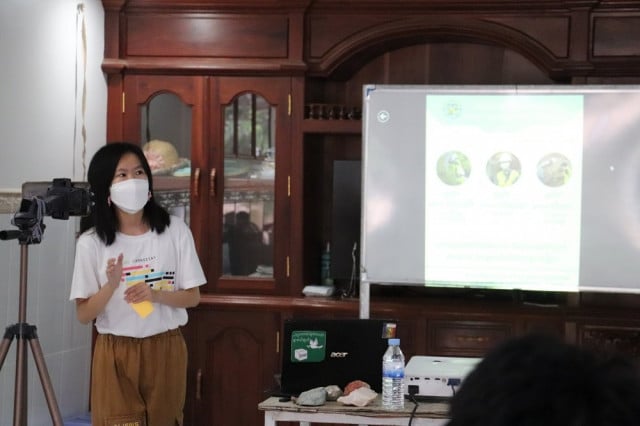 High school student Rith Sovandalin was told STEM subjects were not for girls, but she disagreed and while still a young student herself, Sovandalin established Code for Girls and teaches women to code for free
PHNOM PENH--As a means of bolstering the role of women in Cambodia's burgeoning tech scene, 18-year-old Rith Sovandalin launched Code for Girls, a free online coding club in November 2021 that aims to help female students and young women develop competitive skills in coding.
Cambodia, like much of the world, has seen an imbalance of men dominating the digital sector and this is something Sovandalin wants to counter, but first, she said, there needs to be a shift in mindset among both men and women.
"Coding is not naturally set out or written as a rule to be only for men. Women can do it too, no-one prohibits us, [but] it is important for us to be clear and confident with ourselves without [thinking] about negative perspectives of others," Sovandalin said, adding that besides coding skills, Code for Girls will teach soft skills aimed to improve gender equality.
"Creating a coding program club like this may also help young women follow their dreams," she added.
Herself a 12th grade student at Hun Sen Chumpouvorn High School in Phnom Penh, Sovandalin has been delivering online classes to women in the provinces using Scratch, a free programing language that has allowed her to teach her 30 students how to make short animations and games every Saturday for a month.
The students need to create their own project as well to officially finish the course. If they cannot do it yet, they will continue learning until they can make it possible.




Expressing her delight, Sovandalin said she enjoys sharing knowledge and finds teaching others a good way to review her own learning. She took full advantage of the shift to online lessons when the COVID-19 pandemic was at its peak in Cambodia, but she has continued to study coding online as schools and classrooms reopened earlier this year.
It took her a half of a month to plan things with her mentor, Catherine Harry, a feminist vlogger and founder at A Dose of Cath, as well as to recruit volunteers to help her with mentoring sessions and financial budgeting for the whole project.
Despite having only run Code for Girls for a short time, Sovandalin has already encountered challenges.
"I prioritize my studies first, so I don't have a lot of time to focus on my project [completely]…but I have overcome it by trying to balance things to do for my academic subjects and outside school. I write down my to-do list every morning," Sovandalin said.
Other issues have arisen in the form of poor internet connections, particularly with students in remote areas.
"However, I have my technical team to support me by helping with the screen-sharing in slide presentations so I can just talk without worrying about the slides," she said, added that her friends also help with Code for Girls.
Code for Girls' core team is now made up of eight members, all with varying levels of experience in coding, which they then share through different sessions.
According to Sovandalin, it was the hostile attitude towards a woman wanting to study coding that led her to start Code for Girls. Not just coding but any STEM subject—science, technology, engineering and mathematics—are often seen as "male" studies in Cambodia, but this is something Sovandalin wants to fix.
"I thought about the challenges for girls around the world in STEM fields too and I realized that I wasn't the only one who suffers from this problem," she said.
Spurred on by the gender stereotypes that have long shaped Cambodian society, Sovandalin managed to secure the support of UNICEF Cambodia through their Generation Future project. Here she gained additional training and was connected with a network of other young Cambodians looking to change things.
"Operating this program will provide many more young women an opportunity to code and show their ability in creating games, short animations, and creating websites," she said, noting that these skills were good precursors to a job in the growing digital sector.
For now, she continues to balance her web and app development studies the Japanese-run Tux Global Institute—where she has a full scholarship—against the desire to help more women develop the skills they need to break into a male-dominated industry, but she said she plans to study data science and artificial intelligence at university to further her contributions to Cambodia's tech sector.
Related Articles