Hun Manet Calls for a Third Political Consultation with Cuba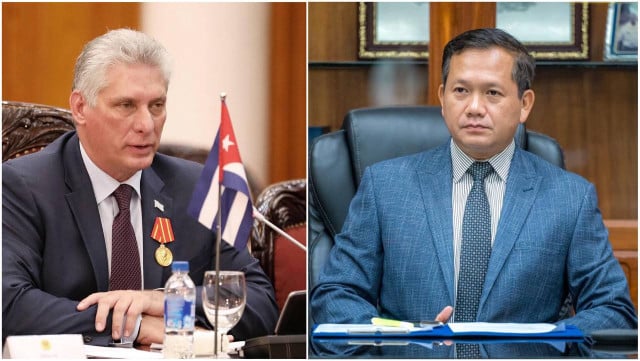 PHNOM PENH — Prime Minister Hun Manet has requested that a third political consultation between Cambodia and Cuba's foreign ministers take place in the near future.
The prime minister made the request on Sept. 9 during a phone call with Cuba's President Miguel Diaz-Canel Bermudez, according to information on his Facebook page. In the course of their conversation, he confirmed that he intends to pay an official visit to Cuba in the near future as the Cuban president recalled the official visit of the Former Prime Minister Hun Sen in 2022.
In September 2022, Gerardo Penalver Portal, Cuba's first deputy minister of foreign affairs, had come to Phnom Penh. This had led to the second Political Consultation taking place with the two countries exchanging views on their respective political and social situations as well as their priorities on issues ranging from peace and social stability to the economy, which had to be revived after the COVID-19 pandemic.
During those meetings, both parties had agreed that the relationship had been growing in several areas including trade, health, education, connectivity, and collaboration between the two foreign ministries, according to Cambodia's Ministry of Foreign Affairs.
This visit had led to the signing of two the Memorandum of Understandings between the two countries: a memorandum of understanding on cultural exchanges between the Ministry of Culture of Cuba and the Minister of Culture and Fine Arts of Cambodia, from 2022 until 2027; and an agreement on cooperation between Cambodia's Ministry of Education, Youth and Sports and Cuba's National Institute of Sport, Physical Education and Recreation.
During their telephone conversation on Sept. 9, the two leaders confirmed that the relationship had improved between their countries over the past few years which, they said, is a reflection of the official visits and exchanges, and the discussions between leaders.
Related Articles