Hun Sen Claims COVID-19 is Dragging Cambodia into Geopolitical Games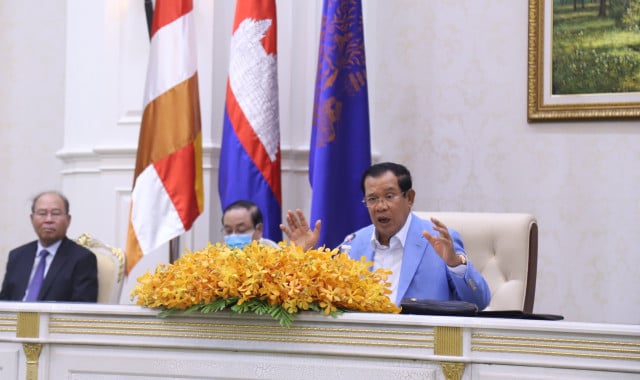 Torn Chanritheara
April 7, 2020 1:29 PM
The prime minister also took the time to defend his decision to go ahead with the Golden Dragon joint military exercise with China during the pandemic.

PHNOM PENH--The Coronavirus Disease 2019 (COVID-19) is dragging Cambodia into geopolitical games, Prime Minister Hun Sen said Tuesday. This came as Hun Sen was forced to defend the recently concluded joint military exercise with China, which had been held during the COVID-19 pandemic.

"While the world is in chaos, the Golden Dragon exercise continues and Cambodia has still been criticized," Hun Sen said in press conference on situation on COVID-19, while explaining that such an exercise was possible because no state of emergency had been declared.

The annual exercise on countering terrorism, held at a military training site in Kampot province, kicked off on March 15 and ended on March 30. About 3,000 soldiers took part in the exercise, including some 260 troops from the Chinese People's Liberation Army.

He said that Cambodia welcomes all countries to partake in joint military drills with the Royal Cambodian Armed Forces, but warns that they must follow strict measures as the Chinese soldiers have done.

"Any countries want to conduct a joint military exercise? I will accept all. Even if it is the United States, France or Australia – any countries, let them come. I accept all joint military exercises, please come, but anyone wishing to do so must go through testing processes like the Chinese did. Testing temperatures once a day, we found no confirmed cases of COVID-19 among Cambodian or Chinese soldiers," he said.

He later asked why a US warship is able to dock in a Vietnamese port in apparent justification of going ahead with what he called a "long-planned military exercise between Cambodia and China."

"In the context of COVID-19 Cambodia has been dragged into a geopolitical game, which is disgusting," claimed Hun Sen, who reiterated that he never regards any country as an enemy and that Cambodia opens welcoming arms to every country, including those states that have no formal relations with Cambodia.

He went on to raise the issue of the South China Sea dispute, which China and other ASEAN member states continue to disagree over, calling the tension a hot stone that Cambodia couldn't accept when it was chair of ASEAN in 2012. He said that Cambodia had been looked down on just for its relationship with China, while other countries have also been doing business with China.

Hun Sen said he would not form diplomatic relations with countries that were created by force and took the opportunity to announce that Cambodia would not seek relations with Kosovo, a partially-recognized state that is involved in a territorial dispute with Serbia.

"There are requests for Cambodia to have relationship with Kosovo and two states inside Georgia, but we can't accept that," he said, adding that this is message to those state. He explained that by not recognizing those states, Cambodia discourages secession and the break-up of nation states.


Related Articles