Keisuke Honda: "Never Satisfied" by Cambodian Football Team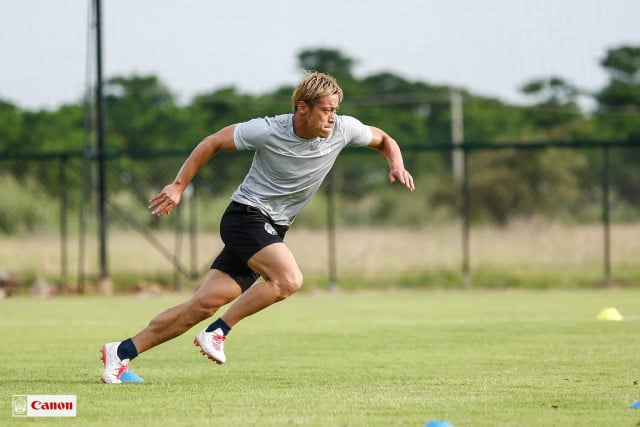 Turning 36 years old, former Japanese international is "hungry for achieving [its] goals"
PHNOM PENH – General Manager of the Cambodian Football National Team, Keisuke Honda, thanked supporters on his Facebook page for sending him wishes on his birthday.
Honda, who is leading the national team for the AFC Asian Cup 2023 Qualifiers in Kolkata City in India, celebrated his 36th birthday on June 13.
"Thank you for a lot of messages. But time flies. I'm hungry for achieving my goals. Never satisfied," the former Japanese international wrote on the eve of Cambodia's final qualifying match against Afghanistan, which will be played on June 14 at 6:30 p.m.
With his message, Honda expressed his dissatisfaction regarding what he has achieved with his team.
Even though the Cambodian team's last game is still to be played, its result won't make any difference, as the Kingdom has already been eliminated from the 2023 AFC Asian Cup. In Cambodia's pool, Hong Kong and India both qualified for the cup, while Afghanistan is also eliminated.
Honda was appointed as general manager of the Cambodian National Team in August 2018. He lost his first game against Malaysia 3–1 on October 10, 2018, at a friendly match. His two greatest setbacks occurred when Cambodia lost twice against Iran: the first time in October 2019, with a 14–0 defeat, and the second time in June 2021 with a 10–0 result for Iran. Both matches took place during the FIFA World Cup qualifier round.
Related Articles