Mount Kulen's Tourist Wonders at a Glance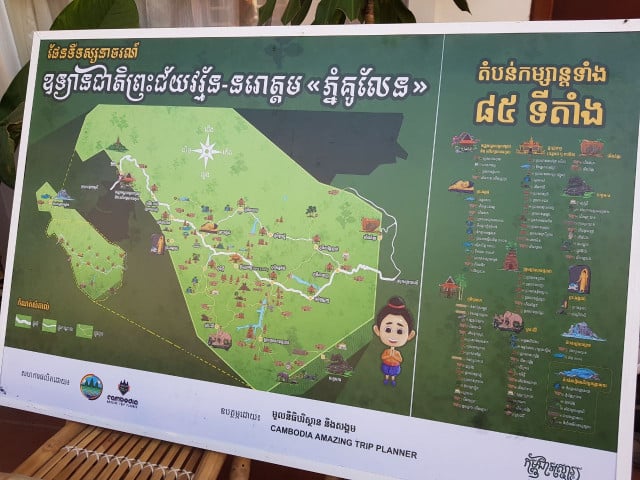 SIEM REAP – Sa Dina has combined a love of Khmer culture and a wish to help his people by producing the first tourist guide map to Kulen Mountain.
The map lists 85 places of interest such as temples, pagodas, waterfalls and beauty spots. Other tourist maps of national parks are in the pipeline.
His wish to support Cambodian culture and help its people stemmed from his family background. His father was involved in culture and education and worked closely with the community.
Dina's mother was the director of a center for children whose parents could no longer look after them.
"I lived close to these people," he says. "I am very emotional about them. I want to help them. Even when I was young and when I had food or won a prize for something I would always share with them. After school, I always visited the center."
Dina, founder of the Cambodia Amazing organisation and the Royal Archery Club, said he hoped his map would help attract tourists to Kulen mountain and bring income to people living there.
The map lists attractions such as landscapes, temples, villages and waterfalls in each location and has been displayed at 45 sites on the mountain.


"Before we started the mapping we conducted site visits and listed everything and decided which to place on the map and which ones to promote," he said.
"I also collected some information from others sources such as Listing of Archeological sites/Ancient Sites from the Ministry of Environment and Kulen National Park Archeology from the Archaeology and Development Foundation.
"We don't want the tourists to spend a lot of time and money and find there is nothing much there."
The map has been supported strongly by the Ministry of Environment shared with partners such as the ministries of Tourism and Environment and the media. An interactive version is the next stage.
"Many people wanting to go there means the income will go directly to the local people," Dina says.
"I believe that my ancestors built amazing sites but not to keep them secret. They wanted to show them to people like us nowadays.
"Like myself, I want to do the mapping. I want the next generation to witness what they have done. And be proud of what we have done for our country."
Related Articles