Outcry as Opposition Party Leaders Sentenced in Absentia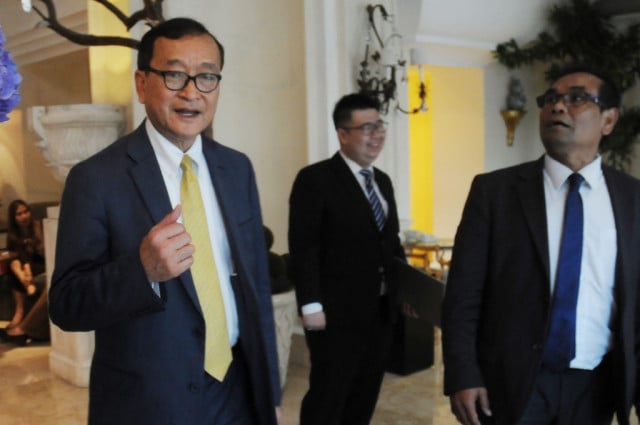 Gerald Flynn and Phoung Vantha
March 2, 2021 5:15 AM
Outcry as Opposition Party Leaders Sentenced in Absentia
Eight senior members of the outlawed Cambodia National Rescue Party were each handed more than 20-year sentences yesterday, while acting leader Sam Rainsy received 25 years.
PHNOM PENH--The Phnom Penh Municipal Court on March 1 sentenced nine former Cambodia National Rescue Party (CNRP) leaders in absentia as part of the government's ongoing allegations that the outlawed opposition party was attempting to foment a coup.
The nine senior CNRP leaders: Sam Rainsy, Mu Sochua, Eng Chhay Eang, Ou Chanrith, Ho Vann, Long Ry, Men Sothavrin, Tiolung Saumura and Nuth Romduol each received hefty fines, lengthy jail sentences and have had political rights revoked by the court.
All were sentenced in absentia after having fled the country years previously.
But it was Rainsy—the acting party leader who has been living in France since 2015—who was given the harshest sentence: 25 years in prison.
Deputy leaders Mu Sochua and Eng Chhay Eang were both sentenced to 22 years in prison each, while Tioulong Saumura, Men Sothavrin, Ou Chanrith, Ho Vann, Long Ry, and Nuth Romduol were sentenced to 20 years in prison each.
The combined fines applied amount to 1.8 billion riel—more than $440,000—and all nine have been stripped of their right to vote, their right to stand in an election and to be a public official under Article 55 of the Penal Code.
Phnom Penh Municipal Court Spokesperson Y Rin said that the court opted to deprive the nine CNRP leaders of certain rights, but said he was unsure how long these revocations would last.
However, Chin Malin—spokesperson for the Ministry of Justice—clarified the matter by saying that the verdict resulted in a permanent revocation of the CNRP leaders' rights to vote, stand in elections or be civil servants.
"The final judgement mean permanently withdrawn," he said, but added that a royal pardon could restore these rights.
In response to the sentencing, the US Ambassador to Cambodia W. Patrick Murphy took to Twitter to voice his concerns over the implications this move would have for democracy in Cambodia.
"Troubled by sentences today targeting political opposition leaders in Cambodia, particularly given a lack of due process," he wrote. "We urge authorities to reopen political space and allow all voices to be heard and to participate."
Cambodia's Justice System "Weaponized"
Widely-regarded as a series of politically-motivated charges against the former opposition politicians, yesterday's sentencing was in response to Rainsy's failed attempt to return to Cambodia on Nov. 9, 2019 and the government has claimed that the attempted return amounts to a failed coup.
Rainsy has consistently denied that he intended to overthrow the government, but has maintained that he would like to challenge Prime Minister Hun Sen in free and fair elections.
More than 100 other former opposition activists and supporters were also found guilty in connection with the Nov. 9 plan, as the court issued charges of conspiracy to overthrow the government to known CNRP members.
While many arrested in connection with Rainsy's attempted return were released at a time when the EU was reassessing Cambodia's access to the Everything But Arms (EBA) trade scheme, most have since been rounded up again and arrested.
In February 2020, the EU ruled that Cambodia's government was committing serious and systematic human rights abuses and decided to partially withdraw Cambodia's access to EBA, but more recently the CNRP supporters have found themselves in the center of mass trials.
These trials have since been delayed due to the most recent COVID-19 outbreak, but have prompted outrage from international observers and local rights advocates on account of the complete lack of due process possible in such chaotic, unwieldly trials.
"The mass trials are conducted without the presence of the accused despite our numerous requests and attempts to respond to the unjust charges," said Deputy Leader of the CNRP Mu Sochua. "We call on the international community to condemn this weaponization of the justice system. We raise the 3-finger salute for Human Rights, Democracy and Justice."
Similarly, Deputy Director of Human Rights Watch's Asia Division Phil Robertson issued a statement yesterday that said the charges against the CNRP's leadership were "manufactured by a dictatorial, single party state determined to destroy the remaining fragments of Cambodia's shattered democratic system, along with the exercise of basic civil and political rights such as freedom of expression, association, and peaceful, public assembly."
Robertson again pointed to the political control that Hun Sen exercises over Cambodia's judiciary and said it was a violation of rights for the CNRP leaders to be denied entry to the country and subsequently denied their day in court.
"To top things off, after an announcement by the Phnom Penh court on Feb. 23 that because of recent local transmission of COVID-19, all trials were to be postponed indefinitely, the court still went ahead today in rendering this absurd verdict without the presence of trial monitors who trusted the court's prior notification," lamented Robertson. "Tricking observers and ultimately also defendants into believing that trials are postponed adds to the outrageous violations of the right to a fair trial in Cambodia."
Correction: An earlier version of this story suggested that CNRP leaders had been stripped of their citizenship which was incorrect. The nine former opposition figures have lost certain rights, but not their citizenship.
Related Articles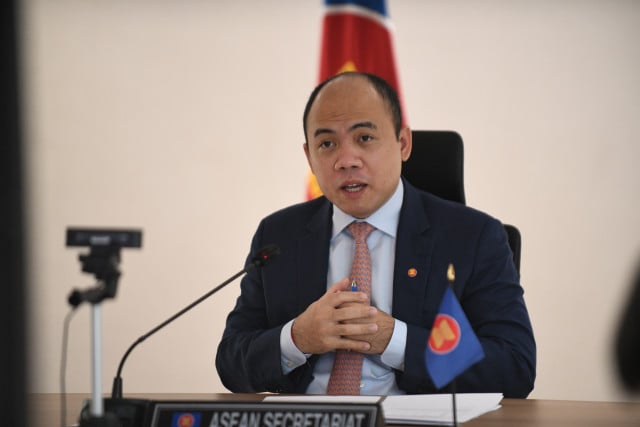 October 25, 2021 10:57 AM