Over 1.4 Million People Crisscrossed the Country during the Second Khmer New Year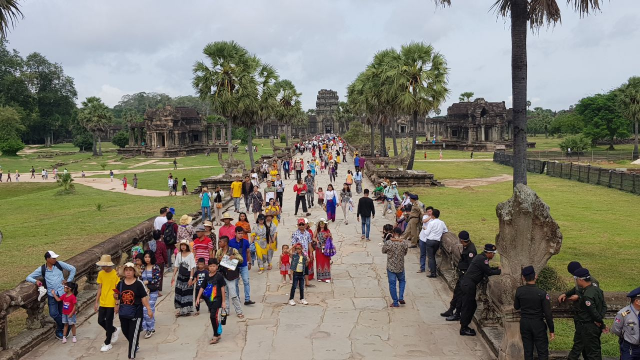 Romdoul Chetra and Torn Chanritheara
September 4, 2020 8:51 AM
Estimates are that they spent more than $100 million during the 5-day holiday
PHNOM PENH -- More than 1.4 million people living in Cambodia turned tourists during the second Khmer New Year holiday last August, visiting sites across the country and contributing more than $100 million to the national economy.
Tith Chantha, permanent secretary of state at the Ministry of Tourism, said that each tourist spent on average $100 on travel, food and accommodation during that holiday, which gave a boost to the domestic economy as the country's tourism sector continues to be affected by the Coronavirus Disease 2019 (COVID-19) pandemic.
"In total, there were 1.5 million tourists, and that boosted the domestic economy [by what] we initially estimated amounted to $100 million during the 9-day holiday," Chantha said on Sept. 3 during a press conference on the situation in the tourism industry during the pandemic.

While the official holiday was actually five days, that is, Aug. 17 through 21, people took advantage of the weekends before and after the holiday, stretching it to nine days.

"Thus, this $100 million was a stimulus for the domestic economy during the COVID-19 period," Chantha said.
On April 7 this year, Prime Minister Hun Sen had called off Khmer New Year, which was to be held April 13 to 16, as part of measures to curb the spread of the coronavirus. But on July 14, he agreed to grant a five-day holiday in August to compensate for the cancellation of the holiday in April.
This long holiday in August, however, presented some challenges, Chantha said. There were shortages in service such as restaurants, food supplies and accommodations, which were caused by the prolonged pandemic that has forced the closure of many businesses.
At the press conference, Chantha called on businesses to resume operations since domestic tourists still have the opportunity to travel in the country in spite of the current situation. The ministry will provide support to deal with issues businesses may face, he added.
According to Chantha, among the 90 percent of businesses that had closed due to the pandemic, around 30 percent of them have restarted their activity. As a result, an estimated 100,000 workers have returned to work.
Cambodia expected to attract more than 7 million international tourists per year, generating more than $5 billion, and to reach 15 million international tourists by 2030, bringing in $10 billion. Those hopes, however, have been dashed by the global health crisis.
Last month, Tourism Minister Thong Khon told the parliamentary commission on tourism that Cambodia is set to lose about $3 billion in tourism revenues this year largely due to a dramatic 80-percent decrease in the number of foreign tourists.
Related Articles