Over 5.19 mln Vehicles Travel on Expressway in Cambodia Within 1 Year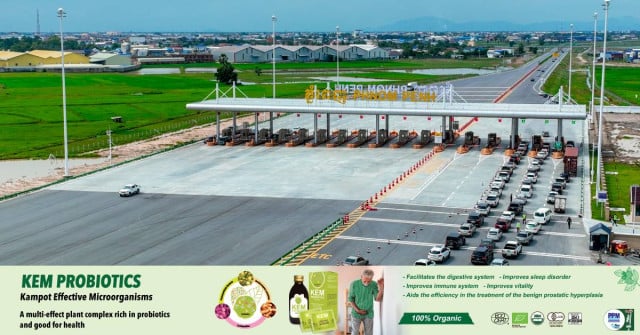 PHNOM PENH – More than 5.19 million vehicles had traveled on the Phnom Penh-Sihanoukville Expressway in the first year of its operations, the freeway operator said on Tuesday.
"Within a year, the total traffic volume on the Phnom Penh-Sihanoukville Expressway has exceeded 5.19 million, with an average of 13,000 vehicles per day, and up to 17,000 vehicles per day during weekends and holidays," said the Cambodian PPSHV Expressway Co., Ltd., the operator of the Phnom Penh-Sihanoukville Expressway.
The data was released while the company celebrated the first anniversary of the expressway's operations.
Cambodian Deputy Prime Minister Sun Chanthol said the 187-km expressway has been playing a crucial role in improving travel efficiency, reducing traffic jams and shortening travel time between the Phnom Penh capital city and the international deep-water seaport city of Sihanoukville.
"The expressway has importantly contributed to boosting Cambodia's economic growth and tourism development," he said in a speech during the celebration of the first anniversary of the expressway held at the Phnom Penh Toll Station.
The freeway was one of many major achievements in Cambodia under the framework of China's Belt and Road Initiative (BRI) cooperation, he said.
Invested by the China Road and Bridge Corporation (CRBC) under the BOT (Build-Operate-Transfer) model, the Phnom Penh-Sihanoukville Expressway is the first-ever freeway in Cambodia and is a major project under the BRI cooperation between Cambodia and China.
With two lanes for traffic in each direction plus an emergency lane on each side, vehicles will be able to reach their destinations within two hours through the expressway instead of five hours on National Road 4.
At the event, the Cambodian PPSHV Expressway Co., Ltd. also released its first environmental, social and governance report for 2022-2023.
The report said the expressway was built as a "green expressway" to promote harmonious coexistence between humans and nature.
It added that the expressway, serving as an economic corridor, has driven rapid economic growth in Phnom Penh, Kampong Speu Province, and the Sihanoukville Special Economic Zone, and has fueled trade in coastal regions of Cambodia.
The expressway has significantly shortened the travel time from Phnom Penh to Sihanoukville, greatly facilitating transportation between Cambodia's two economic centers.
"The project meets Cambodia's national development and people's needs for a better life," the report said. "It is a model project for win-win cooperation between China and Cambodia."
Related Articles