Radio Station Owner Convicted of Incitement, Sentenced to 20 Months in Prison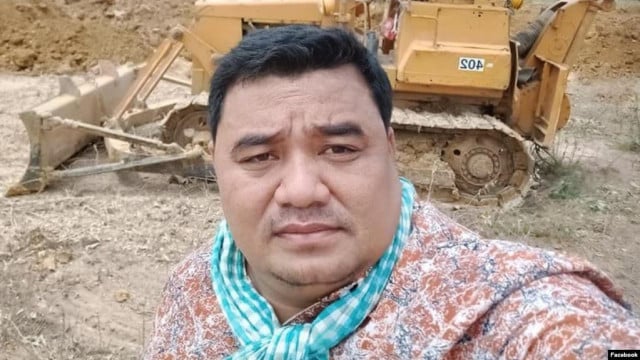 Phoung Vantha
December 23, 2020 10:25 AM
As the year winds down, a number of trials are being held for critics of the government—many of who were detained on incitement charges earlier this year.
PHNOM PENH--Former owner of Rithysen radio and website, Sok Oudom, was convicted of incitement to commit felonies by the Kampong Chhnang Provincial Court on Dec. 22 and was sentenced to 20 months in prison. The court also fined him 20 million riel—almost $5,000.
The Cambodian Journalists Alliance (CamboJa) voiced concern over the conviction of Oudom, stating that targeting journalists with the criminal code sends a message to journalists wishing to report freely and without fear on sensitive issues.
Nop Vy, executive director of CamboJA, said that the conviction of Oudom shows that journalists who dare to report and uncover the interests of military and powerful officials are still being persecuted through the judiciary, with the use of the Cambodian Criminal Code rather than provisions in the Law on the Press.
"We are concerned that mechanisms for monitoring and promoting social justice are not being strengthened," he said.
However, the Ministry of Information said that it respected the decision of the judiciary, saying that arresting journalists for illegal behavior is not a threat to Cambodia's press freedoms. However, the majority of trials involving journalists are often a result of reporting on sensitive issues.
Information Ministry spokesman Meas Sophorn said that in case the accused believes the court's verdict to be unjust, they have the right to appeal in accordance with the procedures of the law.
"The competent institution or court took law procedures on the individual who offends or acts contrary to the laws, it does not consist of violated and threats to the freedom of the press," he said, adding that individuals who break the law must face the law—a well-worn refrain used by the government to defend arresting critics.
CamboJA called on the court to reconsider the conviction of Sok Oudom and immediately stop using criminal charges against journalists.
In May 2020, Sok Oudom was arrested and placed into pre-trial detention at Kampong Chhnang Provincial Prison. He was accused of broadcasting fake news on May 12, but had actually been covering a longstanding well-documented land dispute between locals and the military.
Related Articles