Russian and Chinese Delegates Join North Korean Leader Kim at a Parade Showing His Newest Missiles
SEOUL, South Korea — North Korean leader Kim Jong Un was joined by senior Russian and Chinese delegates as he displayed his most powerful nuclear-capable missiles in a military parade marking a major war anniversary with a show of defiance against the United States and deepening ties with Moscow as tensions on the peninsula are at their highest point in years.
Kim attended Thursday night's parade with Russian Defense Minister Sergei Shoigu and Chinese ruling party official Li Hongzhong from a balcony looking over a brightly illuminated Kim Il Sung Square, named after Kim's grandfather, the founder of North Korea.
Edited footage from North Korean state TV on Friday showed streets and stands packed with tens of thousands of mobilized spectators, who roared in approval as waves of goose-stepping soldiers, tanks and huge, intercontinental ballistic missiles wheeled out on launcher trucks filled up the main road. People were brought from around the country to the capital, Pyongyang, to fill the crowd, according to state media.
The parade began with warm-up events that featured ceremonial flights of newly developed surveillance and attack drones, which were first unveiled by state media this week as they reported on an arms exhibition attended by Kim and Shoigu.
The main event began with Kim arriving at the square in a limousine escorted by a formation of motorcycles. Kim saluted honor guards and military officials and walked down a red carpet to enter a building where Shoigu and Li greeted him at the balcony, as troops below chanted "protect Kim Jong Un with our lives!"
Organizers broadcast messages in Russian, Chinese and Korean while introducing Kim's guests to the crowd, drawing cheers and applause.
As the parade proceeded, Kim was constantly talking and exchanging smiles with Shoigu and Li, who respectively stood to his right and left at the balcony's center. Kim and Shoigu repeatedly raised their hands to salute the parading troops. The broadcast did not show Kim making a speech.
Kim's biggest weapons were saved for the end, when his troops rolled out new ICBMs that were flight-tested in recent months and demonstrated ranges that could reach deep into the U.S. mainland, the Hwasong-17 and Hwasong-18. Some analysts say the missiles are based on Russian designs or know-how.
North Korean Defense Minister Kang Sun Nam spoke, describing the parade as a historic celebration of the country's "great victory" against "U.S. imperialist aggression forces and groups of its satellite states."
He condemned the United States for its expanding military exercises with South Korea, which the North portrays as invasion rehearsals, and also holding new rounds of nuclear contingency planning meetings with Seoul. The allies describe their drills as defensive, and say the upgrades in training and planning are necessary to cope with the North's evolving nuclear threat.
"We solemnly declare that if they attempt military confrontation as now, the exercise of our state's armed forces will go beyond the scope of the right to defense for the United States of America and (South Korea)," Kang said, repeating previous North Korean threats of nuclear conflict.
"The U.S. imperialists have no room of choice of survival in case they use nuclear weapons against the DPRK," he said, using the initials of his country's formal name, the Democratic People's Republic of Korea.
Clouds over Pyongyang in recent days made it difficult for satellites to monitor preparations for the parade, which took place at night.
Satellite images showed what appeared to be a massing of people at the square at 1316 GMT (10:16 p.m. local) Thursday, said Dave Schmerler, a senior research associate at the James Martin Center for Nonproliferation Studies, which is part of the Middlebury Institute of International Studies at Monterey.
North Korea's invitation of Russian and Chinese delegates was a rare diplomatic opening since the start of the COVID-19 pandemic. Experts say Kim is trying to break out of diplomatic isolation and boost the visibility of his partnership with authoritarian allies to counter pressure from the United States.
The parade followed meetings between Kim and Shoigu this week that demonstrated North Korea's support for Russia's invasion of Ukraine and added to suspicions the North was willing to supply arms to Russia, whose war efforts have been compromised by defense procurement and inventory problems.
North Korean state media also highlighted a message sent by Russian President Vladimir Putin, who thanked Kim for "firmly supporting" his war efforts in Ukraine. Putin said that interests between Moscow and Pyongyang were aligning as they counter the "collective West in its policy to stand in the way of establishing a genuinely multipolar and just world order," according to the Kremlin's version of the letter.
Kim also held a luncheon and dinner banquet for Shoigu and his delegation following a second day of talks about expanding the countries' "strategic and tactical collaboration and cooperation" in defense and security, the North's official Korean Central News Agency said.
"Given Russia's need for ammunition for its illegal war in Ukraine and Kim Jong Un's willingness to personally give the Russian defense minister a tour of North Korea's arms exhibition, U.N. member states should increase vigilance for observing and penalizing sanctions violations," said Leif-Eric Easley, a professor at Ewha University in Seoul.
He added: "China's representation at North Korea's parading of nuclear-capable missiles raises serious questions about Beijing enabling Pyongyang's threats to global security."
The parade capped off the North Korean festivities for the 70th anniversary of the armistice that stopped fighting in the 1950-53 Korean War. North Korea, which triggered the war with a surprise attack on the South in June 1950, was supported by Chinese troops and the then-Soviet air force. South Korea, the United States and troops from other nations under the aegis of the U.N. fought to push back the invasion.
The July 1953 truce was never replaced with a peace treaty, leaving the Korean Peninsula in a technical state of war, but the North still sees it as a victory in the "Grand Fatherland Liberation War."
The anniversary events were more somber in South Korea, where President Yoon Suk Yeol visited a war cemetery in Busan to honor foreign troops who died while fighting for the South.
In the face of growing North Korean threats, Yoon has pushed to expand South Korea's military exercises with Washington and is seeking stronger U.S. reassurances that it would use its nuclear capabilities to defend the South in the event of a nuclear attack.
U.N. Secretary-General Antonio Guterres also marked the anniversary with a statement expressing concern over what he described as a growing "nuclear risk" on the Korean Peninsula.
"I urge the parties to resume regular diplomatic contacts and nurture an environment conducive to dialogue," he said.
Related Articles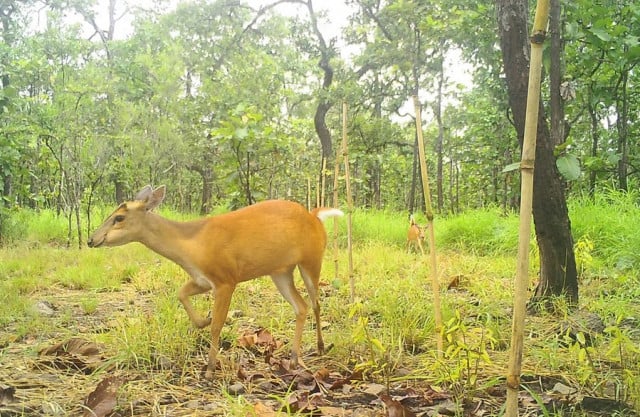 September 3, 2022 4:13 PM