Second US-built Facility Demolished at Ream Naval Base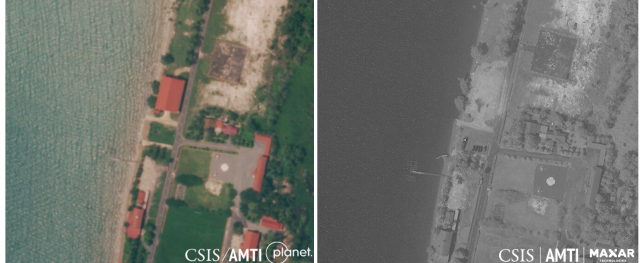 Phoung Vantha and Gerald Flynn
November 10, 2020 10:10 AM
Defense Minister Tea Banh played down the demolition, while concerns mount over China's growing military might within Southeast Asia and possible infringements on Cambodia's sovereignty.
PHNOM PENH--Satellite imagery published by US firm Maxar on Nov. 9 has revealed that a second US-built facility at Ream Naval Base has been demolished. The Preah Sihanouk Province naval facility has become the subject of suspicion among US politicians who fear that Chinese development projects in the area could be used as a strategic outpost for Chinese armed forces.
While the allegations have been strenuously denied by Prime Minister Hun Sen and various other officials within the ruling party of Cambodia, the developments at Ream Naval Base have only served to heighten suspicions.
In September 2020, the US-built Tactical Headquarters were demolished by Cambodia, but more recent evidence has shown that the National Committee for Maritime Security Rigid-Hulled Inflatable Boat (RHIB) Maintenance Facility and nearby boat ramp were demolished between Oct. 26 and Nov. 2.
However, it is worth noting that the demolition of the RHIB facility was more carefully undertaken than the destruction of the Tactical Headquarters. Satellite imagery provided in a report by the Asia Maritime Transparency Initiative at the Washington-based Center for Strategic and International Studies appears to show the roof being removed and the building being taken down piece by piece, rather than demolished wholesale.
"We are disappointed that Cambodian military authorities have demolished another maritime security facility funded by the United States, without notification or explanation," said Chad Roedemeier, a spokesperson for the US Embassy in Phnom Penh.
"The Prime Minister has said Cambodia would not allow an exclusive or permanent foreign military presence anywhere in the country and that ships from around the world will be welcome to call at Ream," he said, adding that the US hopes that Cambodia's government abides by this position.
The rumors surrounding Ream Naval Base began in July 2019 following a report from The Wall Street Journal, who claimed to have acquired a copy of a secret deal signed between China and Cambodia that would grant China's military use of the base.
On Sept. 15, the US Treasury's Office of Foreign Assets Control (OFAC) sanctioned Chinese developers who have been granted a lease in the southwest coast of Cambodia—purportedly to develop tourism resorts, but the US alleged that the projects appear to have military designs.
Cambodia's growing reliance on China for everything from aid to trade and tourism to political support has only fanned the flames and raised concerns over regional maritime security.
However, Minister of National Defense of Cambodia Tea Banh said in a Nov. 10 interview published by government-mouthpiece Fresh News that the demolition of the old buildings at Ream Naval Base was not for any other purpose beyond the aim of redesigning and expanding the place. He said the goal is to create a new, modern, spacious building that will be easier and more efficient to operate.
"I think that it's not necessary to notice or report that case to anybody [the U.S and Australia]," Banh was quoted as saying. "It's trivia, it's also built in Cambodia's territory. It's just to modernize with the new, big, modern building in accordance with Cambodia's requirements."
He could not confirm how much the construction of a new building located at Ream Military Base, Preah Sihanouk Province would cost.
Analysts have previously warned that China is urgently seeking solutions to the rising tensions in the South China Sea, along with seeking greater maritime security due to growing demands for energy and its reliance on imports via the Malacca Straits.
Related Articles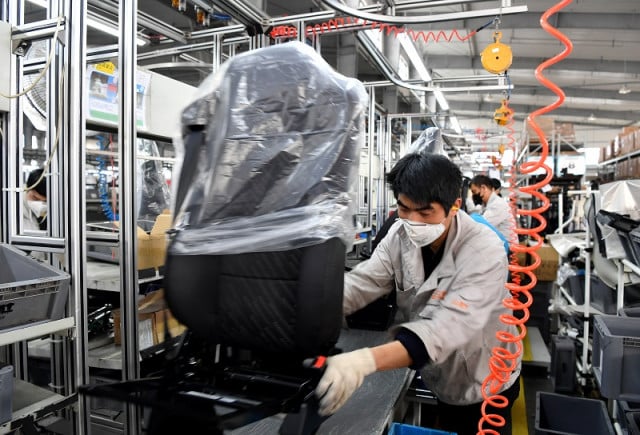 February 27, 2020 12:59 PM