Taiwan Defends Largest Airport against Simulated Chinese Attack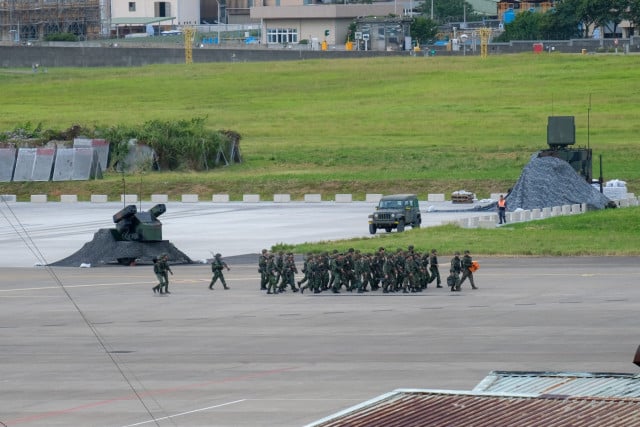 Taoyuan, Taiwan -- Taiwan staged its first-ever military drill at Taoyuan International Airport on Wednesday, briefly halting commercial traffic as soldiers practised defending the facility against a simulated attack by Beijing.
The exercise is part of Taiwan's week-long massive wargames -- the annual "Han Kuang" (Han Glory) drills -- which this year has included protecting civilian airports as Beijing ramps up military and political pressures on the island.
This is the first such drill held at Taiwan's biggest airport near the capital since it opened in 1979.
Military expert Alexander Huang said Taiwan is drawing experiences from Moscow's invasion of Ukraine, which last year fended off a seizure by Russian paratroopers at the Antonov airport just outside Kyiv.
"Seizing an adversary's airport is key to sending in large numbers of assault forces via air transport in an invasion operation," Huang, at Taipei's Tamkang University, said.
"In addition to familiarising our forces with command and control, this drill can also signal to potential enemies that we are getting ourselves prepared for such contingency," he told AFP.
As air traffic was halted for about 30 minutes, dozens of soldiers fought off "enemies" landing on the airport's tarmac from attack helicopters.
Airport police and firefighters also joined the operation, which the government said is aimed at combining civilian and military forces to protect critical infrastructure.
China, which regards Taiwan as its territory, has upped the pressure in recent years, with near-daily warplane incursions and Chinese vessels deployed around the island's waters.
Taiwan has always held frequent military drills, but in recent months increased the civilian component. This week, as the army holds various exercises across the island, local governments are also holding air raid drills in different cities.
"We need to start from the concept of a 'whole-society defence', to integrate and utilise the resources of the military, central government, local governments and civilian sectors, and to coordinate all units to work together," said Taiwanese President Tsai Ing-wen, during her visit to a drill at an oil refinery in Taoyuan.
Dressed in fatigues and wearing a mask -- she was diagnosed with Covid this week, though has mild symptoms -- Tsai watched on as soldiers fended off "attack agents" that parachuted out of helicopters.
"The protection of the oil refinery was incorporated into this Han Kuang exercise to simulate possible attacks or disasters to establish comprehensive contingency measures, and effectively protect our critical infrastructure," Tsai said.
A drill was initially scheduled at an airport in Taiwan's southeast Taitung Tuesday, but was cancelled due to Typhoon Doksuri.
© Agence France-Presse
Related Articles