The Ministry of Environment Warns Shops to Stop Dealing in Ivory or Rhino Horn Products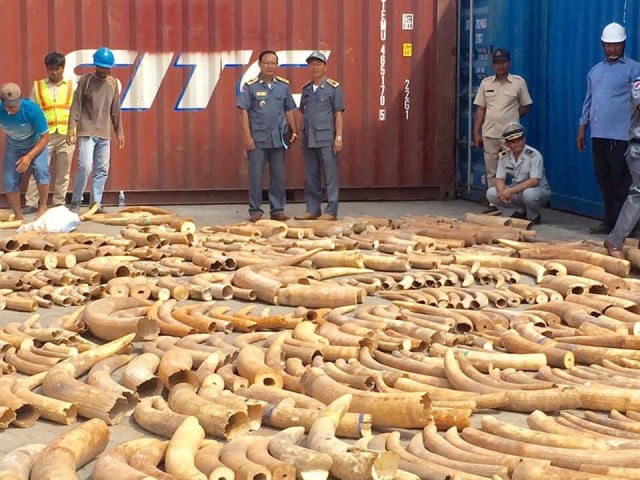 Thmey Thmey
September 14, 2019 5:41 AM
Cambodia seized up to five tons of ivory and rhino horns from 2016 through late 2018
PHNOM PENH--The owners of 27 souvenir shops in Phnom Penh suspected of carrying products made of elephant's ivory and rhinoceros horns were told to immediately cease all activities in connection with these products, Ministry of Environment Spokesman Neth Pheaktra said in a statement Friday.

"Owners of souvenir shops, which hide or sell any product made of ivory and rhino horns: Please return them to the authorities without delay," he said. "If they are found to have hidden those objects, the authorities will take legal actions against them in accordance with the laws."
Trading or selling ivory or rhino-horn products as well as other wildlife goods are strictly prohibited under Cambodian laws, and those found guilty of doing so will be severely fined and also face imprisonment, the statement read.
Pheaktra said that, so far, the Ministry of Environment has informed the owners of 59 souvenir shops across the country, that is, 27 in Phnom Penh, 30 in Siem Reap Province and two in Preah Sihanouk Province.
The ministry's official warnings were sent following a comprehensive investigation conducted by the relevant authorities and which revealed that some souvenir shops continue to trade in ivory and rhino-horn products, Pheaktra said.
"These ongoing activities have negatively affected the government's efforts as a member of the Convention on International Trade in Endangered Species of Wild Fauna and Flora," he said.
"As a member of the United Nations, Cambodia is ready to cooperate internationally with other countries to preserve natural resources and prevent as well as fight against any illegal wildlife trading," Pheaktra stressed.
According to the Ministry of Environment's report, from 2016 through late 2018, Cambodia cracked down on numerous illegal wildlife trafficking networks, seizing up to five tons of ivory and rhino horns.
Related Articles