US, Chinese and Russian Officials Gather at Southeast Asia Summit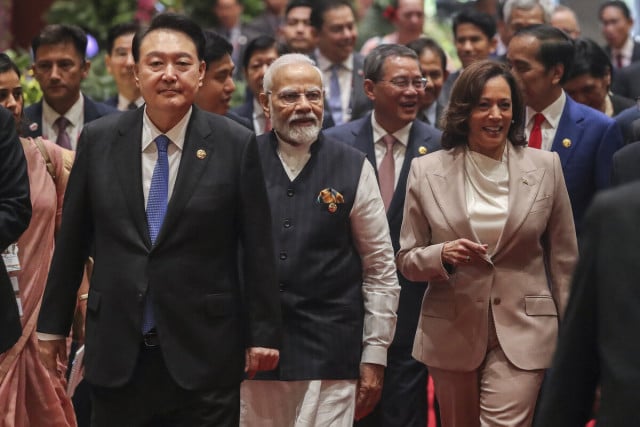 September 7, 2023 2:10 PM
Jakarta, Indonesia -- US Vice President Kamala Harris, Chinese Premier Li Qiang and Russian Foreign Minister Sergei Lavrov attended an East Asia summit in Indonesia on Thursday, offering an opportunity for direct, high-level diplomacy between the rivals.
The meeting brought Washington and Beijing into contact a day after Premier Li Qiang warned major powers must manage their differences to avoid a "new Cold War", ahead of the G20 summit in New Delhi this week where Chinese President Xi Jinping will be absent.
Interactions between the officials from the world's top two economies will be closely watched as they seek to control tensions that risk flaring anew over issues ranging from Taiwan to ties with Moscow and the competition for influence in the Pacific.
"I ask... the leaders of East Asia Summit, to make this a forum for us to strengthen cooperation and not sharpen rivalries," Indonesian President Joko Widodo said in opening remarks.
Harris and Li held their own separate talks with Southeast Asian leaders on Wednesday, where the US second-in-command discussed "upholding international law in the South China Sea", a statement from her office said, the disputed waterway where Chinese claims have angered several Southeast Asian nations.
Thursday's 18-nation summit is the first time top US and Russian officials have sat around the same table in almost two months, after US and European officials condemned Lavrov at a July ministerial meeting over Russia's invasion of Ukraine.
It comes as US Secretary of State Antony Blinken announced $1 billion in new assistance to Ukraine in a surprise visit to Kyiv on Wednesday.
Indian Prime Minister Narendra Modi, Japanese PM Fumio Kishida, South Korean President Yoon Suk Yeol, Canada's Justin Trudeau and Australian PM Anthony Albanese are all attending the summit, as well as leaders from the Association of Southeast Asian Nations (ASEAN).
Albanese met with Li on the sidelines of the summit, confirming he would visit China "later this year" as Canberra seeks to stabilise ties with Beijing.
G20 host Modi addressed ASEAN leaders on Thursday morning, telling them it is essential to "build a post-Covid rules-based world order" and make collective efforts to ensure a "free and open Indo-Pacific", using another term for the Asia-Pacific region.
Thursday's talks come several months after Blinken travelled to Beijing, the first visit by the top US diplomat in nearly five years, where he met Xi as well as former foreign minister Qin Gang.
- 'Broken' -
The meeting was not expected to be a fiery affair despite the differences between the major powers, according to a Southeast Asian diplomat who will attend.
"They will state their positions, these meetings are not tense. Especially at the leaders' level where some degree of decorum will be observed."
The group will issue a negotiated joint statement after the summit.
While the gathering can bring major players together, its ability to help resolve a range of regional and global disputes is limited, experts say.
"It's a sign of the ASEAN convening power but lately we can say that the East Asia summit is broken. It has been turned into a forum for talking points," said Aaron Connelly, senior fellow at Singapore-based think tank IISS.
While Thursday's meeting will be more geopolitical in scope, big powers used earlier talks in Jakarta to shore up alliances and lobby the Southeast Asian bloc.
Li travelled on a Chinese-funded high-speed train project between the capital Jakarta and the Javan city of Bandung with a senior Indonesian minister on Wednesday.
Harris held separate meetings with Indonesian President Joko Widodo and Philippine President Ferdinand Marcos Jr -- both ASEAN members -- on the sidelines of the summit.
"The Vice President reaffirmed the United States' ironclad alliance commitment to the Philippines, and highlighted the role the US-Philippines alliance plays in ensuring a free, open and prosperous Indo-Pacific," her office said in a statement.
South Korea's Yoon reportedly pushed for the bloc to counter North Korea's nuclear threats, calling for any military cooperation with the country to stop.
ASEAN members are holding bilateral meetings with India, Australia and the UN on Thursday.
© Agence France-Presse
Related Articles